The use of time is an important issue in understanding human behaviour. Among cultures the perception and understanding of punctuality can vary quite a bit. Where Germans are known for their strictness, accuracy and punctuality, I definitely have to register a deficit in the last category. I'm not the most punctual person.
Anyways, some of my friends know me so well that they would rather tell me a different time to meet just so they wouldn't have to wait for me. I'm touched and a little offended at the same time, by the way.
However, things have seemed to change quite a bit since I find myself living in one of the Barcelona apartments!!! It seems like my perception of time and punctuality are much more adapted to the Spanish culture. My fashionable 15 to 20 minutes delay are here more than sufficient to be on time or even a little early.
I don't mind waiting for someone. I sort of consider it my way of paying for the time I made people wait, but also who can really blame the people here for being late. The late back attitude is definitely something that I appreciate.
Last Friday was a holiday and I was walking through the district of Gracia with some friends from Germany. Gracia is a lovely neighborhood. It's the perfect place for a stroll or a drink with some friends. There are so many little squares with cafes and when it is nice out you always have trouble finding a table, because it is just lovely to sit there having a drink with friends losing track of time. Unfortunately, I haven't gotten around exploring all corners of Gracia, but a friend of mine lives there and she never falls short of some recommendations in this neighbourhood. So here are some of the squares that you should pass by, compliments of a young, intelligent Catalan lady who shall remain anonymous for now.
Placa del Sol – This is actually a recommendation that comes from me. This might be the square that is most known to non-city residents. All around the square there are little cafes and bars where you can enjoy a drink but you can also sit on the steps of the square and enjoy the sun. I love to get a bagel at one of my favorite snack bars Be My Bagel and sit on the steps to enjoy the sun.
Placa Rovira – Generally the people who frequent this neighbourhood most are the creative crowd which makes this district so Bohemian. This square is no exception. In one of the streets leading to the square you will find a bar called La Gata Mala which is one of the few places that serves a free tapa when you order a drink.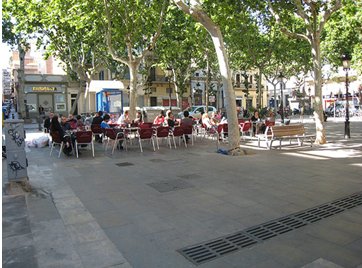 Placa Revolucio – This square bares a lot of history of the city. It commemorates the revolution of 1868 when the Spanish people made a rebellion against monarchy that resulted in the deposition of Queen Isabella II. This is actually were we ended up sitting down for a drink on Friday.
So if you rent apartments in Barcelona explore the Gracia neighbourhood and take a break from the other hectic and often crowded parts of the city. But I shall warn you, you might be late to whatever you have on your itinerary after, but it will be worth it.