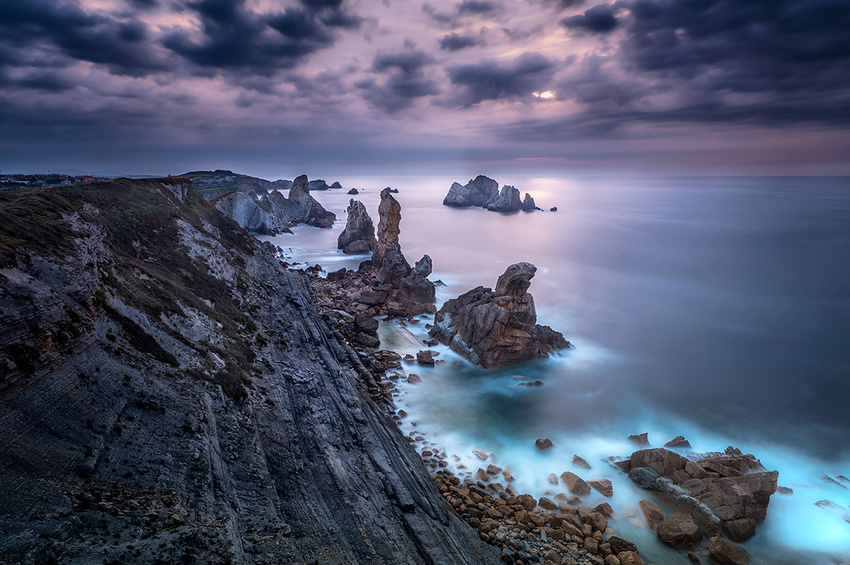 November 4, 2003: Today in the news, Franco is still dead but you can still vote for him. Two weeks ago, I stood in front of one of only three still-remaining statues of the late Spanish dictator who died on November 20, 1975. A week later, back home in San Francisco, my Spanish partner cast his ballot: a ballot which still includes Franco's political party "Falange" – Spanish fascists.
There's no escaping Franco. Astride his horse, with upraised hoof, he gallops still in Santander's "Plaza del Generalisimo." There is only one way in, and one way out of the small raised park in this city of 200,000 on Spain's north coast not far from Bilbao, and few people come to sit beneath the fascist "caudillo" ("tribal leader") whose iron grip ruled Spain from the end of the Spanish Civil War in 1939 'til his death almost four decades later.
As my partner's parents live in Santander, we visit often. The first time I saw Franco was Christmas Day 2000. "Murete" ("die") was scrawled in spray paint across the statue's front and "me daas la vista" ("you offend my sight") across its side as if -somehow – he might yet live, or worse, rise again.
One of only three cities in Spain – along with Madrid and Valencia – that has not dismantled this obvious paean to Franco (during his long regime, every Spanish town's main square had such a heroic statue), Santander is just now – officially – beginning to de-Franco-fy many of its streets and monuments. Soon, a specially designated council will meet to address the issue – not unlike the debate raging in some southern U.S. localities about the use of our Civil War era confederate flag. My home town, Richmond, Virginia, is currently embroiled in controversy over a recently-installed statue of war-time victor Abraham Lincoln at the site where he first set foot on Confederate soil after the burning of the rebel capital. And of course, millions recently watched Saddam Hussein's statues get torn down. But, as Franco's personally-approved tourist motto decries, "Espana es diferente". Spain is different. Here – statues of their dictator still stand.
A not un-charming seaside town whose spectacular natural setting might shame the Golden Gate, Santander looks very much as it did during 'the Franco years' as they are most often called. Every half block there is always a bar, always busy, always accessible to anyone of any age. Children and adults mix freely. Everyone smokes. Dinner still begins at 10:00pm, and don't expect to buy much of anything between the hours of 1:30pm and 6:00pm. Siesta is not a cliche here. It is real life. As a friend of ours says: "I come to Spain to remind myself how life is supposed to be lived."
Santander is almost entirely a portrait of fascist era architecture and design, the vast majority of its old town having been destroyed by a massive fire in 1940, the result of a ship explosion in the harbor. A plaque, with inspirational text by Franco, commemorates the disaster. One of the only un-damaged constructions is Santander's Romanesque Cathedral, a short walk from "Plaza del Generalisimo." Here, Catholic mass is a traditional affair, with stiffly dressed matriarchs the main attendees. A row of still-in-use private confessionals lines the rear nave. When Franco, then a mid-ranking general in Spanish Morocco, led a coup against the liberal but dis-organized multi-party structure of the Republic in 1936, he did so with the blessing of the Catholic Church. He also did so with the blessing of his political mentors and allies, Benito Mussolini and Adolf Hitler.
In the well-stocked bookstore just a block from my inlaws' apartment, six separate biographies of Franco are constantly for sale. The weightiest of these tomes, simply called "The Complete History of Francisco Franco", is carefully stacked next to an equal slab of Hitler biographies. Facism sells.
Just behind the casino of Santander (a Monaco-esque affair which still requires a jacket and tie), and tucked behind the city's half-block strip of gay bars is the Plaza de Italia in honor of the pro-Franco forces sent by Mussolini to fight in Spain's Civil War. The faces-emblazoned monument is scarred and broken – but still standing – a cracked token of Spain's barely scabbed history.
"Under the sign of Franco, the Caudillo of Spain, the heroic forces of our sister Italy, fought and fell in fraternity, with Spanish soldiers, for the sublime cause of Christian civilization." The final phrase was an especial favorite of Franco's – and indeed of most Spanish rulers throughout its history. On the side of Santander's Franco statue is inscribed – in its verbose entirety – the dictator's last speech, a radio address to the nation given a few days before his death, extolling his regime as a defense of "the supreme cause of Christian civilization."
A short distance from the Plaza de Italia, next to the lighthouse that guards the stormy entrance to Santander harbor from the usually-cantankerous Gulf of Biscay, is the Gibraltar-esque cliff from which both Nationalist and Republican forces threw opponents – alive – to their deaths on the jagged rocks below. Of course, it is only a tribute to those of Franco's regime. Like Orwell's 1984, under Franco Spain was always Nationalist, and never Republican. A carved relief of a grotesquely screaming man hangs onto the edge of the death-is-sure drop. 60 years later, Santander's youth come here to neck and toss empty beer bottles over the precipice. In the very pro-Franco cafe nearby, the dictator peers down from a calendar – this month's calendar, October 2003.
Like atomic-flash imprints, the shadows of Franco are long lasting, but randomly casual, randomly chilling. One never knows just where they will turn up. I remember the Saturday Night Live skit of my youth which began, "today in the news, Franco is still dead." My partner, Alfredo, tells me that people lined up by the thousands to view the dictator's corpse as it lay in state in Madrid for that very reason: to see for themselves that their caudillo was really dead.
There is nothing, however, vaguely comic about Franco's tomb. About 200 miles south of Santandar, it is the largest church in the world, hollowed out of a mountain by slave labor drawn from Franco's defeated. Too large to ignore, it continues to be something of a political albatross for "modern Spain." In a country whose roads are dotted with historical markers, the absence of identifying signage leading to the final resting place of history's longest-ruling fascist dictator is noticeable by its absence. Nearby "Escorial" – the resting place of Spanish kings – has a proud phalanx of promotion rippling out in every direction. Only one small, brown highway sign with the wording "monumento historico" indicates the exit for our day trip destination. As we turn off the exit we see the stark metal gates, topped by the double-headed eagle of Franco's regime: "El Valle de los Caidos" – The Valley of the Fallen.
I am not prepared for its scale. Pharonic is an apt description, for excepting the pyramids, nothing comes close. Only Hitler at the drafting table of Albert Speer might have planned something so sinister in size and execution. Begun in 1939, the year the war ended, it was completed in 1962 and consecrated by Pope John XXIII. Above the towering doors is a recreation of Michaelangelo's "Pietro," 20 times larger than the original.
Two guards, rifles slung casually, usher us through a metal detector. The eternally restive ETA (Basque Separatists) would undoubtedly love to bomb this place. It was their spiritual epicenter, Guernica, which Franco destroyed with help of Hitler's bombers on April 26, 1937 in history's first-ever bombing of a civilian population. As we enter, an American tourist holds up and laughs at a t-shirt with Franco's face he has found in the gift shop. The clerks do not laugh back. He shrugs and buys it anyway. "Can you believe this," he seems to say to me with a nod' the instant camaraderie of American tourists in a foreign land.
Inside, the curved walls are unadorned and colorless, save for the rust-bleeding water that seeps in through cracks in the stone. It is estimated that thousands of Franco's enemies died building this place although Franco's regime never kept official track. The Valley itself is thought to be the final resting place for 40,000 soldiers, from both sides of the conflict. It is a balance of grief impossible to prove, and if true, unique for Franco. For when Franco referred to "los caidos", it was always the Nationalist fallen, never those of the Republic.
Once inside, we walk several hundred feet before being confronted by an out-of-period ornamental gate, not unlike those that separated the public from the altars in medieval cathedrals. A simple sign marks that this is the "official" beginning of the Church. In reality, "El Valle" is bigger than Saint Peter's. Only a line in the floor acknowledges its statistical subservience to Rome.
Now on consecrated ground, we pass under the gaze of two, gargantuan hooded statues, like oversized Imperial Guards from "Star Wars." Ahead, in front of hundreds of empty, polished pews is the high altar' equal in size to that upon which mass is offered by the Pope. A gold-leafed dome soars 200 feet "up" into the mountain, a byzantium-styled mosaic telling in round-robin fashion the story of Franco's victory. Scores of nationalist troops are carried into heaven in the arms of angels under the fascist arrows of Franco's emblem. Precisely over the altar's center, on top of the mountain's summit, is a 400-foot high cross.
And yet so simple that one might overlook it, in the floor beneath the dome, is Franco himself. Exactly opposite, at the altar's rear, is buried Spain's fascist party founder, Jose Antonio Primo de Rivera. An octogenarian in a black suit walks in a continuous loop from Primo to Franco, Franco to Primo: A fascist? Would anyone work here just for pay? Certainly this man is a true believer. On the anniversary of Primo's and Franco's deaths (a strange coincidence, November 20, 1936 and 1975 respectively) the crowds here are large and passionate.
Franco's only inscription is his name, his title ("caudillo") and his birth and death dates. Amidst so much dark grandeur his name is all that is needed to convey the history of an era, the schizophrenia of a nation. I recall that like Napoleon, Mussolini and Hitler, Franco too was not tall. It is a very small grave for a very small man.
The last time I saw Franco, a group of children played hide-and-seek beneath the "caudillo's" gaze in Santander. A drying bouquet of flowers lay at the horses feet – Franco's birthday was just last week and the dictator still has fans. An elderly gentleman wanders in and scatters a bag full of breadcrumbs for the pigeons relieving themselves on Franco's head. He is clearly of an age that would have heard Franco's ubiquitous, high-pitched rallying cry: "Espanoles todos". The children scream and laugh, careening around their unknown forebear: Franco's children. Except for my seated presence, they are the only visitors. Now, in a born-again age of falling dictators, that is all who gather around the feet of Franco: those too young to remember, and those too old to forget.
Author bio
David Perry is a freelance writer living in San Francisco and Guerneville. His love of travel led him to "write his way around the world" as the onboard editor for the "M/S Crystal Symphony's" daily newspaper in 1998 – 99, during which time he sailed around the world 2 times, visiting 45 countries. He and his partner, Alfredo Casuso, travel whenever they can, including yearly trips to Spain.