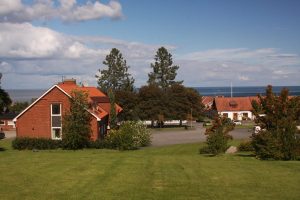 "Shriek, inte. Shriek, inte." In her panic, Lisa resorted to Swedish. I tried to stop shouting, but my fear flew out of my mouth in a high-pitched scream. The flap of large white wings threatened boat upheaval. We clung to our paddles.
"Why the heck did I come to Sweden, anyhow?" I thought. "I might die here today."
***
When I filled out the exchange student profile, I checked the box for 'no pets'. Smoking – heck yeah, I'll inhale second hand unfiltered cigarette. Outdoor plumbing – sure. Situated next to a nuclear power plant – no problem. Animals – oh, I've got a problem all right. Sophomore year, 1974, was almost over and I awaited news of placement for summer exchange student. My first choice was France, since I studied French II. Second choice was anywhere. I wanted a summer abroad, to travel, live with a family, and not be stuck in North Wales, PA. Not quite sixteen, I couldn't drive or get a job. Summer at home would be a drag. It was time to get away.
Finally got a call from the Youth For Understanding coordinator, "How about a summer in Sweden?"
"Huh?" That wasn't France, but I wasn't picky anymore.
"French selection is difficult. There aren't many families open for summer only. However, we have this family in Sweden whose daughter is headed to the U.S. in the fall. They've agreed to take an American student, so Elisabet can work on her English and prepare for her year in California. Here's your chance. Congratulations."
I said yes and a whirlwind of preparations began. First, check the map and reacquaint myself with Stockholm, Sweden. Ah, tucked up north with Norway, Finland, and Denmark. Buy a phrasebook and practice words that have lots of js, ws, and weird symbols hovering over the vowels. Complete finals, pack, and enjoy a bon voyage party thrown by a good friend. Travel day, mid-June, arrived amidst a mixture of nerves and excitement. I'd flown before but not overseas. I'd stayed overnight at friends' homes, but never lived for two months with another family. Not only that, but foreigners, not relatives. This was going to be amazing and scary.
Lori, age five, cried, "Don't go away," and for a second I had a pang of dread. What if this new family hated me? Did they speak English? What if I got on the wrong plane? Was their food gross? What have I gotten myself into? Kinda too late now. We were at the airport gate: Mom, Dad, David, and Lori, and the mumbled announcement gave my flight number for boarding. Passport and carry-on, I hugged everyone, gulped back tears, and set off for a summer in Sweden.
Philadelphia to New York to Copenhagen, and finally Stockholm. There had been delays along the way. Exhausted, I stumbled from the plane and looked for someone who might be looking for me. At this point, I definitely resembled my hideous passport picture. A very tall man with a long face and reddish hair approached me, along with a short slender woman. She had sharp features and a nervous habit of tucking her brown hair behind her right ear. He smiled and glanced at a photo in his hand. "Joanne Crowther?" I nodded and they both shook my hand introducing themselves rather formally, "Arne and Karin Wickman."
"You are well and had safe travels?" she asked. I replied that everything was fine except for being so tired. It was near midnight and I was jetlagged. Didn't sleep the night before, and couldn't rest on the plane due to anticipation. Now that I was here, I was ready to collapse. They do speak proper English. They chatted to me and to each other as we waited at baggage claim. Once my huge bag was in hand, we found their Saab, and headed to their home in Bromma, a suburb of Stockholm. Everything was dark, other than the highway, so there was no point looking out the window. I concentrated on staying awake. We pulled into a driveway, and like a zombie I staggered into the house. I declined food or drink. "Thank you, but I'm ready for bed."
Karin showed me my room and the bathroom. "Sleep well, we're very glad you shall spend the summer with us." I murmured good night, dug out my nightgown, and fell into bed. Didn't even brush my teeth.
Awoke to a quiet house and unsure of the time, I peered out my window. A sunny garden view appeared promising. I rummaged through my suitcase, vowing to get situated later, and pulled out jeans, a t-shirt, and underwear. Opened my door and a panther glanced at me with one lazy green eye. This huge black cat blocked my exit. I stepped over it gingerly and headed to the bathroom. It never moved a paw.
Showered and refreshed I listened for voices or sounds of life. Peered into rooms, walked downstairs, and arrived at the kitchen. A young woman hummed and put dishes away. I said hello and she turned with a warm smile. Shoulder length brown hair and clear blue eyes in a friendly face. "Marta, ja," and she extended her hand. I shook it and said, "Joanne." Her English was hesitant but I figured out that she was the housekeeper. Arne and Karin were at work, Anders at soccer, Gustav at summer math camp, and Elisabet would be back shortly. Breakfast was a soft-boiled egg or cereal. Rice Krispies snap, crackle, and pop in Swedish, too. As I ate a final scoop, the back door opened and in came a Swedish model. Elisabet, at sixteen, was tall with long straight blonde hair, blue eyes, tan legs, a lovely face, and a perfect figure. A Swedish dream, she'd fit in great on the beaches of California.
"Oh, Joanne, I'm so glad you are here. I must learn everything American." From Elisabet to Lisa, in an instant we were best friends and summer sisters. Her rapid fire English was Oxford proper, and she insisted on some slang words immediately. I gave my Philly, "Yo, whatcha' doin'" and we were off and running. After another tour of the house and yard, plus a proper introduction to Sven the cat (who now to my consternation sprawled on my bed), we grabbed bikes and rode to the train station for a jaunt into Stockholm.
My head swiveled and I admired the pristine towns and cities. The twenty-minute train ride ended at the main terminal and I stepped out to start one of the best days of my life. An entrancing city, Stockholm offered old section Gamla Stan, with its tiny streets and stone buildings in contrast with gleaming modern towers overlooking the harbor. Water everywhere. Boats cruised the harbor and inlets. We strolled the streets, peered into shop windows filled with Orrefors glass, bought ice cream cones, and watched old men play chess in the local park.
Flowers overflowed window planters. Statues, sculptures, and fountains decorated every nook of the city. Plus, gorgeous healthy Swedes made the city look like a magazine cover. The Swedish babble encircled me. Little white haired toddlers called, "Mama," in Swedish. Everyone appeared happy and content, since most folks were on holiday. June begins the summer slowdown, and a majority of Swedes hop aboard their boats, or head to their vacation homes. So close to the Arctic Circle, the winters are long. Thus, Swedes worship their days in the sun and I learned that upcoming June 21st was a huge festival day to celebrate the longest day of sunshine in the year.
Minimal animal encounters in the city. There were dogs on leashes in the parks, and everyone behaved. At one restaurant, Lisa and I stopped for lunch, and I was startled to realize a woman had a little dog in a purse at her table. Common in Europe, small dogs are an accessory – quiet and unobtrusive they travel with their owner, not a growl to be heard.
Late afternoon I confessed I was tired. My travel day hit me and this one day of walking about Stockholm was the final blow. Fatigued, I fell asleep on the train. Lisa had to shake me awake at our stop. Once home, I got in a nap after removing Sven from my bed. He was going to be a problem. This cat hovered at my door and would appear underfoot wherever I'd walk in the house. He didn't seem to go to any family members. I never saw him on a lap, but he was gunning for me.
Revived, I kept my eyes open for dinner and met the rest of the family. More blondies, Anders, at twelve, was the athlete and demonstrated his soccer skills in the backyard. He was shy about his English and we didn't talk much all summer. Gustav, age seven, was a math genius. He loved to count and propose problems. He and I spent the summer on numbers, counting in Swedish and English. Gustav mastered his part better than me.
My first Swedish dinner involved fish and lots of questions. Finally, Arne tapped his spoon on his beer mug, "We have all summer. Look at poor Joanne, almost asleep in her soup. Dessert now, but no more questions to her. We'll enjoy family time tomorrow on the boat." With that, Lisa and Anders switched to Swedish. My guess was an argument on driving the boat. They were competitive and sibling rivalry sounds the same worldwide. I enjoyed my slice of torte and excused myself to go to bed.
No sign of Sven on the bed, under the bed, or under my covers. I checked the closets to be sure. That cat was tall enough to reach a door handle. I shut my door, did lights out, and collapsed into an exhausted but content sleep, only to be roused by Anders pounding on my door and saying something in Swedish. "Boat" came through and another day of adventure dawned.
***
My summer in Sweden flew by and I experienced a lot. Plenty of museum visits, castles to explore, and, from a distance, I had a chance to see the King of Sweden on his royal yacht as Arne steered us through the archipelago. Arne, Karin, Gustav, and I had a long weekend trip to Norway. We saw a herd of reindeer running out along a glacier. Crisp, clean air and wondrous snowy mountains. I loved Norway and had the best ice cream at a kiosk on top of one peak. Shivering and eating a vanilla creamy concoction, I was on top of the world. The family was so kind and wanted me to explore as much of Scandinavia as possible.
Only a short time left for me, and also, Lisa would be heading to California. As a last hurrah, the family packed up for a week at their vacation home a few hours outside of Stockholm. It belonged to the grandmother, but any family member could use it. Rustic and charming, filled with Swedish antiques, the house didn't have running water and there was an outhouse. Not a big fan of roughing it, I enjoyed the countryside but missed amenities. Perhaps this part of the trip was designed to get me excited to return home to America.
Anyway, we bathed in the cold lake water and took turns pumping the well for our cooking water. Lisa and I went to parties. I was a novelty and kids practiced speaking English with me, mimicking my accent. No responsibilities and no curfews. We walked everywhere – just had to watch for Swedish cow patties in the fields.
The week was almost over. Saturday, we munched on a breakfast cake and debated our entertainment for the day. "We could go into town," I said without conviction. It was a small town and we'd pretty much covered it from one end to the other. "Or how about biking."
"No, Anders and Gustav took off this morning on them. They were going fishing," Lisa said.
She turned towards the living room and spoke in Swedish. "Papa, may Joanne and I go out in the boat? I haven't taken her by the little waterfall yet."
Arne replied with something and she answered. Satisfied, he returned to his paper. Lisa started opening cupboards and talking. "We must pack a picnic. Find us some Cokes and get our beach bag from the hallway." She muttered a bit.
"No herring." That was my only request. I never did acquire a taste for Sweden's national food. They put those things on pizza, for God's sake. Ugh. We gathered up towels, sunscreen, and our lunch. I followed Lisa on the twisty path to the rowboat, and tossed our pile into the boat. Strapped into life vests, and eager to see the waterfall, we unhitched the boat, pushed, and set sail under our own power. It didn't take too long to coordinate our oar strokes and we made headway. Sort of a combination lake/river, there was some current to fight. However, with minimal wind and no one else in sight, we'd stop for breaks and drift. Blue sky, 80s, the slap of a fish or the croak of a frog. "You're going to miss this, Lisa. California has the ocean and lakes, but there's always other people around and a lot more activity. I didn't think there really was places like this – so calm and peaceful," I slowed my rowing and gazed at the view.
"Ja, I know. I've begun to feel a bit anxious about going for a whole school year. You were smart. Travel and visit, but no studies," Lisa grimaced.
"You'll be the smartest one in your class, trust me. And your English is way better than lots of American kids." I reassured her. "Guys will be following you like it's a parade. Now, that could hurt your grades…partying and dating in California. Sweden has a rep for nudity and wildness."
"Get out of here," Lisa used her newfound slang.
"For real. You'll be popular but be careful."
"Exchange students have rules. They'll keep track of me, I'm sure. I wish I could come to your house. My American family's father is an Army Colonel. Do you think I'll have to salute constantly?" She snapped off a crisp one, and we got the giggles.
Rowing and laughing, we raised a ruckus. Anyone or anything could hear us. The lake had narrowed into more of a river and we concentrated on paddling. Ahead was another wide open area and I pointed, "Look, is that a swan?"
"Darn, I forgot about them." Lisa untied and tied back her ponytail. I'd learned to recognize that worry tic. We rowed quietly and approached the opening. Whoosh. Huge white wings flapped over us. It didn't dive bomb, but it was close. We glided into a swan party as uninvited guests. My delight at seeing these graceful birds disappeared after the first hiss and angry snap of a neck. Increasingly disturbed at our presence, a wave of white wings slapped at the boat. They came at us from all sides, paddling by or flying low. Honking, hissing, squawking. The swans would reconvene, talk amongst themselves, and then spread out to hinder our movement.
"These birds are gonna peck us. Oh crap." I flailed and nearly dropped my oar. Tipped precariously, I held on and we steadied the boat. I smelled a fishy swampy odor and decided it wasn't me; it must have been all of the swans. Another swan made a fly/jump overhead. Again, I ducked and this time, Lisa lost her balance. She thunked down hard, scattering towels and our lunch, and glared at me over her shoulder.
"Hold on and paddle hard. We have to get out to the middle. Baby swans and the mothers aren't happy with us." Lisa sounded calm. However, reseated, she had her head down and concentrated on her stroke.
A swan wound up and ran/walked on the water towards the boat. Wings beat rapidly and it hissed. The bird was fast and I stopped to cower deeper into the boat. I could hear screaming. It's me. Stop screaming. I can't. You have to. But I'm incapable of quiet. OH MY GOD, that swan is attacking the boat. My piercing screams and paralyzing collapse into the seats caused more chaos. Lisa yelled in Swedish at me, at the birds, and back at me again. The boat rocked and we took on some water. I couldn't move. I should move, but where. How are we supposed to row out of this mess? I hate Sweden. This lake sucks. I despise swans. I wonder what Mom and Dad are doing. They'd be so sad if I was pecked to death by birds. Hot and cold at the same time, I realized I sat in a puddle in the boat. I crawled back to my station and lifted my head. I gasped for air, moaned, and hiccupped. Then I couldn't stop my hiccups, so I tried to hold my breath. But I couldn't do that since I was breathing so hard from my panic.
Lisa sat in the middle of the boat and moved her oar from side to side in an attempt to keep forward motion. Our interminable crawl to open water was slowed by the rocking of the boat. In my haste to hide, I'd kicked open our picnic lunch that had been thrown to the boat floor. A Coke bottle clunked to the deck and rolled underfoot. Lisa hit me with her oar and shouted, "Get up and row. I can't do this alone."
Snapped out of my nightmare, I did stop screeching and re-took my oar. My foot squished a sandwich. I blinked back tears and saw that Lisa's face was streaked too. One or two swans fluttered nearby, reminding us we were in their territory. We were finally far enough along into open water to be less of a threat. Most swans resumed their regular activity. The two bullies arched their necks as if daring us to return.
"Um, how do we get home? Are we gonna have to row back through that mess?" Chastened, I spoke in a hushed tone. I didn't want to stir up more birds.
Lisa was mad at me. Her face was flushed and hair spilled out of her ponytail. Her blue eyes were cold and calculating. "God, you didn't do a thing back there. What's wrong with you?"
"I couldn't help it. I didn't mean to do nothing. I couldn't move. Those freakin' swans were scary. We coulda been killed."
"No, we weren't going to die. This water isn't that deep. It's good you didn't tip over the boat in your spaz out. I might have killed you then, not the birds."
"I'm sorry. I really am."
"Well, we're almost to the waterfall and then there's a dock place. We're on the opposite side of the lake. I'll call Papa to pick us up. He'll do it since you're here."
We rowed the rest of the way in silence, ate our lunch in silence with a view of the waterfall, and quietly docked the rowboat. Lisa called her Papa and he rescued us. He attempted some conversation in the car, but gave that up quickly. He didn't want to be hissed at.
Beautiful, graceful, and mean. Swans are swans, whether in America or Sweden. I was inspired by Lisa's courage and flummoxed by my fear. Thus, I've continued to board rowboats or yachts, kept my eye out for swans, and fondly recall my Swedish summer. I still contend I could have died that day in an international boat incident.