Save time and airfare by driving or taking the train to a getaway near you …
Like most people, you're likely watching your wallet more carefully these days and a big trip may not be on your list for this year. But getting away doesn't need to be a big affair to an exotic locale. Sometimes the best trips are close to home, especially when they maximize your time off and minimize your impact on the environment; by choosing a leisurely car or train ride over a flight, you save on airfare and lessen your carbon footprint (especially by taking it slow to save on fuel!). Many hotels today are offering recession-friendly packages, so be sure to inquire. Here's my round-up of eight great destinations within 4 hours of select major cities in the United States and Europe, each ideal for a quick getaway with that perfect mix of charm, beauty, and unique experiences to make it a truly memorable trip.
#1 Ojai, California
Often referred to as Shangri-La, this laid-back Southern Californian city is my favorite getaway from the urban sprawl that is Los Angeles. My best friend Alison, a film producer in L.A., loves making the 1.5 hour drive to this oasis for quality time outdoors and pampering at the Ojai Valley Inn & Spa; Tip: try to book a room with gorgeous views of the Topa Topa Mountains (rates from $400). The verdant valley rarely has a down day with its sunny Mediterranean climate; the town has an artsy, active feel with great al fresco dining and cozy wine bars. Full of Spanish Mission architecture, the atmospheric village is perfect for a romantic retreat -couples will love the 7-room Lavender Inn, which also houses a culinary school (rates from $115) and Ojai is also ideal for a girls' weekend away filled with yoga, art classes, golf, tennis, and spa relaxation.
2009 Seasonal Highlights:
Farmers' Market, Sundays from 9am-1pm; The 109th Annual Ojai Valley Tennis Tournament, April 23 to 26: Musical Festival, June 11 to 14: Wine Festival, June 14; Ojai-Ventura International Film Festival, November 5 to 8.
Geography: California
#2 Rhinebeck, Hudson Valley, New York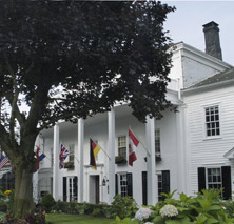 Country charm meets urbane sophistication in this Hudson Valley hamlet, two-hours north of Manhattan. The village is a less congested, more low-key alternative to the Hamptons; friends of mine frequent it for a relaxing (and romantic!) escape from the city. With a wealth of antique shops and historic sites, Rhinebeck is known as an antique lovers' mecca, but it also attracts foodies who can take classes and dine at the nearby Culinary Institute of America. Of the many local diversions, tops on my list are hiking, wine tasting, and tours of the Vanderbilt Mansion and the Home of Franklin D. Roosevelt. There's an abundance of quaint spots to stay, but I've narrowed them down to three of my favorites: The Beekman Arms, a large inn downtown, open since 1766 (rates from $115); The Olde Rhinebeck Inn, an 18th-century farmhouse with just four rooms (rates from $195); and The Rhinecliff, a newly renovated hotel with nine chic rooms overlooking the Hudson River (note that it's next to the train tracks; rates from $180). Tip: Art fans should stop by the Dia: Beacon museum on the drive back to the city.
2009 Seasonal Highlights:
Farmer's Market, Thursdays from 3-7pm and Sundays from 10am-2pm, May 1 through Thanksgiving; Hudson Valley Wine and Food Fest, September 12 and 13; Fall foliage viewing, October/November; Crafts at Rhinebeck Fall Festival, October 3 and 4.
Geography: New York
#3 Baerenthal, Lorraine, France
If the spectacular Vosges Mountains national park isn't enough reason to visit this remote area on the Lorraine /Alsace border, then restaurant L'Arnsbourg, with three Michelin stars, and Hotel K (rates from $210), its chic auberge next door, absolutely tip the scale. Plus, nearby Strasbourg is just two-hours from Paris by the TGV, so you can take the express train there and then hop in a rental car for the 45-minute drive. Even jaded Parisians are in awe when they discover this stylish culinary gem in the middle of the forest. Detail-obsessed chef Jean-Georges Klein and his sister Cathy preside over the family-owned restaurant, once a humble cafe for loggers that was started by their grandmother. Today it serves gourmet cuisine amid stylish contemporary interiors with Buddha head sculptures, Asian furnishings, and a minimalist dining room is lined with huge picture windows. When not savoring multiple courses of inventive – if somewhat fussy – French cuisine, you can hike in the forest, golf at a nearby course, shop at crystal factories and visit historical sites from World Wars I and II. After a tiring day of hiking or heavy eating – plus a few bottles of Alsatian wine – you'll sleep well at Hotel K, the family's Zen-inspired inn with just 12 rooms, all named after spices. NB: Don't stay on the ground floor suite as it's next to the kitchen and office, and be sure to drive VERY carefully on the dark and narrow mountain roads.
2009 Seasonal Highlights:
Strasbourg Christmas Market, November 1 to December 31.
#4 Williamsburg, Virginia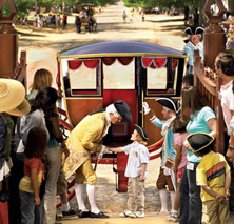 Like walking into a "living museum," Williamsburg is everything you know it to be a charming, historic step back in time – but in recent years this family favorite has branched out to become a full-service resort destination with fantastic golf, an excellent spa, top-notch restaurants and a lively nightlife. Only a 2.5 hour drive from Washington, D.C. and just over three hours from Raleigh/Durham and Baltimore, Williamsburg is making a name for itself as a getaway spot for more than just history and antique buffs. While there are many charming inns and B&Bs in town, I recommend staying in one of the hotels or guesthouses operated by Colonial Williamsburg Resort: you'll be right downtown and all proceeds help fund preservation and educational projects. For a taste of royalty, book a room at the Williamsburg Inn (rates from $319), where Queen Elizabeth II stayed in 1957 and again in 2007. Families in need of extra space can book one of the Colonial Houses (rates from $149), a collection of authentic but beautifully restored period buildings, including one that has sixteen bedrooms perfect for a family reunion!
2009 Seasonal Highlights:
30th Anniversary Celebration of the CW African American Program, April 4 to 5; Garden Symposium, May 1; Drummer's Call Weekend, with performances fife and drum units from around the country, May 15 to 17; Christmas Holiday Season, November 25 to January 3, 2010.
Geography: Williamsburg, Virginia
#5 Asheville, North Carolina
Once again, this cool little mountain community is hot, hot, hot! Asheville first became a fashionable resort in the 1880s, after George W. Vanderbilt chose it as the setting for what is still the largest private residence in the United States, a lavish chateau on thousands of acres that includes gardens designed by Frederick Law Olmstead. Because the city languished for decades after the Great Depression, its precious trove of Art Deco and Arts & Crafts style architecture remains largely intact, and today, the Blue Ridge Mountain town is in the midst of a renaissance, thanks to its burgeoning arts, music and culinary scenes. Asheville was already worth the trip just to tour the Vanderbilt's Biltmore Estate, and for its phenomenal hiking and biking trails, but the prospects of gallery-hopping and refueling on artisan cheese, local wine and beer, and farm-to-table cuisine from up-and-coming chefs makes a visit irresistible. For a taste of Gilded Age living, check into the Inn at the Biltmore, a 213-room hotel on the Biltmore Estate's grounds (rates from $199); golfers, spa-lovers and families should stay at The Grove Park Inn Resort & Spa, a large, historic lodge (rates from $205); my pick for a romantic getaway is Beaufort House, an exquisite Queen Anne Victorian B&B with ten beautifully furnished guestrooms (rates from $175).
2009 Seasonal Highlights:
The First Annual National Truffle Fest, March 5 to 8; the first ever HATCHfest, a multi-disciplinary creative arts festival, April 15 to 19; Mountain Dance & Folk Festival, July 30 to August 1; Antiques Festival, July 31 to August 2; Film Festival, November 6 to 9.
Geography: North Carolina
#6 Colerne (near Bath), Wiltshire, England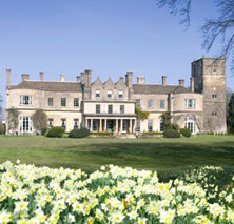 The countryside near Bath is one of my favorite UK escapes, less than a 2-hour drive from Central London. Check into Lucknam Park (rates from $225), a historic estate near the tiny, quintessentially English village of Colerne; it's the perfect spot to stay if you want to see a bit of historic Bath, a UNESCO World Heritage Site, but not be trapped in it's traffic-filled downtown. I love Lucknam even more now that it boasts a stunning new spa, swimming pool and fitness complex, complete with a brasserie serving healthy food. In addition to being romantic, the manor house hotel is also suitable for families with slightly older children, who can take classes at the equestrian center. Approached by a mile-long drive flanked on either side by beech and lime trees, the estate home is true Austen-esque elegance; its grand public salons have chandeliers, paneled walls, oil portraits and ornate furnishings, and the 42 guest rooms and suites are equally graceful yet not too old fashioned, with a mix of period and modern furnishings, thick curtains, and spacious marble bathrooms. On site you can take afternoon tea in the lovely salons or gardens, relax at the spa, or explore the 500-acre property by foot or horseback. Don't miss the Park Restaurant's Michelin-starred cuisine, but also be sure to stroll through the charming village of Colerne and stop in to some traditional local pubs.
2009 Seasonal Highlights:
Bath Races, April to October; Badminton Horse trials, May 10 to 7; Polo Beaufort, May through September; Gatcombe Horse Park Trials, August 7 to 9; Bristol International Balloon Festival, August 6 to 9; Bristol Flower Show, July 17 to 19; Bath Film Festival, October 29 to November 8; Bath Christmas Markets, November 26 to December 6.
Geography: Bath, England
#7 Kohler, Wisconsin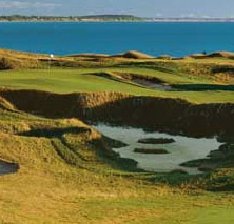 Chicagoland spa and golf lovers who want to avoid the hassles of O'Hare or Midway airports can head 2.5 hours north to Wisconsin's picture perfect village of Kohler, near the shores of Lake Michigan. If you're familiar with the high-quality bath fixtures from the Kohler company, then imagine how great their Waters Spa is! It's a big draw at the upscale resort and village created by the Kohler family, the other being the four championship golf courses designed by Pete Dye. In fact, Kohler's renowned Whistling Straits course will host the 2010 PGA Championship. It's best to go between late Spring and early Fall, to avoid the cold weather (although hibernating in the spa during the winter sounds good to me). Other diversions include a new yoga center, hiking, canoeing, fly fishing and shopping in the local boutiques (don't miss the chocolaterie). You can also tour the Kohler factory and shop the Design Center. Stay at The American Club (rates from $170), a luxe hotel with 236 rooms in a historic, Tudor-style building. Needless to say, the bathrooms are top-notch, but make a request if you want a huge whirlpool spacious enough for two. Spa fanatics looking for real pampering should book a suite in the club's Carriage House (rates from $400), adjacent to the spa. Somewhat less pricey but also nice is the Inn on Woodlake (rates from $121). No matter where you stay, you'll eat well at Kohler's array of impressive fine and casual dining restaurants and cafes. Be sure to sample the local cheese!
2009 Seasonal Highlights:
America's Test Kitchen TV host and author Christopher Kimball visits The American Club, April 3 & 4; Kohler Festival of Beer, May 22 to 24; Kohler Food & Wine Experience, October October 22 to 25; Holiday Market, November 20 to 22.
Geography: Wisconsin
#8 Warren, Mad River Valley, Vermont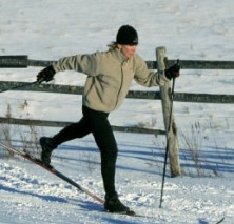 With year-round outdoorsy attractions, bucolic Vermont is always a great escape for Bostonians, as well as many New Yorkers. I love the Green Mountain State not only for all its natural beauty, but also for its bounty of charming New England villages and inns, as well as gourmet restaurants serving healthy, fresh cuisine. For a romantic weekend there, couples should check into the Pitcher Inn (rates from $425), a historic hotel with just 11 individually decorated rooms and suites, each with a locally-inspired theme. (Try to book a room with a fireplace). Go soon, in March or April 2009, to take advantage of some of their special packages, especially if you can sneak away midweek – check their Website for details!) The inn is located in the quaint village of Warren in the Mad River Valley, about 3.5 hours from Boston, and close to the ski resorts of Sugarbush and Mad River Glen. It's the only Relais & Chateaux property in Vermont, and the reasons why are clear when you enjoy a meal at the Dining Room, where Chef Sue Schicklerer has earned quite a following for her cuisine featuring local game and produce. By day you can have massages and skin treatments in the tiny spa, or head out for all kinds of activities, which, depending on the season, might include leaf peeping, hot air ballooning, cross country skiing, snow-shoeing, golf, tennis, fly fishing, hiking, biking, canoeing and much more, including year-round shopping; be sure to stock up on maple syrup …
2009 Seasonal Highlights:
Sugarbush Adventure Games Triathlon, April 5; Waitsfield Farmers' Market, Saturdays from May 16 through October 17; Green Mountain Opera Festival May 28 to June 21; Warren's Annual Independence Day festivities, July 4; Vermont Festival of the Arts, August 1 to September 7; Fall foliage viewing season, mid-September through mid-October; Chateau Montelena Wine Tasting, October 23 & 24.
Geography: Vermont
Author Bio

Suzanne Aaronson is the Founder and Curator of Suzanne's Files, a travel and leisure resource providing savvy perspective on quality lifestyle.