Why go to Prague?
The capital city of the Czech Republic is one of the most picturesque places in all of Europe – with its ancient history and diverse and mixed architectural styles. Prague is not only a sophisticated and calm city, but also extremely hospitable. Delicious Czech food, breathtaking historical monuments, old churches and galleries, traditional architecture – Prague has it all and the city cannot wait to share it with you.

Beautiful scenery of Prague seen from the Charles Castle


Prague at Night
Prague is considered by many as one of the cheapest travel destinations in Europe, but this statement can be very misleading. Thinking it is cheap may actually trick you to spend more than originally intended. However, there are a few tips you can apply during your travels in Prague to make your stay affordable and pleasant.
#1 Eat in local restaurants
Charles Castle, Charles Bridge and the Old Town Square areas are very expensive for dining out. Although there are many restaurants and food stands here, the prices are much higher because these places are typical touristy spots. Instead of these, you can eat in a nice, cozy and traditional Czech local restaurant called Smichovsky Radnicni Sklipek; this was by far my favourite place to eat in Prague.

This is how the inside of Smichovsky Radnicni Sklípek looks like
This restaurant was introduced to me by one of my couch-surfing friends, a full time Erasmus student (Erasmus is a European Union student exchange program), who likes dining out on the cheap. The food was excellent and extremely cheap. We paid 15 Kc ($0.7) per glass of red wine and 144Kc ($7.3) for roasted pork ribs marinated in piquant sauce, served with garlic bread (the portion was way too big for me, so I shared it with my Taiwanese host).

Traditional Czech Ribs
Moreover, you can grab some traditional Czech delicacies from local cafes or bakeries. Ordering a traditional piece of Czech trdelnik (cake and sweet pastry made from rolled dough, wrapped around a stick, then grilled and topped with sugar and walnut mix) in restaurants is much more expensive than in local bakeries and they all taste the same!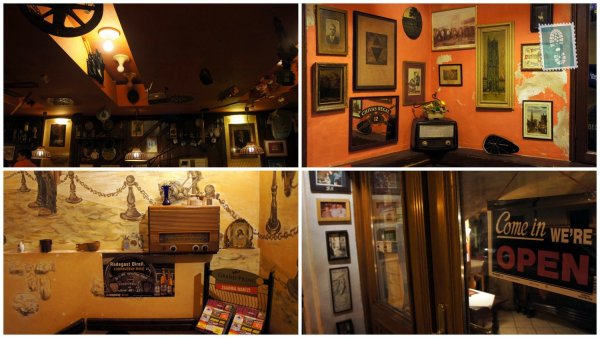 Trdelnik
#2 Walk around the city
Prague, in comparison to other European capital cities, is very small. Take your time and go for a walk instead of taking a subway/taxi/ bus or tram.

Charles Castle
The good news is all historical spots and attractions are so close that you don't need to walk that much to explore the city properly. Doing this will save a lot of money on local transportation (a one way subway ticket costs 33 Kc which is $1.6).

Charles Bridge
You will not miss anything important and beautiful when you explore Prague on foot. You will be blown away by its picturesque scenery, bridges and monuments; you can enjoy the view of traditional Prague as visually the skyline has not changed for a number of decades. Discover little pieces of historical European cities – the "streets of Barcelona", views from the Charles Bridge similar to Paris, narrow streets and pastel colors similar to what you see in Lisbon.

Old town Square
Most entries to galleries, museums and churches are free, so you can enjoy sightseeing all day without spending money at all.
#3 Go Couch-surfing
The prices of hostels/hotels/guest houses in Prague might be too high for an ordinary backpacker. The best strategy is to find a host who can give you a floor or a bed to sleep on. There are many Erasmus students from all over the world who study at Prague universities and would be more than happy to host you.

Me and My Hosts
I had an amazing time being hosted by Taiwanese girls who showed me around Prague and told many interesting stories. I experienced my first Sushi, had a lot of Czech food, strolled through the city at night (we were all blown away by its stunning scenery), had the best hot chocolate ever, listened to traditional Czech music and picnicked at Vysehrad Catle.
Do not hesitate to explore Prague this winter on the cheap. It is even more beautiful than in summer!
Bio
Agness is a Polish vagabond who, after graduation, left her comfort zone and set off for a journey of her lifetime to China in 2011. She has been constantly travelling the world since then (slowly, but surely as she says), living like a local for less than $25 a day. She became a photography passionate and adventure blogger sharing her life enthusiasm and travel experience with everyone around.
Visit her website at: www.etramping.com