It's hard for me not to be emotional when writing about my time in Valencia. I'm not sure exactly what is was about the city but it seems to have enchanted me. I was and still am, captivated by all it had to offer. I think naively I'd always seen Spain as a cheap holiday destination rather than somewhere to explore in more depth. I considered places further away more exciting and intriguing but to this day, Valencia remains one of my favourite places.
The third largest city in Spain, Valencia in situated on the banks of the river Turia. I was fortunate enough to visit here during the city's Falles celebrations and it was one of the best experiences I've had.
Paella 
Knowing my love for food, it is no surprise that a highlight of Valencia was the Paella. I was taken by a local family to a restaurant outside of the city and had one of the best meals of my life. I had, of course, eaten Paella before but this one was exceptional. Made traditionally, with rabbit and chicken and flavoured with paprika and saffron, it was full of flavour and utterly delicious.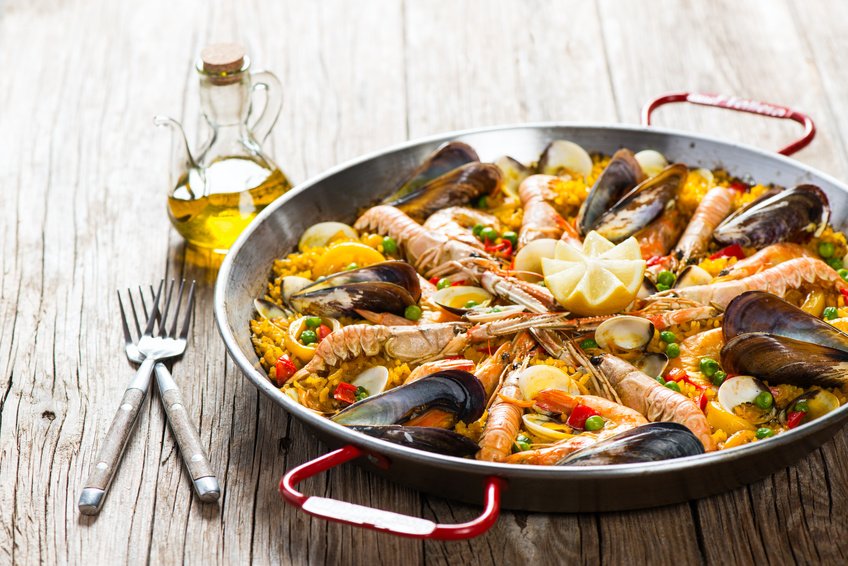 The Old
Valencia has a rich history and its historic centre is one of the largest in Spain. Within it you can find many ancient monuments and cultural attractions. Like many old towns in Europe it homes the city's Cathedral and other attractions including the famous Central Market, with its colourful ceramic titles and variety of quality produce.  Here you can also find one of the city's primary attractions; The Silk Exchange (Lonja de la Seda). Listed as a World Heritage Site, it is one of the most famous gothic monuments in Europe.
The New
Moving on from the old city you can enjoy a stroll along the Antiguo Cauce del Rio Turiatowards the futuristic City of Arts and Sciences. The Antiguo Cauce del Rio Turia is a unique park area, formed in the old riverbed after the river was redirected due to catastrophic flooding in 1957. Some people suggested it was turned into a motorway but fortunately it was kept as a beautiful recreational area. It's a great place to relax, enjoy a lunch or watch as the locals jog or cycle by.
Down from here you reach the striking City of Arts and Sciences. Designed by world-renowned architect Santiago Calatrava it contains an Opera House, a Science Museum, an IMAX Cinema and an Oceanographic Park. I am rarely enamored by modern architecture but this was remarkable. Something about it was cinematic and it felt like it could be a set of a great sci-fi film.
We did not see a film at the Hemisfèric IMAX but its architectural brilliance was surely better than any film we could have chosen. Positioned on a swallow pool of water, with the reflection in the water the design appears to be an eye.  Similarly, the Science Museum had an intriguing design; built to resemble a skeleton of a whale. Inside, the exhibitions were no less interesting. As my Dad would often say, I am a bit of a philistine when it comes to science but the museum was highly interactive and kept me very much engaged.
The Blue
While we were there we took a trip to the Oceanographic Park, again a wonderfully constructed building. It houses many interesting animals from crocodiles and penguins to sharks and turtles. Whilst it wasn't one of the cheaper activities it was definitely one I enjoyed. The animals looked well cared for and it was a tranquil place to spend some time.
Something for Everyone
I think I fell in love with Valencia. Maybe it wouldn't be the same if I returned but I had such a brilliant time there. I felt like I really got to understand the city and appreciate its culture, old and new. I spent some time with locals who were able to show me some of the best kept secrets of the city and importantly, where to find best Paella! I really admire the pride they had in their city; I remember thinking how nice it was to see everyone wearing the traditional dress with such pride. It was amazing to see that the old traditions were very much alive within modern life. It certainly made me consider English traditions and whether as a country we take enough pride in them.
One of aspects I liked most (aside from the Paella) was how the old town and the ultra modern City of Arts and Sciences seemed to complement each other so effortlessly. Though vastly different and from completely different eras, the two parts seemed to make the city complete. And I haven't even mentioned the gorgeous sandy beaches!
I'd go back to Valencia in a heartbeat; my only worry would be that it would not live up to my very wonderful memories.