Strasbourg is an incredible glimpse into the beauty of France outside of big cities like Paris. With a population of close to 300,000 this interesting and culturally diverse city makes for a wonderful vacation. The history of the city itself is fascinating. Thanks to multiple changes in land ownership between France and Germany, as well as regular tourist traffic through the city. The eclectic history has created a mix of languages in the city, as such one may hear not only French while visiting, but German, English, and even Spanish as well. The buildings are charming and interesting and the people are friendly. The macarons are delicious and the patisseries do not disappoint. In the middle of town, is a beautiful park that was just a delight for our children. Parc de L'Orangerie reminded me of Monet's artwork. People enjoyed picnics on blankets amongst budding tulips, admired animals at the small zoo inside the park, and road their bicycles while carrying flowers and baguettes in their baskets. After just a couple of days, we fell in love with this slice of French paradise and we cannot wait to go back!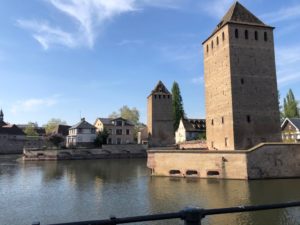 La Petite France, an area in Strasbourg that is home to many restaurants, stores, and goings-on, is interlaced with canals. These canals are used for both business purposes and tourist trips. Thanks to our tour guide, we learned interestingly that the houses and buildings alongside the canals are all brightly colored so as to alert those traveling by boat about what kind of business they conduct. For example, a brown house might signify a leatherworker, whereas a pink house might be a brewer. How brilliant! The outcome is that this city is bright, welcoming, and provides an incredible view! There is a large variety of restaurants to enjoy as well as historical locations like the Strasbourg Cathedral to tour. With its intricate stained glass and sky-high tower, this is a must!

While my husband and I delighted in the many interesting facts relayed to us by our tour guide, our toddlers watched the birds and danced in the cobblestone walkways. With humble hopes, we tried to make all of our requests in French, self-conscious of our pronunciation but consistently met with kind patience from the locals. Our kids bravely ate pom frits and sausage in a French restaurant, in which they seemed to be completely unaware that the waiter took mercy on us and spoke in English. My husband and I were relieved, and our toddlers were oblivious. Somehow, this experience has taught me that though traveling with toddlers can be taxing, it is well worth the effort. The simple joys that they take, the bravery it takes as a parent to make sure that your kids get what they need, (even if you have to stumble your way through a foreign language to ask for help), and their unbridled sense of curiosity help you experience adventure in a very different way. Thanks to them, our international travels abroad will be delightful, whether or not our pronunciation is perfect and whether or not we need to break for nap time.

There is really nothing else like traveling through Europe with toddlers. This is true for so many reasons, one of which is that they seldom seem to know just how lucky they are or how crazy it is that they are, where they are. Having lived in Germany now for a year and a half, we have become accustomed to hearing German daily. We have grown comfortable enough in our surroundings to explore and live. Though, when we travel to another country, like France for example, it is new and bewildering all over again. As an adult, you worry about how you look to others, whether you are pronouncing words correctly, or even if you will be able to do something as simple as buy food. Traveling can be scary and overwhelming as an adult. How refreshing it is to travel with toddlers who sing in the streets while walking with their parents and do not care who is looking, sit in a French restaurant looking at a menu and love their food regardless of how it is pronounced, and gleefully indulge in a chocolate croissant without worrying about the calories. Our most recent trip to France and every trip so far has been awesome, in no small part to our wonderful sweet peas.