There is the Arabic world, the Western world, the Indian world, the Asian world and the African world. we are loving every minute of our time in the Arabic world.
Greetings from Dead Sea high on top of Mt. Nebo overlooking Jerusalem City and Palestine Territory. Can see lights of this old city already popping out, about 15 clicks from where we are standing. We are near the John the Baptism site and at the Moses memorial.
One absolutely crazy trip so far!! Just had one of the top travel experiences ever – this country is full of surprises. Wadi Mujib was unbelievable and a very dangerous experience. This is one of Jordan's wild and wet river experience. We started hiking at the mouth of the river canyon and soon all dry earth disappeared and we were wading up a narrow river canyon with fast moving water. The sun disappeared and the curved walls towered hundreds of feet above us with overhangs completely blocking out any light in places making a dark eerie experience during parts of the trek. The canyon kept narrowing more and more with sheer walls carved by eons of water flow. Soon we encountered small waterfalls, huge rocks, deep water and incredibly fast river flow. We had to hug the edges of the river using ropes to pull ourselves forward against the river. Unfortunately we had to abandon the camera as things became much too dangerous and there was no way we were going to try to hold onto a camera and continue forwards.
We met others on this arduous exciting trek, most had some sort of injury(s). We watched one guy who was swung around forcefully in an instant by the river current slamming his back against a big rock. He wasn't doing too good. Another guy messed up his ankle and and to turn around, being helped and half carried along by his friends. Another one had huge bruise on leg from slipping against rock.
The climb became even tougher with steep slippery rocks – fortunately more ropes and some locals helped pull us up. One person jumped onto one of the rock slides and messed up shoulder a bit, got scraped up and I got scraped up by one of the rocks so nothing to bad in comparison. After about 90 minutes we reached the "end" of this crazy climb – and a most amazing site greeted us where 3 converging waterfalls shoot out of the side of the canyon from about 50 feet up. This created a dangerous eddy which we skirted and then found ourselves behind the waterfalls in a somewhat protected grotto looking out. We then jumped into the water, were quickly carried downstream and pummeled by the sheer force of the water coming down.
Just below this section was a massive square boulder wedged in (hopefully tightly) by the canyon walls. We had to quickly cross this in both directions during a somewhat tricky section of the river all the while we were soaked wet and in the river the entire climb. When we stopped for any length of time other than in the most dangerous of the rapids, our feet were immediately surrounded by "foot cleaning" fish – these fish would continuously bite at you, but not painful at all.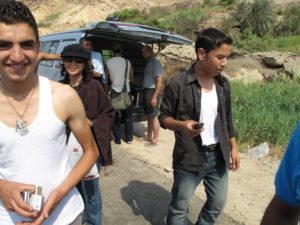 Dead Sea is fantastic – we hitch hiked to where the locals swim – a garbage infused steep section just down from the road. Lots of hot springs coming out of mountain in this area and this was the fresh water we used to clean up – hot water on damn hot day…ohhh! We haven't seen trees in days!! Always a painful experience when the super salty water gets into recent cuts and bruises. Touching this water with the tongue was a painful experience – the water is so saline. You can't sink even if you want to its so buoyant; its great place for non swimmers!! You can clearly see currents of salt and in the places where these were the most visible the water was super heated…very very hot water at the surface but about a foot below more manageable.
There are 4 fantastic resorts on the Jordanian side – no other lodging yet although some new resorts are being built. Check out the Movenpick, Zara spa for top pampering.
We've been hitch hiking through Jordan, today we've hitched over 160 km. This is a very interesting way to get around the country, meet some kewl people and save a ton of money. Jordan is not a cheap country. Today we hitched from Amman to the wadi, then south some more and back to Dead Sea and then back to Amman. Typically we don't have to wait too long for a ride. Today we had rides from drunks who were literally weaving back and forth on the road, smoking and yelling loudly in Arabic, a bunch of happy men jammed into a van full of plastic vegetation decoration including colorful flowers on the ceilings and on the doors – an old Bedouin man driving an ancient truck who spoke no English but who we communicated with hand gestures (he ended up giving us the longest ride of the day), and a number of other folks for shorter distances.
The last ride of the day turned out to be the kewlest. 3 dudes, one a lawyer, one a Dr. of history at university of Jordan and one a taxi driver. These were from a very wealthy set, with their families owning 2 of the largest homes in Mahaba, a major suburb of the capital city Amman. One's father was the ministry of education under the country's tourism department. They had lots of stories and took us around at night and finally to their home for a SUPER meal – BBQ, home cured olives and tons of Mediterranean styled food along with Arabic touches….a perfect ending to our excitement packed trip!