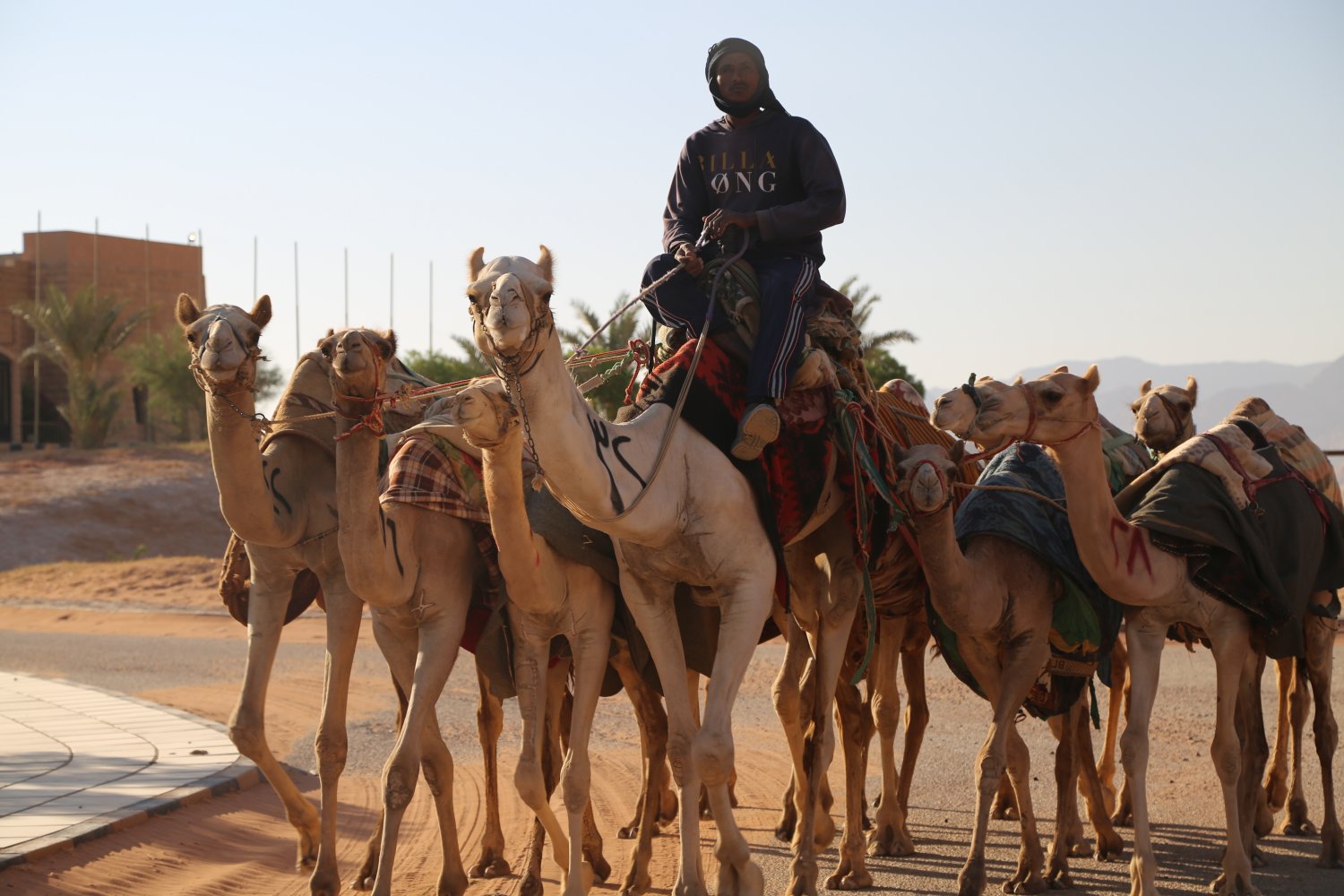 To him, like to a number of other Jordanians to whom I had spoken, Lawrence and his Seven Pillars of Wisdom were still alive. His desert exploits, during the First World War, seemingly had not been erased from their minds.
After visiting the fabulous rose-red ruins of Petra, we had picked up Ali on a tourist road, encircling this once lost Nabataean city. It gave us one last fantastic view of the breath-taking mountains cradling the fairytale town. In less than half an hour our hitchhiker had left us and we were driving on the desert highway linking Amman, Jordan's capital, with Aqaba, the country's only port. The incredible stone-carved city and scenic hills were now only a memory as I manoeuvred our Toyota in-between heavy trucks and tractor trailers southward that were carrying goods to Saudi Arabia and northward to the Jordanian cities and Iraq.
Past the town of al-Quwayra, we were soon driving in a wide valley, rimmed by fantastically shaped hills. Their contours, colours, and sheer nakedness, gave them a unique type of majesty. Soon we came to the large and attractive Visitors' Centre that has just been opened for the administration of the Protected Area of Wadi Rum and the neighbouring locale – the heart of all activities in the Wadi.
From here travellers can hire a guide, tents for the night, find good meals, rent a four-wheel drive jeep with a Bedouin driver and guide for touring the Valley, and hire camels for short excursions or a desert trip to Aqaba – a some two-day camel ride away.
From the Visitors' Centre, edged by seven naturally formed pillars of sandstone (two badly eroded) from which Lawrence took the name of his famous work, begins the fantastically shaped hills, overshadowing the Wadi from both sides. Sculptured by weather and time the pillars evoke a regality of the wonder of nature.
In less than 10 minutes, we were in the village of Wadi Rum whose some 2,000 inhabitants live off their animals and, of course, the visitors – drawn by the exploits of the legendary Lawrence of Arabia and the setting for the film that carried his name. The inhabitants, noted for their hospitality, are members of several Bedouin tribes, the Mznah and Huwaitat of "Lawrence of Arabia" fame, who are settled mostly in scattered nomadic camps. Should visitors be lucky enough to BE invited to share a cup of coffee in their black tents, under a clear starlit sky, it will be an experience they will never forget.
All around the village and beyond into the valley, the weathered mountains with their sandstone rocks radiating black, purple and innumerable other hues cast their late afternoon shadows on the white and pinkish sand. The rock formations of Wadi Rum, Jordan's answer to the Grand Canyon, are undoubtedly the largest and most magnificent of Jordan's desert landscapes. For climbers, scaling their sheer granite and sandstone cliffs is an inviting challenge.
The scenes all around are captivating vistas of ancient valleys and towering weathered sandstone-mountains rising out of the white and pink coloured sands. Standing like foreboding sentinels the desert-mountains are stunning in their natural beauty. One could easily see why this part of the desert so intrigued Lawrence that he often mentioned it in his writings and why much of David Lean's "Lawrence of Arabia" was filmed in its enchanting atmosphere. Here, modern day visitors can still feel the romance of the Arabian Desert stunning in its natural beauty.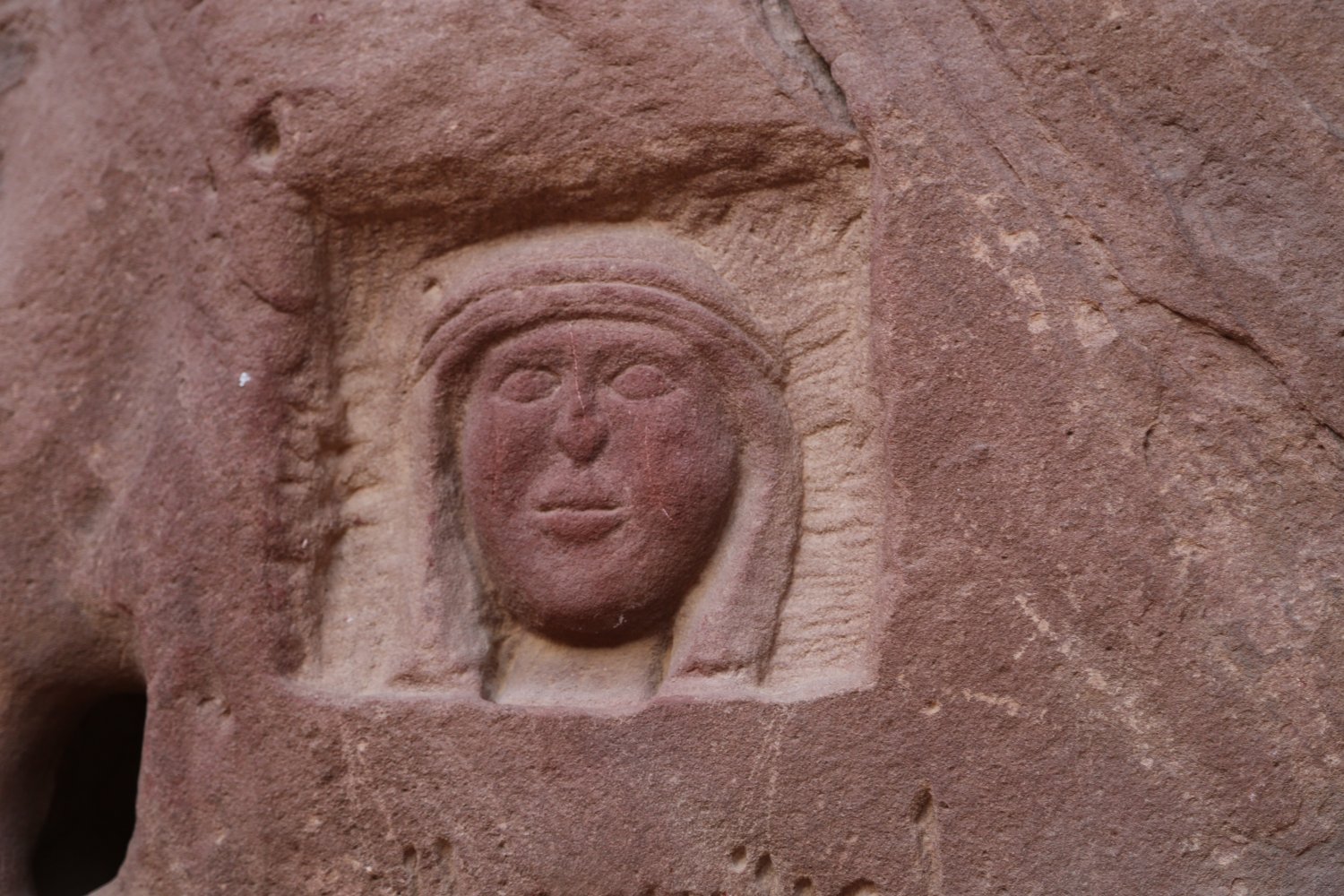 According to the Jordanians, the landscape at Wadi Rum is the most mesmerizing desert scene in the world. In this epitome of captivating lunar landscape where Lawrence once hid his men, a visitor can truly visualize this legendary British officer coming alive from the pages of history.
Near the end of the day, after examining the ruins of the nearby Nabataean temple, which wakes up memories of Nabateans who in ancient times occupied the area, we returned to the Visitors' Centre to sip on a cup of coffee in one of its restaurants. The courteous staff gathered around us and in a few minutes their friendliness made us feel that we had known them for years.
Travelling back to the main highway, I was thinking of the gracious and sociable, now settled desert men who still hold onto the traditional Arab hospitality – the way of life that impressed Lawrence – when the lights of Aqaba came into view. Unlike Lawrence and his men, who rode camels from Wadi Rum across jagged mountains to take the tiny medieval Ottoman Aqaba from the rear, we entered a new 21ST [20th] century city.
Aqaba was a busy port at the time of Solomon and the Queen of Sheba, but with the exception of a 12th century fort and artefacts in a museum, little remains from the bygone ages – even the Aqaba of Lawrence's day has virtually disappeared. Today's ultra-modern town of 160,000 is a resort of sand, sea and sun. Ringed by towering colourful barren mountains and edged by the inviting waters of the Gulf of Aqaba, lapping palm fringed sands, it has become the country's seaside retreat – called by some "Jordan's Cote d'Azur".
A wide range of modern hotels and restaurants has been built and these are helping to draw visitors from as far away as Europe and the Americas. They come, in the main, to dive, fish, sail, snorkel and water ski or simply to enjoy a dazzling undersea world of coral and other marine life. There are at least 140 species of coral and fish, at least 40 of which do not exist in any other part of the world. Around nine months of perfect tropical weather – water temperature averaging 20 C (68 F) in winter and 26 C (79 F) in summer – make water sports, swimming and sun-bathing great drawing cards.
We took a room in the comfortable Movenpick Hotel then the next day explored the fast expanding dazzling white city. However, my thoughts were not on sea and sand. They were back in history, at the time when Aqaba was only a small Ottoman fishing village. I could visualize Lawrence, who working to expand the British Empire, was leading his Bedouins across the surrounding mountains – a picture which has become the embodiment of desert romance.
IF YOU GO
Facts about Jordan
1) Tourist visas are easily available at any entry point into Jordan except at the King Hussein Bridge. These are single entry visas and cost 10 JD (Jordanian dinar). Groups of five persons or more arriving by way of a designated Jordanian tour operator are exempted from all visa charges.
2) The U.S. dollar is equal to about .70 cents to the JD; Canadian dollar about 60 to 1 JD. Exchange cash or traveller cheques at the money exchangers – they do not take commission.
3) The usual price to rent a reasonably modern small car with full insurance is around 30 or 35 (JD) per day. The roads are good – gas costs .60 JD per litre. Jordan is a small country with good roads, making important historic sites easily accessible. Taxis are reasonably priced and are one of the most convenient methods of transportation. However, agree to the fare beforehand. If taxi metered add 200 fils tip to price shown on metre.
4) Modern medical services are readily available in Jordan's larger cities and towns and the larger hotels normally have a doctor on call. Most doctors speak English fluently. Emergency medical treatment for cases not needing hospitalization is free in Jordan.
5) There are many Internet cafes all around the country – even in remote places.
6) Jordan is a very safe and friendly country in which to travel. Most Jordanians speak English and are very hospitable to strangers.
7) Conservative dress is advised for both men and women. Women will feel more comfortable when travelling in the country if they dress modestly – no leggings, mini skirts, shorts or sleeveless tops.
8) Besides mezzah and an endless series of appetizers, and the other usual Middle Eastern dishes, try the local Jordanian dishes of mansaf (lamb, rice and yogurt sauce) and musakhkhan (chicken, onion and pine nut dish).
9) For handicrafts, items to buy are: coloured sand bottles, cross-stitch embroidery, Madaba rugs, olive wood and mother-of-pearl articles, pottery and glassware, and silver Bedouin jewellery.
10) Departure taxes for non-Jordanians are 10 JD at the airport and 5 JD at other crossings.
11) For those in North America who would like to see a little of Jordan without travelling to that country, they can travel to Ottawa, capital of Canada and see the excellent Jordan Petra Exhibition at the Canadian Museum of Civilization – running from April 7, 2006 to January 2, 2007.
Note: All prices quoted are in Jordanian dinars (JD)
For Further Information, Contact:
Jordan Tourism Board, P.O. Box 830688, Amman 11183, Jordan. Tel: 962-6-5678294/962-6-5678254. Fax: 962-6-5678295.
E-mail Us!
Website: Jordan Tourism Board North America, 6867 Elm Street, #102 – McLean, VA 22101. Tel: 1 703 2437404. Fax: 1 703 2437406.