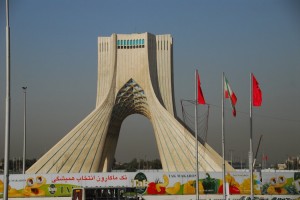 "My name is Ali. I'm from Iran." My mind went blank. What did I know about Iran? I tried to think of something. It's a big country in the Middle East and my country, America, isn't too keen on Iran.  Persian carpets? The moment I was thinking, I looked around at my surroundings.  A dozen of red Chinese lanterns were lit brightly and lined both sides of the street. Across from me at a mamak, Indian men were pulling roti dough around and around in the air. Malays and Westerners strolled about while young Chinese children lit off firecrackers to celebrate the upcoming New Year. And from a far, I could see a glimpse of the Petronas Towers mimicking chandeliers and brightening Kuala Lumpur's skyline.
"What are you doing in Malaysia?"
"Not living in Iran."
"Why?"
The man named Ali with dark, thin almond eyes gave me a curious, yet puzzled look. He laughed and spoke to his friend in an unfamiliar language.
"Are you two speaking Arabic?" The two men sitting in front of me looked at each other, as if they were snubbed but laughed off the irritated look and said, "No, Farsi." This was one of the first, of many misconceptions I had about Iran.
A few months had passed since my first encounter with Ali from Iran. My travel spirits lead me to Indonesia but I found myself back in Kuala Lumpur, Malaysia, and again sitting across Ali.  This time, we were in an Iranian restaurant. Smoke from hookahs filled the restaurant and I gazed about at the kaleidoscope of colors and cultures of Malaysia while Ali's told tales of Iran and the Middle East. However, these were stories of a past. A past long, long ago, when Zoroastrians' ruled the great land of Persia and before Islam came to the country. I wanted to hear more. I didn't know much about Iran, but I loved the stories of the past.
Naively I asked, "What's Iran like now?
"Well, I'm proud to be Persian, but I'm so shy to speak up because of my government. But I shouldn't be shy, all governments are bad, even yours." He shined a smile and I giggled.
"The only reason I left Iran was to finish my studies. In my country, everyone has to take an exam called Konkur. You have to pay a lot of time to study Arabic, Islamic studies, and religious attitudes. Even Geography! But you are fighting for seat in university because there aren't enough seats open for everyone. "
He took in the flavored smoke of hookah and breathed in deep. "Before I left Iran I knew it was a fucked up place, especially the religious people. The police can't even say anything nor do they have power over them. But in Malaysia I'm free. I'm free to wear shorts and free to go to 7/11. I can hug and hold hands with my love one.  I can't do these things in my country."
Not knowing how to react, my eyes wandered the scene of the restaurant and took in the greatness of these small acts. Never had I ever considered the impact of everyday acts for other people and how much I take for granted. Ali must have realized that I was at a loss for words and he spoke up as if he didn't notice the silence.
"Now, I'm really sad for my country and the pressure from the sanctions is too much to bear.  It's hard to study, I can barely focus. How can I live when money that used be worth 1,400MYR is now worth 400MYR. People don't understand the pressure on Iranian people, especially students like me. Just imagine you are playing a set price for rent and the owner knocks on your door one day to tell you the price is triple now. The price of food, supplies, anything is triple but your income is the same and you can't go anywhere or fix the situation."
And that at moment in the Iranian restaurant I felt humbled. I knew so little about my peers in the world and here I was, in a small part of the world that has connections to the vastness of it. Every day I see and interact with all walks life, but it was Ali from Iran that opened my eyes.