When in the Swiss Alps, go skiing, when in the Himalayas climb a mountain, when in the Maldives go Scuba Diving.
… when in the Negev Desert, go Sandboarding!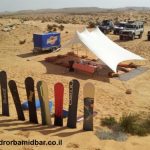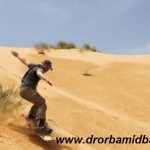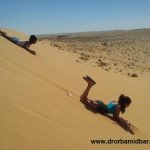 I have always preferred the sun over the snow and as a result Israel has always been one of favorite destinations. When I was presented with an opportunity to Sandboard for the first time in my life I jumped at the opportunity. Wouldn't you?!
Think of snowboarding on sand but in a bikini or tank top and without all the heavy equipment. It doesn't take much training and all ages from 2-100 can enjoy sliding down the Sand Dunes in various ways – on your back, on your butt, upside down, standing, face forward, any way you desire really.

It is not a sport you have to look good at – but rather boarding is meant to be fun, regardless of how you get down the dunes.
To arrange a trip, call or email Dror Bamidbar, the owner of a small business in Ramat Hanegev that rents sandboards, ATV's and provides other equipment for various fun desert activities. Ramat moved his family to the desert many years ago for a simpler life and has not regretted his decision.
When guests arrive, he offers tea/refreshments, and so stereotypically, a good attitude and wit as all Israeli hosts have in common.
After Sandboarding, stick around and watch the sunset – you won't be disappointed. This is a great place to relax and end your day.
Contact:
Dror Bamidbar
– www.facebook.com/drorbamidbar
– www.drorbamidbar.co.il/english/sandboarding
– Israel Ministry of Tourism