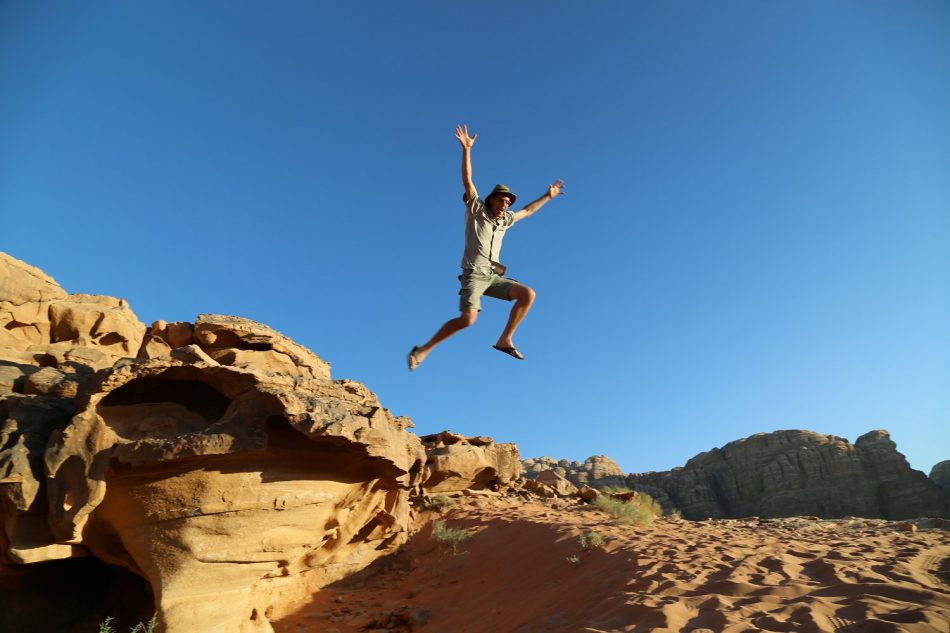 We are watching the sun slowly drop below the Egyptian skyline here on the edge of the Red Sea merely 3 clicks from the Saudi border. It is so quiet from our mountain side desert perch. 6 minutes walking gets us to the beach. The air is warm and intoxicating. We are on the Jordanian side now. This arm of the Red Sea contains the world's most northerly coral reefs.
The Red Sea is full of coral and brightly colored fish. Just got in from a 1 hour dive – where we dove down 15 meters to an old Russian tank slowly corroding away but providing a haven for hundreds of brightly colored fish. Lots of fantastic diving opps here – the water is damn clear, 30 meters vis and lots of neat underwater formations. There is a wall dive right smack on the Saudi border just down the road that is supposed to be killer. We check this out tomorrow amigos.
At the end of our dive we found a large metal trap containing several eels and a bunch of fish. Our guide quickly ripped open the metal frame and if she had had her dive knife she would have gutted the trap within seconds. as it was I watched her viciously attack the trap as we kept getting moved back and forth by the small surge – but then she jumped up an down on it after she let the fish escape and it was quickly rendered useless. We were diving in marine park and fish trapping not allowed.
105 F during the day with dry dessert air mixed with more humid air from Red Sea. This makes for perfect temps. We tried our hand at parting the Red Sea but from the size of it, we were quickly overwhelmed. We can't figure out how this was done thousands of years ago by one man who by today's standards, lived in a technology poor society.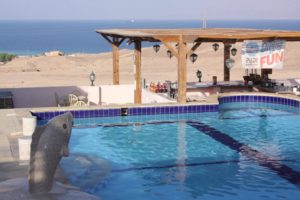 Sitting at edge of pool at swim up bar throwing back a frosty one and typing away. This is fantastic small resort at edge of water in dessert. Owned by 2 well traveled Jordanians. Great divers atmosphere here…soooo amazingly quiet all day and especially at night with the stars adding additional quieting atmosphere.. all of Jordan seems to be desert, like Oman this country is clearly one of the gems of the Arabic world. Wide open roads, nothing but desert and sky. These are great places to get lost. This section of Jordan is located about 15 minutes from Aqaba the small city in the south. This is isolated area, no restaurants, have to take taxi to get here. 2 years ago this entire south section of Jordan along the Red Sea was merely desert, however King Abdullah wanted to open this area for tourism and land was given away very cheaply to those in the tourism industry so that they could open hotels. Like another royal king, King Abdullah is an American citizen and seems very well respected in this country; his photo is everywhere.
Wadi Rum – there are places that when you are there you say, "damn this is incredible" and then after leaving these types of places and having a few days of reflection you realize just how special these types of places are. Wadi Rum was clearly
one of these places for us.
We drove our small Citroen (cheap crap of a car and certainly don't recommend this crap metal) rented car on the back roads to get here. When picked up car from rental structure, were greeted with two locals yelling profusely and as they left they ripped up papers and threw them on the floor (the manager spoke to us in English all the while pointing at the men, and said, "and here you have an example of crazy mentality" – whatever caused the problem, the manager was also very pissed off.
Wadi Rum adjoins the Saudi border and the country lines have divided the Bedouin communities. We hired a driver and a jeep to take us in the real backcountry. Unfortunately about 2 clicks in the jeep broke down and we were stranded on the side of the road in the 105 degree dry desert heat. We could have broken down screaming in frustration but fortunately cell phones work just about everywhere in Jordan and our driver called his brother who picked us up and took us to his Bedouin home for some sweet tea. Then we resumed and entered the heart of Wadi Rum.
No one around – empty for miles and miles – and such colors in the scenery, tons of reds, sand dunes. We visited a cool rock bridge – came across a spring with camels running around and visited the most amazing narrow rock colorful canyon with 2000+ year old inscriptions on the walls. Look for stunning photos coming whenever we can get some time and comp access to post. Hopefully in next few weeks.
Ramadan just ended and we are free once again to eat during the day. Been blistering hard to go all day w/o food although we bring some snacks to discretely eat when we are not in public. All restaurants closed during day even the American fast food ones. Only major hotels keep restaurants open and we are not near these that often.
Safeway keeps such high standards worldwide – the Safeway's we have visited here in Jordan have such rotting fruits and vegetables its hard to even figure out what to purchase. Grapes from Chile – oh yea, lets see, Chile is just coming out of winter, I can imagine how good these Safeway grapes from Chile will taste with all the grey mold covering them.
At least there are some fruit markets – right now we are lucky to be here for fresh figs, tons of grapes and the olives are everywhere; Jordan loves its olives that is for sure. Movenpick the 5 star resort – wooo what good breakfast we had there, if we are lucky we will get room at Dead Sea Movenpick, Swiss's finest International establishment. Also try their ice cream – had some of this in the 'Desh – fine indeed it is…especially the super rich chocolate.
Sucks that fava beans (foul in Arabe) were only served during Ramadan. We try to order these now at several restaurants and were quickly told, "sorry, you missed Ramadan". BTB, (big time bummer)
Passing Borders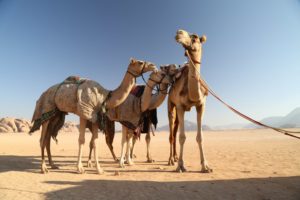 Yes, passing borders is in one word to best summarize this situation here… complicated. if you go to Israel might as well kiss your passport goodbye for future travel to a number of countries where you aren't allowed to enter with Israeli passport stamp. Syria apparently not on best terms with America and we've heard stories about making Americans wait all day at border. Jordanians cannot go into Israel but Israelis can come to Jordan at least with visas. People cannot go here and those people cannot go there – countries all close to each other, but traveling to them and back from them definitely can be complicated.
PETRA rocks and is one of the world's 7 wonders as voted in the recent poll. We can see why – walk through 1 mile of narrow colorful canyon rock towering 300 feet above you and narrowing down to merely 9 feet at times when as you walk around the bend you are struck with the sunlit carved "treasury" that towers up a sheer face of rock wall. This was constructed 2100 years ago and looks remarkably well preserved after all this time and exposure to the elements. We were even treated to the Indiana Jones theme song on someone's cell phone as we arrived.