In order to fully explore Cairo, you're going to have to move from one location to another at some point. Don't be overwhelmed! The city offers several different transportation options, all of which are part of the joy and challenges of traveling in Egypt. Not sure which is best for you? The list below covers their advantages and disadvantages, as well as how to use them.
Taxi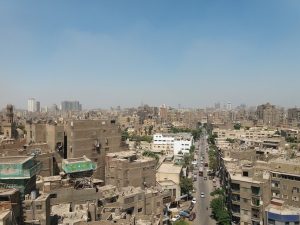 With taxis, it's all about confidence. Taxi drivers are notorious for trying to squeeze extra money out of you. Don't be scared off by their overly negative reputation, but don't be fazed or afraid to stand up for yourself either. That being said, don't be overly stingy. A few extra pounds won't make a difference to you, but it may for your driver.
Flag down a taxi by standing on the side of the road and extending your arm. Make sure you're standing on the right side in the direction you want to go. Don't get in the taxi as soon as it stops. When the taxi pulls up, they'll roll down their window so you can tell them where you want to go. If they're willing to make the trip, they'll tell you. Otherwise they'll shake their head and drive off. Don't take it personally.
If they agree to drive you, check if the meter is working. The meter only seems to work in a handful of taxis throughout the city. Try and decide a price before you leave. When you get in, sit in the front seat and not the back.
Then the adventure begins! Driving through Cairo is always an exciting time. There are only a handful of stop lights in the city, and it seems that the right of way is only determined by which car is a little ahead of the other. Remember, fast driving is the norm.
If you absolutely believe that the driver is driving quickly and recklessly, the best way to get them to slow down is to say you may throw up. This will almost always work. After all, no one wants someone to vomit in their backseat.
Once you arrive at your destination, take out the money you owe the driver. Then get out of the vehicle and hand it to them through the window and walk away. This prevents any last minute haggling or appeals that may occur if you were trapped in the backseat.
Uber
Uber is a great alternative to taxis because the price is predetermined, so there's no haggling involved. To use Uber, you'll need a phone with data so you can access the app even when you're offline. The downside of Uber is that it may take a long time for your driver to arrive. If you're pressed for time, it's easier to simply flag down the nearest taxi.
The driver may call you ahead of time to clarify your location for pickup. Be specific if you can. Many drivers know enough English to navigate to you, but occasionally you'll come across a driver who's uncomfortable and chooses to cancel. This is the main risk in using Uber.
Metro
The metro system is great and comparable to typical metro systems found in the US and Europe. Don't worry, everything is listed in both English and in Arabic! The metro is also the cheapest tourist-friendly transportation option.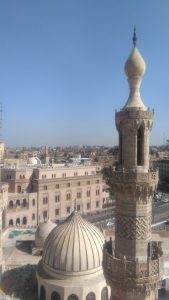 Unfortunately it doesn't cover the entire city and isn't always convenient. You may have to take a taxi or walk between your metro stop and final destination. The metro is also very crowded during the morning and evening commute rush hours.
If you're taking the metro alone as a female, the women-only car is recommended as, in much of Cairo, harassment can be a problem.
You can find metro stops spread throughout the city. They're marked with a "M" sign, normally above a set of stairs. You can't purchase tickets through a machine. You'll have to stand in line. Once you have a ticket, you'll put in a slot at a turnstile. Walk through, and don't forget to grab your ticket and hold on to it. You'll need it to get out!
It's normal to see women and children selling candy or objects on the car. Don't take anything. If offered something, just shake your head and say "la" politely.
Bus
Unlike the metro, all the bus stops and numbers are listed in Arabic, not in English, which makes using them difficult. There are, however, more liens and stops than the metro and it is less expensive. It's difficult to find any consistent information about buses. If you're daring enough to brave the bus system and have a local friend or contact, ask them for help.
Van
You'll see plenty of vans, or "microbuses" everywhere. Although these are very inexpensive, it's inadvisable for visitors to take them.
Travel in Cairo may be challenging, but it is all part of the experience. These many modes of transport are some of the best ways to see the city and witness firsthand the transportation norms on the other half of the world.