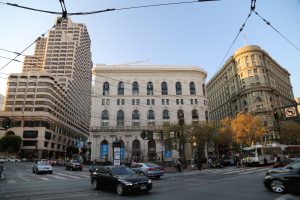 We want you to have unlimited fun on your visit to San Francisco. So before you prepare your bucket list of the things you will be doing, once you are here, do have a knowledge of places that are a must to visit in San Francisco. This will ensure that you don't miss anything worthwhile in your San Francisco City Tour.
Golden Gate Bridge
Today one of the seven wonders of the world, it was once considered as impossible to be built. This magnificent technical masterpiece is the most popular tourist attraction in San Francisco. It was built after a long struggle against many difficulties. So this landmark, definitely deserves a visit.
Fisherman's Wharf
It is one of the busiest and lively places of San Francisco. You can spend a fun time watching street performances, eating seafood at restaurants, shopping and enjoying the view of Alcatraz and The Golden Gate Bridge. Many events of San Francisco are hosted here.
Chinatown
It is known to be the largest Chinese community outside Asia and also , the oldest one. It holds a great importance in the history of ethnic Chinese immigrants in North America. It is a major tourist attraction and is known to have more visitors than the Golden Gate Bridge annually.
Twin Peaks
This world famous tourist attraction is 922 ft. in height and consists of two adjacent peaks. It is a treasure of diverse flora and fauna. There is no way to commute to the top of the peak. It gives an idea about the natural beauty of San Francisco, before the development began and took over everything.
Alcatraz Island
Some consider it be an old prison island, but there is much more to it. It is a beautifully preserved national park where you can spend your whole day enjoying the nature. The most important attraction of visiting this island is the round trip ferry rides. Also, the audio tour of the prison makes you acquainted with the life of the prison inmates and the guards.
This park is a U.S. National Recreation Area. It is one of the largest urban parks of the world and has ecologically and historically significant landscapes surrounding the San Francisco Bay Area.
Golden Gate Park
It is often confused with the Golden Gate National Recreation Area, but these are actually not the same. It is the place where the people of the city can relax and have a good time in natural surroundings.
Exploratorium
Perfect place for kids as well as adults, it is a museum which aims at changing the way the world learns. It is known for its sophisticated teacher training program. It offers various ways to the visitors to understand the world around them.
De Young Fine Arts Museum
This museum is located in the Golden Gate Park. It got its name from its founder 'De Young'. It exhibits American art from the 17th century.
Palace of Fine Arts
Located in the Marina District of San Francisco, it is a popular tourist destination and a place renowned for wedding photography of couples. Even its replica has been built in Disney's California Adventure in Anaheim.