Michigan is a great state to visit. It is a vacationer's paradise with arts and culture, beaches, boats and lakes, nature activities, museums and history, vibrant cities, and sporting events galore. Take advantage of the businesses that keep people coming back to Michigan by offering perks to Detroit residents and visitors.
Michigan is one of the Great Lakes states. Known for its scenic shorelines, the state has been making massive strides toward strengthening its tourism-based economy by hosting fun and exciting activities that will satisfy the heartiest of travelers. It's no wonder it is one of North America's most popular tourist destinations!
Plenty to do while in Michigan
Travelers come here for the Pure Michigan vacation. Hike through pristine state parks, cruise its scenic lakes and rivers, cycle along wooded trails, learn about America's past at historical monuments, and more. Pure Michigan vacation ideas include small towns and big cities and every activity. Try something new or take a tour with friends and family. Here's a Michigan travel bucket list to help with your Michigan travel plans.
Upper Peninsula
The Upper Peninsula is a great option if you're seeking the most incredible locations in Michigan to get close to nature. The northern part of Michigan is the Upper Peninsula or Upper Michigan. Its stunning scenery is home to dense woods, glistening lakes and rivers, and so forth. The Upper Peninsula offers a getaway from the city where you can enjoy time with friends or family amid nature's magnificence while participating in various activities.
Prepare for a fantastic adventure into the Upper Peninsula's natural beauty by gathering your essentials in one place. Mountain climbing, mountain biking, island hopping, boating, camping, stargazing, viewing the northern lights, and numerous more activities are available. Spend time with your friends in the winter by snowmobiling, dog sledding, skiing, snowshoeing, ice fishing, snowboarding, and many other activities.
Mackinac Island
Mackinac Island on Lake Huron, which initially gained notoriety when the Grand Hotel was prominently featured in the film Somewhere in Time, is arguably the most recognized place in Michigan. The fact that you will have a great time whether you go in the spring, summer, or fall makes this one of the top Michigan bucket list items.
Casinos in the Great Lake
In Michigan, online casinos have only recently become authorized following the changes to the laws across the state and nationwide. So if you are a gambler, it is an excellent place.
Given their popularity, it is hard to imagine that they were not even permitted only three years ago. Now, residents of Michigan may partake in the online casino experience shared by many others across the globe without having to relocate. The bonuses offered by online casinos in Michigan are an excellent attraction for gamblers. It is encouraging to see Michigan setting the pace, even if several states still lag.
The vast range of games at Michigan's online casinos will undoubtedly have impressed you if you've ever been there. These casinos cater to all players, regardless of their preferred game. Moreover, online poker is quite popular among players in Michigan. It is easy to see this sport's attraction when you look at some of the broadcast or live-streamed competitions.
Pick and Taste Morel Mushrooms
The most fantastic morel hunting spots in Michigan are very well kept a secret by the locals. The annual Mesick Mushroom Festival, well-known for its guided morel hikes, is a great place to learn about mushrooms. Additionally, Boyne City hosts the National Morel Mushroom Festival, which emphasizes eating and lets guests sample dishes made by local chefs with a morel theme. Both events take place in May.
Visit a Botanical Garden
At Michigan's greatest botanical gardens, large, colorful fields of flowers are in full bloom. In the Frederik Meijer Gardens & Sculpture Park, top-notch art pieces are shown alongside floral gardens that fit Instagram. The 110-acre Dow Gardens in Midland are home to spring blooms, tall hardwood, and pine woods, elegant Japanese bridges, and the country's longest Canopy Walk.
Village at Grand Traverse Commons — Traverse City
In the nineteenth century, the area now occupied by The Village at Grand Traverse Commons was a hospital complex. It is today a thriving tourist destination with a wide variety of stores, eateries, and hiking trails. The Village at Grand Traverse Commons offers you and your family or friends a limitless array of boutiques, art galleries, high-end shops, excellent restaurants, exciting tour packages, and many other attractions, making it, unlike any other shopping center.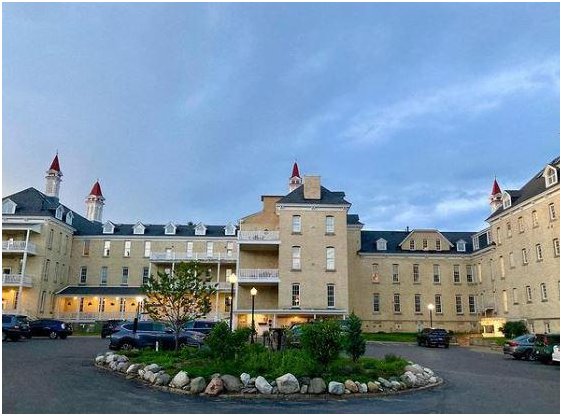 Ann Arbor
The abundance of unique artificial and natural attractions in Ann Arbor makes it impossible to see everything there is to see. Ann Arbor is home to some of Michigan's most entertaining destinations. For starters, if you're helping your child with their college search, a trip to Ann Arbor should entail visiting the University of Michigan. The Matthaei Botanical Gardens are a beauty.
National Cherry Festival
Arrange your vacation to coincide with the Cherry Festival (early July). You'll be able to watch the Blue Angels perform after spending the day on the carnival rides and indulging in delicious fare from neighborhood vendors, along with cherries. The pristine lake, nearby lavender farms, and the incredible wine vineyards and breweries up and down the peninsulas may all be enjoyed on summer excursions to Traverse City.
The beautiful routes are perfect for autumn road trips. Due to the dense forestation in Traverse City's vicinity, you may go on a mini-color tour of northern Michigan. In addition, the fall is a great time to browse the neighborhood businesses and tourist attractions after stopping by Mundos Roasting & Co for some excellent coffee or hot chocolate. Finally, you can enjoy some of the best snowshoeing, skiing, and snowboarding in north Michigan throughout the winter.
Conclusion
Today, there is something for everyone in the state of Michigan which is now considered the melting pot of the Midwest. A tourist attraction for all seasons, this is a wonderful place to visit and experience Michigan's rich culture and heritage. There is much to see and do as a tourist in this sparsely populated state. If you are planning to spend time in Michigan, the suggestions mentioned above will help you to start discovering its hidden treasures.