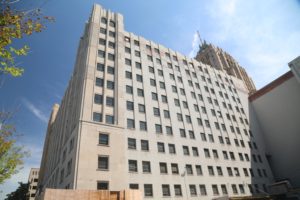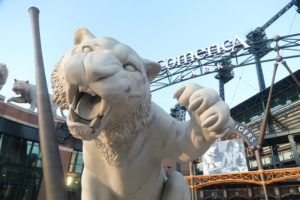 I've been fortunate to have visited this city twice in the past 2 years. The first time was in May 2020 and like the other major U.S. cities I visited in the early to mid part of 2020, it was a 'ghost town'. Returning this year, it was nice to see some life back in the downtown area.
There is no other city like this in the U.S. – its heyday was decades ago, being built as a result of being the site of the early manufacturing of one of the most important inventions in the the past 200 years. But today Detroit seems like a shell of its past. Mile after mile of residential neighborhoods feature stately old mansions, many of which have been abandoned or torn down, leaving an unsual amount of open space lots between homes. And this is not only centered in the residential neighborhoods, but also in select industrial sections of town. I've never seen so many abandoned buildings in a major city in my life.
Couple of highlights
MotorCity Casino Hotel. I love this location; its only within about a 15-20 minute walk of downtown (not that I saw anyone making this walk except myself). The property is large – featuring 400 spacious guest rooms, a spa and easy access to the connecting casino. Parking is free.
Bhaktivedanta Cultural Center is located in an aging neighborhood and is housed in an old mansion with strong ties to the automobile industry (Ford & Hudson). A visit here is a quiet reflecting experience where one enters the home to dimmed lights, removes their shoes and walks slowly and thoughtfully through several spiritual rooms on the first floor.
The Fisher family represents a very important part of Detroit's automobile heritage. Fisher Body produced the bodies for vehicles for decades and certainly left their imprint on the city including a number of Fisher Body Plants, Fisher Freeway, and five still standing Fisher Mansions previously occupied by the Fisher brothers and their families.
Fisher Body Plant #21 – located in the Milwaukee Junction neighborhood, a part of town that seems to be operating at perhaps only 25% efficiency due to all the old and often abandoned buildings. This is one of the more memorable abandoned buildings we explored – with the interior gutted beyond all measures. Stairs leadup to multiple stores, each one seemingly in worst shape than the next, finally reaching the top level which features great views overlooking Detroit and surrounding suburbs. Graffiti, broken bottles, and plenty of danger points if one is not careful – makes this an ultimate abandoned building experience for urban adventure seeking enthusiasts.
Fisher Theatre Building is located in downtown Detroit and is one of the most impressive buildings we have ever visited. Walking inside reminds one of walking into another era with its hand painted murals, liberal use of the color gold and high ceilings. Now home to various shops and offices. The Fisher Theatre is located on the first floor and when open, hosts a variety of events including live music.
Vertical Detroit. This lovely wine bar and restaurant is located in the Paradise Valley section of downtown Detroit within easy walking distance of Comerica Park (home of the Detroit Tigers). The bar features both indoor and outdoor seating, a very fine wine list including both coveted domestic and international selections and a well-stocked bar. Sticking around for a meal? We recommend going heavy on the small plates.