Lake Tahoe is truly a not-so-hidden gem of the western United States. As one of the largest alpine lakes in the world, there are plenty of fun things to do in Lake Tahoe, in both winter and summer. Our guide below will help you identify 5 Can't Miss Adventures Near Lake Tahoe!

The expansive shores offer plenty of things to do in Lake Tahoe; from spectacular hiking trails, amazing wineries and breweries, homey bars, to towering casinos, all with views to match. For these reasons it retains its well-earned reputation as the crown jewel of resort towns in the US. So you can imagine that, after 6 days of camping, Kestra and I were very excited to finally be pulling into Stateline (Tahoe's casino rich South Shore). While we never did make use of the slot machines, we did find ourselves extremely lucky to be enjoying all the other things to do in Lake Tahoe (there's a lot!).
Although we didn't have very long to explore, we dreamed of coming back on a warmer day. We'd be sure to enjoy the lake's festivities and startling blue waters when we return, which leads us to our top 5 adventures that you can enjoy on your  trip to Lake Tahoe! If you're already in the area make sure to visit Yosemite National Park, the short and scenic drive is well worth your time. Be sure to let us know what you think below in the comments and if you're feeling extra wicked cool shoot this post a like and a share, as always, enjoy! One last thing before you get to far, remember to…
Pin our picks for The Ultimate Lake Tahoe Adventure Guide!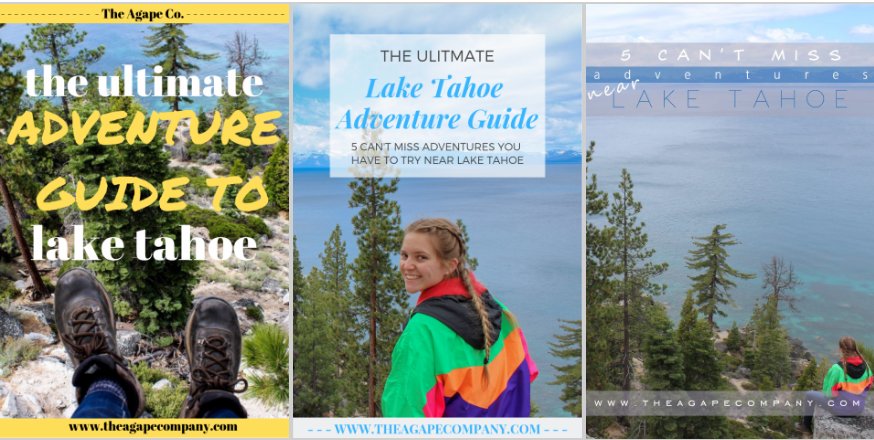 #1) Exploring Sand Harbor and Lake Tahoe Nevada State Park 
We've all seen those amazing pictures of people paddle boarding on crystalline waters, those were all taken RIGHT HERE! At least that's what we think! It's $10 per vehicle, or $2 per bike for a pass into the park which is actually a great deal considering all it has to offer. The visitors center contains an amazing museum with all the history on Lake Tahoe, its mysteriously clear waters, and the growth and development of its shoreline. We can't say enough about its breathtaking waters (ask me, I fell in when it was still freezing out!). Trails lead on and around the different sandy beaches and rocky shores. They even allow you to go out and onto any of the humongous boulders, if you feel brave enough! Sand Harbor is absolutely perfect for a relaxing day on the beach and is shallow enough that the waters warm to bearable temperatures, so remember to pack your suit! They also host the annual Lake Tahoe Shakespeare festival each fall so be sure to check it out.
#2) Riding the FREE Gondola in Northstar Village 
Free gondola? You read that right! While it isn't the tallest on the Sierras, the gondola from Northstar Village up to the Ritz-Carlton affords riders the views of the mountains you'd hoped for, as well as the million-dollar homes that line its slopes. To get to the gondola head toward the Village entrance and veer to the right. Follow the path towards the back of Northstar Lodge, where you'll find the Highlands Gondola. Once at the top you can lounge around the Ritz-Carlton's deck and enjoy the expansive views surrounding you. After you have your fill of the views at the top, stop back in the village at 3:30 for free s'mores from Northstar's very own marshmalogist! If you're looking for free things to do in Lake Tahoe then this is the spot for you!
#3) Touring the Thunderbird Lodge
Lots of stories surround the owner of this massive lodge on the lake's northeast shore. From bringing his pet lion to the bar to guarantee himself a seat, to personally causing the stock market crash that lead to the Great Depression, George Whittell Jr.'s estate is one you have to see to believe. Tours are available via reservation online and offer a look into the life of the man credited with preserving Tahoe's unspoiled beauty along its eastern shoreline. The story goes that after 1929, he pulled his $50,000,000 fortune from the stock market (worth a staggering $60,000,000,000 in 2015) and bought up 27 miles of Lake Tahoe shoreline on the Nevada side. After deciding he didn't really care for neighbors, he opted to never build the casino and ski resort he had originally planned. After his death the estate was parceled off to various agencies which lead to the developments present today. Schedule your tour to see the remaining estate on foot!
#4) Learning about the Lake at Sierra Nevada College
Sierra Nevada College is a beautiful private, liberal arts university located in Incline Village. The college itself is situated on a cozy campus tucked away in towering trees. The Tahoe Center for Environmental Sciences is a stunning, award-winning, LEED certified center for scientific research, geared towards the comprehension and preservation of Lake Tahoe. The building also features numerous exhibits explaining how and why Tahoe is unique, information on how science has been used to restore and protect the lake, and videos on the the history of the lake. It also offers several fantastic hands-on science experiments for your little ones (or yourself, because we loved them too!). Check out the hours here to find a time that fits your schedule. Few things Lake Tahoe are better for both the whole family, check it out!
#5) Biking the Flume Trail
The Flume Trail is a point to point trail about 13 miles long that offers unrivaled views and adrenaline rushes. 
History lesson! Flumes were originally constructed in Tahoe's logging heyday to quickly transport logs down the mountains to the mills below. Flumes were made of two boards fashioned into a V-shape with water running down them. They would then carry the logs down to the mill for the loggers.
 Start your ride at Flume Trail Bikes by renting a bike and taking their shuttle to Spooner Lake State Park. From there you have 4 miles of uphill riding, go slow and you'll be perfectly fine! Following those 4 miles are 9 unrivaled in splendor and grandeur. Those 9 miles follow the peaks along the lake's eastern shoreline and finally bring you back  to where you started. Pack a lunch to have at Marlette Lake and make a day of it. There are only a handful of spots in Lake Tahoe that offer you the views the Flume Trail does, from towering mountains to crystal clear lakes, it truly is an unforgettable experience. So there you have it, all of our 5 Can't Miss Adventures Near Lake Tahoe!
As you can see there are tons of fun things to do in Lake Tahoe. All of which are family and budget friendly! Be sure to let us know below in the comments which adventure sounds the most fun to you. Do you know any we should try next time we are looking for things to do in Lake Tahoe? Please remember to subscribe and share our blog on social media with your friends and family, God Bless!