Renowned as the United State's most signature historic destination, America's Historic Triangle (Jamestown, Williamsburg, and Yorktown Virginia) is packed with opportunities for gaining a more informed insight into how the American Revolution unfolded shaping the world's great democratic experiment. The Historic Triangle is also becoming increasingly known as a mecca for craft food and beverages with historical tie ins as well as making history of their own.
Where to Begin
Geographically equidistant between Yorktown and Jamestown, Williamsburg is an ideal home base for exploring America's Historic Triangle. Fife & Drum Inn, the only bed and breakfast situated in the historic district, is just several blocks from Market Square, Governor's Palace, and the sylvan campus of College of William and Mary, the nation's second oldest institution of higher education behind Harvard. Several blocks further and you're immersed in Colonial Williamsburg, the world's largest living history museum.
Most of Fife & Drum's rooms besides their separate Cottage accommodations are situated above the eateries and specialty shops of Merchants' Square uniquely decorated with historically significant memorabilia like letters to 1920's era merchant Webster Hitchens from John D. Rockefeller, Jr. concerning Colonial Williamsburg's restoration.
A breakfast buffet each morning features fresh-baked casseroles, fluffy biscuits with Virginia ham accompanied by fresh-cut fruit, granola, hard boiled eggs, bacon, and locally roasted coffee from Aroma's just downstairs.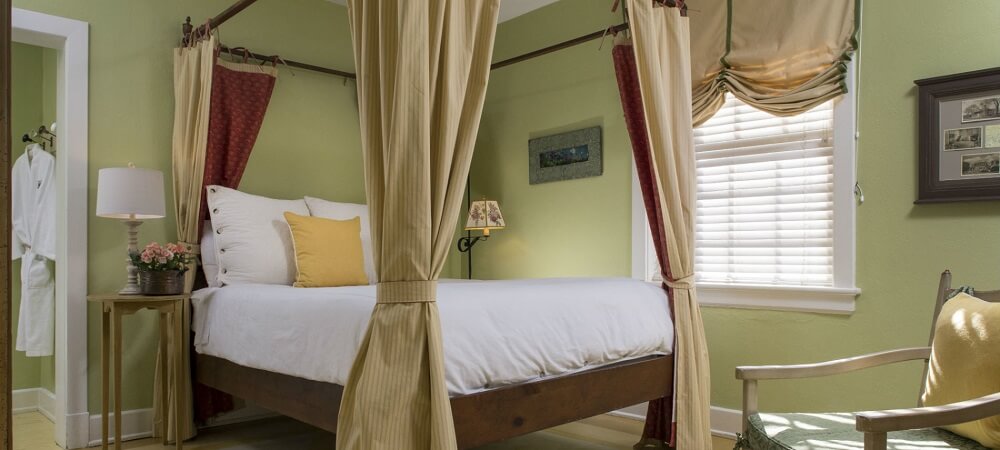 Colonial Williamsburg
Originally founded in 1632 as Middle Plantation, Colonial Williamsburg served as Virginia's colonial capital from 1699 to 1780. Up until the 1920s, buildings and infrastructure remained remarkably intact although in urgent need of restoration. Dr W.A.R Goodwin, a local Reverend, and John D. Rockefeller, Jr. kicked in more than $20 million restoring the Revolution-era buildings to their former grandeur.
Restoration of Chowning's Tavern, Colonial Williamsburg's signature dining venue, began in 1939 while surveyors were mapping out the Colonial Parkway tunnel beneath Market Square. Modeled after surviving taverns in England and Virginia, the new structure was among the first to step beyond the confines of traditional exhibit buildings. Today, the menu's classic dishes include Brunswick Stew, Welsh Rarebit, Shepherd's Pye, and Bangers & Mash. More recent additions include a Fennel Roasted Shaved Pork Trencher filled with pepper relish, herbed serifina cheese, and roasted red pepper aioli. Desserts change with the seasons but may include sweet potato, honey-pecan and cheesecake graham cracker tarts and three flavors of Virginia-based Homestead Creamery ice cream.
Served by the pint or quart in salt glaze mugs, beers on tap include Old Stitch and Dear Old Mum brewed by exclusively for the tavern by AleWerks as well as Leibotshaner Cream Ale from Pennsylvania served at Chowning's since the 1930s. Grab a seat inside the historic tavern or outside at the Garden Bar and Grill in back under a decades-old scuppernong grapevine snaking its way over a sprawling trellis.
Exploring the Best of Williamsburg's Craft Food and Beverage Scene
Outside Colonial Williamsburg, numerous food & beverage producers and artisan restaurants have been sprouting up like mushrooms. Here are some can't-miss venues to add to your list:
Silver Hand Meadery – Possessing the creativity of craft beer and the elegance of wine, mead is one of the most historic fermented drinks found on earth. Created by fermenting sugars found in honey with additional herbs, spices, and fruits added to create unique flavors, Silver Hand's meads typically range from 11% to 14% ABV including Coffee Contata, a blend of blueberry blossom and mesquite honey fortified with cold brew coffee sweetened with local Virginia wildflower honey and Dream By The Fire, a seasonal classic crafted with Virginia wildflower honey, freshly pressed Virginia apples, cinnamon, cloves, and allspice. A member of the Williamsburg Tasting Trail, founder Glenn Lavender is ever on the lookout to share his love and knowledge of this often overlooked beverage.
AleWerks Brewing Company – Alewerks has been a brewer driven operation since opening in 2006. At the time, Virginia's craft beer scene was in the throes of a rapid expansion that would eventually yield a total of the more than 200 breweries today. Brewmaster/Owner Geoff Logan has been racking up awards for stalwarts like their tasty Shorty Time Social IPA and Paycheck Porter. None of it is filtered and they recently doubled capacity to keep up with increasing demand while remaining a certified Virginia Green business.
Amber Ox Public House – The Amber Ox gives you the impression that they built their location in Market Square from the ground up as a grand emporium for savoring the many craft brews on tap made by sister brewery Precarious Beer Project as well as other regional favorites along with artisanal Farm-to-Table dishes like Pecan Smoked Wings, Day Boat Rock Fish, and Southern Style Fritto Misto deftly curated by Chef Troy and crew. Their wide open dining room overlooking Prince George Street nicely transitions to indoor/outdoor pub seating for more casual drinking and small plates. Their ever popular monthly Public House Beer Dinner series features 5 culinary creations expertly paired with eclectic favorites like Too Close to See, a kumquat gose or My Shadow is a Person, a belgian dubbel.
Busch Gardens Food & Wine Festival – If you're visiting anytime between May and July, Busch Garden's Food and Wine Festival is worth dodging the packed crowds to sample over 60 specialty foods representing each country and many others along with 30 different wines, 25 craft beers and 20 unique cocktails not normally served in the park. Opening in 1975 as an amusement park themed around model European countries, it was originally called Busch Gardens: The Old Country but changed in 1993 to Busch Gardens Williamsburg. Upon entering, you are in England and then continue over a bridge to Ireland. From there the journey continues through heavyweights like Italy and Germany which is the most extensive complete with classic beer hall due to the obvious heritage of co-founder August Busch of Anhueser-Busch. Each food and beverage stop during the festival includes planters filled with herbs and vegetables commonly used in each country's cuisine such as potatoes in Ireland or a pineapple plant and chili peppers in the Caribbean.
Williamsburg Farmers Market – Every Saturday since 2002, the Williamsburg Farmers Market at Merchant's Square has been showcasing nearly 40 vendors offering produce and farm products grown or made in Virginia accompanied by live local music. Since no reselling is allowed, the same people growing and producing are doing the selling. Be prepared for some of the best dog watching in Williamsburg and come early if you plan to snag seasonal specialties like perfectly ripe strawberries or peaches.
Copper Fox Distillery – Rick Wasmund, founder and master distiller at Copper Fox Distillery, recently established his second location in what was once a motor lodge on Route 143. A perfect example of adaptive reuse, doors that once opened to motel rooms now reveal larger retrofitted spaces housing distillery operations like the malting floor and copper pot still.
After visiting many American distilleries over the years, Wasmund was inspired to create fruitwood smoked whisky. After interning in 2000 with the masters at Bowmore Distillery in Scotland's Islay region, he returned to the States launching Copper Fox Whisky in Sperryville VA producing the world's first apple wood whisky. He was also first in the U.S. to use a kiln and traditional floor malting since Prohibition repeal. All grains including a 6-row barley developed at Virginia Tech are locally grown by one farmer. Local fruitwoods like toasted apple wood are used instead of peat to gently smoke and dry the grain enhancing the malt's smoky flavor. After tasting their full lineup don't forget dessert with their whiskey infused ice cream sandwiches.
Virginia Beer Company – A former financial analyst, consultant, and high school teacher turned professional brewer joined forces in 2010 opening Virginia Beer Company, a community-based, philanthropy-focused brewery situated in a former 1960s-era car dealership and repair shop on 401 Second Street.
Originally from Atlanta's Sweet Water Brewing, brew master Jonathan Newman leverages his creativity with a unique brewery-within-a-brewery production built with a large-scale 30-bbl brewing system accompanied by a smaller-scale 5-bbl pilot system allowing regular experimentation. The taproom features 16 draft selections with at least half rotating on a regular basis giving space for seasonal favorites like Blood Orange Deadbolt or High Heat Summer IPA.
In addition to retaining the building's original industrial ambiance, bars and tables are built from reclaimed wood sourced from a circa 1907 barn. During warmer months, a roll-up garage door opens onto their 2,000 sq. ft. pet-friendly beer garden for outdoor imbibing while a different food truck pulls up to the curb each week.
Cochon on 2nd – Right down the street from the Virginia Beer Company nestled in a shopping plaza, Cochon on 2nd's kitchen centric philosophy is immediately apparent with their 8-seat chef's table overlooking Chef Neil Griggs' open kitchen where fresh dishes like warm goat cheese salad & tuna tartare are prepared tableside and wood-grilled entrees like Scottish Salmon with Sorrell Sauce and Rosemary Marinated Rack of Lamb are cooked outside on a Big Green Egg. Decor connects you to the Grigg's farmhouse upbringing like planks from his grandparents' barn in Suffolk, Virginia used on the bar and kitchen paneling. A vibrant lounge occupies the other half of the restaurant featuring craft cocktails and an extensive wine list.
Yorktown
Opening a little over a year ago, the immersive indoor exhibits and outdoor living history of the American Revolution Museum at Yorktown convey a sense of the transformational and epic scale that the Revolution had on the United States. Immersive environments, short films, dioramas, interactive exhibits, and period artifacts like an exhibit case filled with paraphernalia found on board a war ship including rat sculls and smudgy tobacco pipes serve as a reminder of the harsh realities of life at sea.
A living-history recreation of a Continental Army encampment outside is based on records from the Revolution-era farm of 18th-century farmer Edward Moss and includes tents for soldiers and officers along with slightly upgraded quarters for the surgeon and quartermaster.
Food ways of the time figure prominently in a recreated farm house with an orchard to the back where Muskovy ducks and hens wander the grounds. In a separate log kitchen, you can learn about period dishes and try your hand mixing ingredients, some of which are grown in the nearby kitchen garden. Interpreters cook over an open hearth demonstrating how vegetables and herbs were harvested and stored for future use. The museum's gift shop also features an extensive collection of historic culinary books.
Zipping up and down the bluffs of Historic Yorktown overlooking the York River on a 2-hour guided Segway PT tour via Patriot Tours & Provisions is the perfect way to explore in-town sites up close sans walking including circa 1730 Thomas Nelson House with cannon balls still firmly implanted in its exterior brick walls. It is here that General George Washington defeated British Commander Lord Cornwallis securing independence from England. Tours also explore Riverwalk Landing and the historic village along Main Street.
Jamestown
Designated a National Historic Site in 1940 and listed on the National Register of Historic Places in 1966, Historic Jamestowne originated in 1607 as James Fort and later developed into the 17th century city of Jamestown overlooking the James River.
Jamestown didn't immediately meet with success as North America's first permanent English settlement. Lack of access to food and rampant disease from 1609-1610 left only 60 colonists alive. Soon new arrivals grew the population above 500 making it a thriving settlement for a time even becoming the Virginia Colony's capitol until 1698 when it relocated to higher ground in what is now Colonial Williamsburg.
After multiple uses and reconstructions over the years, the site's lands are still revealing new discoveries with the most recent archeological site located beneath the floor of circa 1907 Memorial Church.
On your way back up Route 617 towards Williamsburg, Williamsburg Winery and onsite Gabriel Archer Tavern present the perfect place to stop for a break. The tall ships Susan Constant, Discovery, and Godspeed led by Captain Gabriel Archer reached the shores of Virginia in 1607 exploring several sites along the mouth of the Chesapeake Bay, including land where Williamsburg Winery, now stands before settling Jamestown.
Fast forward to 1987 when the Duffeler family, inspired by visiting estates throughout Europe when living abroad and traveling, opened the winery eventually constructing a restaurant on the footprint of an old shed that housed barrels and bottling equipment naming it Gabriel Archer Tavern. Today the tavern features farm-to-fork favorites like Border Springs Farms Lamb Sliders and Farro Risotto. In addition to lettuce and herbs from their onsite half-acre produce garden and greenhouse, the Wessex Hundred culinary team partners with local farmers for fresh seasonal dishes that pair nicely with their wine lineup produced from 40 acres of vineyards ranging from Merlot and Chardonnay to more obscure varietals like Traminette and Albarino.
Coverage made possible by participating in a partially sponsored visit. Photos courtesy of Steve Mirsky, Fife & Drum Inn, History.org, & Visit Williamsburg.