I'm not a big fan of pizza. I like it well enough, but I had never had a pizza that I thought was extraordinary.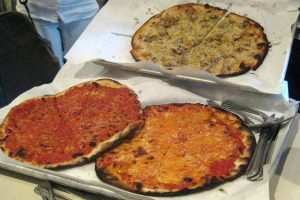 There is one exception – I'm originally from Northeastern Pennsylvania and pizza from the town of Old Forge really is delicious. But with square cuts from a big rectangular crust, thick tomato sauce, and an American cheese blend, Old Forge pizza always seemed outside the realm of ordinary pizza, in its own category, at least in my mind. I have to admit though – New Haven pizza, or apizza (ah-beets) as they call it, convinced me of pizza's culinary possibilities. It rises above the everyday by hearkening back to its Neapolitan roots. In fact, many of the places we ate at – pizzerias and otherwise – seemed to encourage a movement back to the basics, to actually tasting and savoring the ingredients, which completely transforms the eating experience. I've been converted! It seems like an effective recipe for life in general as well.
My transformation could have not been implemented without the contagious enthusiasm of Colin Caplan, owner and tour guide at Taste of New Haven. I work as a tour guide myself in Philadelphia, so I know a good guide when I see one! Colin, who has published several books on New Haven, is now combining passion for his hometown with his obsession over pizza by co-producing the documentary Pizza, a Love Story, scheduled for release in summer 2017. Being guided on a food and drink tour by someone so knowledgeable and excited about the subject matter really did change my perspective. With exposure to a wide range of craft brews in Philadelphia, I've become a bit of a beer snob, but I drank Genesee lager on Colin's tour and liked it! (How about that for a blast from the past? I don't think I've even heard the name Genesee since I was little and my dad was drinking Schaefer in a can.)
Our first stop was Frank Pepe Pizzeria Napoletana, where New Haven style pizza originated. It was established in 1925, making it the fourth oldest pizzeria in the country. A staple of the industry, the cardboard pizza box, was first created here! The restaurant still uses wooden proofing boxes to store the dough while it rises and coal fired ovens to bake the pizzas. Why change what works? The crust of New Haven style pizza is thin and charred, and as Colin said, dense, chewy, crispy, and spongy all at the same time. We tasted the original tomato (crushed tomatoes, olive oil, little bit of grated cheese), original tomato with mozzarella, and white clam pies. Absolutely fantastic! The original tomato pie was my favorite; I've always preferred pizza that was light on cheese. In addition to the Genesee (Pepe's is one of the few places in Connecticut that has it on tap), we had some clear white birch soda from a local company to wash it all down.
Colin started off with the interesting history of pizza in general and of Pepe's and other New Haven pizzeria institutions. I imagined my own immigrant great-grandparents bravely trying out new ventures in their adopted country. The pizza we sampled really was yummy, but I don't know how highly I would have rated it if I had tried it on my own. It happens more frequently than I would like that I realize after a meal is over that I didn't even notice the taste of the food! Colin's passion not only encouraged me to savor what I ate, but also imbued the food with deeper, more complex flavor. Everything is better with focus and appreciation in the present moment.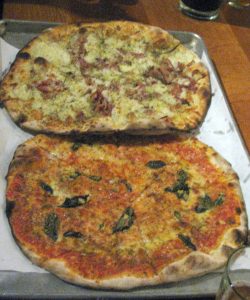 Another stop was BAR, a nightclub and restaurant specializing in pizza and beer. Its microbrewery makes English style ale, the kind of beer originally made in the US until the country switched to a preference for the German style. BAR's thin-crusted, charred New Haven style pizza offered a mashed potato and bacon option which was highly recommended. It was definitely tasty, but after eight years in Russia eating potatoes with monotonous regularity, I never recovered much of a desire for them. We also tried a red pie with mozzarella and fresh basil which was incredible. I love the creativity with which pizza has reinvented itself over the years, though generally my favorites are the basic ones.
Colin explained to us that in making the crust for New Haven style pizza, the dough isn't rolled out; it's patted out, and it's not tossed in the air but on the knuckles in a circular motion. It's also made with only five ingredients: flour, water, olive oil, salt, and yeast. If imitation is the sincerest form of flattery, New Haven pizza must be good! The style is not confined to New Haven – a map on the Taste of New Haven website lists 92 similar pizzerias across the country. There isn't one listed for Philadelphia, but luckily New Haven is only a few hours away by train.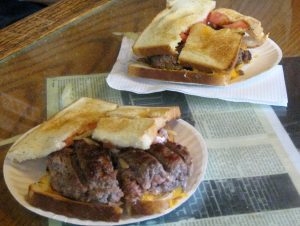 Another fun stop on Colin's food tour was Louis' Lunch – birthplace of the American hamburger! The restaurant was established in 1895 by Louis Lassen and is run today by his great-grandson. Hamburgers are still cooked in the original vertical broilers from 1898. Ordering a burger with 'the works' means it will come on white bread with onion, tomato, and a cheese spread. As Colin told us, "There is no ketchup on it – and don't ask!" Condiments aren't allowed so that customers can focus on the meat itself. I like that! The burger did seem to taste better, but again, Colin's enthusiasm and Louis Lassen's commitment inspired me to slow down and savor the meat. Doing so raised the concept of hamburger from sustenance to experience. I'm a big meat eater, so I was absolutely in my element.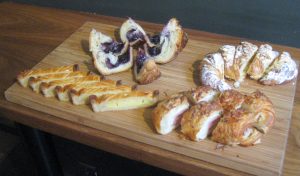 The tour also included cheese and soup sampling during a walk through the 'Connecticut Grown' CitySeed farmers' market and a coffee/dessert stop at G Bakery Café. I'm not a coffee drinker, but I can vouch for the scrumptiousness of the fresh pastries! It had started raining and we were pretty wet, so an indoor stop with a hot drink was welcome. The tours go rain or shine, but luckily eating can be done in any weather. The sandwiches there looked amazing – all of the bread is baked in house. Our final food stop was Atelier Florian which describes itself as 'sea and meat in Belgian style.' I enjoyed the crispy brussel sprouts and appreciated the chance to try the grilled Spanish octopus, although the grapefruit citrus vinaigrette was too bitter for me. Tasting wine was a light and refreshing treat after all the beer and pizza!
To aid in the digestive process, we walked a bit too. As we did, Colin related the history of New Haven and pointed out landmarks. We walked past a plaque memorializing Revolutionary War hero David Wooster, the first Ann Taylor store, and the Shubert Theater where more shows have debuted than in New York City, including A Streetcar Named Desire with Marlon Brando and My Fair Lady with Rex Harrison and Julie Andrews. We also walked through the lobby of an apartment building which is the newest incarnation on the site of Beers Tavern where George Washington once stayed, of New Haven House where Abraham Lincoln once stayed, and Hotel Taft (1912-1973) which functioned as a social hot spot for years, hosting celebrities like Albert Einstein, Eleanor Roosevelt, and Babe Ruth, among others.
All in all, this tour was a really great way to spend 4-5 hours getting acquainted with New Haven and its culinary scene. At the end, Colin rewarded our persistence with the story of how he proposed to his fiancé. As an author, film producer, and tour company owner specializing in New Haven, he has quite a few contacts around the city. He was able to orchestrate a proposal on the top of Yale's Harkness Tower (generally no one is allowed up except the musicians who play the carillonneur located there) and get it videotaped and photographed without his fiance's knowledge. A romantic proposal on top of the world! This gothic tower is so tall and magnificent I couldn't even get it all in a photo, let alone do it justice. The takeaway? Pare life down to the essentials and savor every moment.
My only regret was that I ate breakfast before the tour! At least it was delicious; we ate at John Davenports in the Omni New Haven Hotel. It has a breathtaking view from the 19th floor and uses local, sustainable ingredients in its dishes. I loved the eggs in a nest (fried egg nestled in brioche bread) with applewood smoked bacon. I don't believe that bad-tasting bacon exists, but this bacon was really good.
Another favorite food stop was Heirloom in the boutique hotel The Study at Yale. (We stayed there – it's a comfortable hotel in a perfect location within walking distance of all the New Haven sites.) On Colin's recommendation, I had the roasted whole branzino – head and all. I savored every morsel! (I had time to as it was slow going picking out the bones in the dimly lit restaurant.) It tasted wonderful. Heirloom also goes back to the basics with locally sourced ingredients and a focus on New England cuisine.
At Claire's Corner Copia, a vegetarian café that at one time was frequented by famous Yale students Jodie Foster and Jennifer Beals, I got to return to my own ancestral roots with Lithuanian coffee cake and Russian fruit lemonade. I needed lots of napkins for the heavenly Seasonal Goodness sandwich I ordered – a poached egg with spinach, pesto, and mozzarella on a whole wheat English muffin. The café sources local ingredients, features vegan and gluten-free options, and has implemented several environmentally friendly initiatives. We chatted with owner Claire Criscuolo who founded the café in 1975 with her husband Frank. She's a lively, strong-willed woman who genuinely cares about providing healthy, wholesome meals to the students and other customers. As I slowed down to concentrate on each luscious bite, I could almost feel nutrients being absorbed into my system. As a meat lover, I don't generally seek out vegetarian fare, but I thoroughly relished all of it. Claire's dedication to healing the world through food definitely affected my perspective. The love she infuses into her dishes does seem to improve their taste.
Essential eating in New Haven boils down to paying attention to each moment of taste and allowing the
passion and commitment of the local representative to transform the experience. Essential cooking in New Haven involves going back to the beginning and focusing on the essence by honing down anything extra. I have to give a final nod to Elm City Social for their social staple Rubber Ducky. It's a cocktail of citra hop-infused gin, basil, grapefruit, lemon, and sparkling water with, yes, an actual rubber ducky floating on top. Who can't appreciate that?
Disclosure: My trip to New Haven, CT, was made possible by Market New Haven, Inc. My opinions and perspectives are totally my own — as always.