Schenectady has a long heritage of commerce and industry dating back to Dutch traders and later when the Erie Canal and the city's strategic location at the confluence of the Mohawk and Hudson Rivers just above Albany made it a thriving trade port. Evidence of this early prosperity abounds in the Stockade Historic District, the oldest residential neighborhood in the United States. Walking the streets is like stepping back in time with whole blocks of original Dutch & English 17th – 18th century buildings fully intact and lovingly preserved. Sidewalks take you past historical placards identifying key highlights of the neighborhood's significance.
A few blocks further east in downtown on State and Jay Streets, evidence of a bustling center of commerce fueled by industrial prominence extending from the late 19th into 20th century is evident in the Beaux-Arts store fronts and office buildings along with the majestic circa 1925 Proctors Theatre. Major corporations like American Locomotive Company and General Electric, which still have a presence here, catapulted Schenectady's status to one of the country's wealthiest communities. But like all across the United States, the mid 20th century brought change closing factories and draining vitality from urban centers.
Former industrial sites, some of which were contaminated brown fields, decayed and were abandoned like the 60 acre former American Locomotive Company plant overlooking the Mohawk River. After much lobbying and community support, the derelict property was selected as 1 of the 4 locations by New York State as an ideal site for a commercial casino to generate revenue. A $480 million partnership of private & public funds remediated and repurposed this prime location into several projects including Rivers Casino and Resort.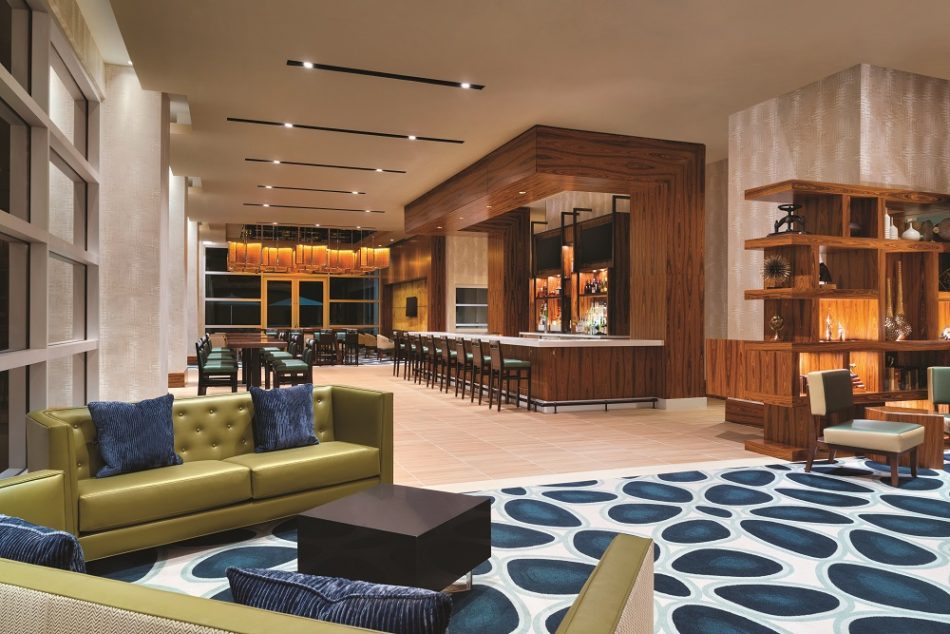 Although opinions persist as to whether a casino was the best use for this site, staying at The Landing Hotel is an undeniably unique experience allowing you to luxuriate at a boutique-style hotel where not only can you walk downstairs through the lobby right onto the casino floor but straight  onto a sidewalk quickly connecting you to Stockade district and downtown attractions.
Modernist in design both inside and out, The Landing stands out in Schenectady as the only brand new non-chain hotel. All 6 floors and 165 rooms are LEED certified & appointed with designer furnishings, original art work, and king & bay suites up to 650 square feet with wrap-around balconies affording either Mohawk River or city views.
Should you decide to cocoon rather than partaking in all the action outside your door, in-room treatments can be booked at onsite Splash Spa and 24 hour room service puts the menus of all 5 onsite dining venues at your finger tips.
Dining
When hunger strikes, your choices range from fast casual Johnny's and Flipt to the venerable Duke's Chophouse. Tapping into authentic local dining, Chef Justin Endineri teamed up with the Mallozzi Group, legends in their own right running Villa Italia since 1965 and more recently opening their main Johnny's location several years ago on the corner of Jay and State Streets right across from Proctors Theatre.
Winner of Open Table Diners' Choice Award in its first year, Duke's Chophouse clientele have steadily expanded beyond hotel guests to repeat local customers and outside tourists. Inspired by Chicago's Gibson Steakhouse, Duke's menu features prime steaks and freshly prepared seafood appetizers. Weekend Brunch includes indulgent 6 egg omelets and either classic style or smoked salmon eggs benedict, Dukes' Colossal Cinnamon Bun, a massive, pull-apart bun meant to be shared; lemon ricotta blueberry pancakes, and their opulent Bloody Mary Bar. During warmer months, doors open up onto the patio with sweeping views of the Mohawk River.
A cozy piano bar just off the casino floor was recently added to Duke's lounge complete with its own tapas and martini menu including handcrafted Tempura Battered Buffalo Style Cauliflower Bites served with Buffalo Sauce, Crumbled Smoked Bleu Cheese and Gorgonzola Crème that pairs nicely with one of their stand out martinis like the Sicilian Manhattan made with Bullet Bourbon, and Tuaca & Blood Orange liqueurs. Don't miss their local brews on tap including Rivers Rye made by Mad Jack Brewing Company specifically for the casino and resort.
Photos courtesy of Rivers Casino & Resort & Steve Mirsky.  Coverage made possible by participating in a sponsored visit.