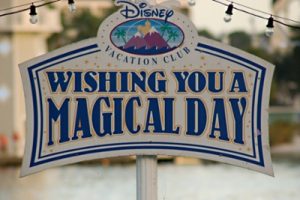 Disney Vacation Club Welcome Sign: "Wishing You A Magical Day" Planning a trip to one of Disney Vacation Club's resorts through Fidelity Real Estate is already sure to be a magical experience. Why not maximize your fun with a few (or all) of these little extras to enjoy every moment of your getaway? In addition to booking your week(s) in advance, we recommend planning the details ahead, at least six months in advance, to ensure availability of some of these little known secrets! After extensive research, we have put together our favorite tips & tricks to have the best family vacations year after year… whether staying at Walt Disney World resorts in Orlando Florida, Disneyland Resorts in California or in a Disney timeshare around the world.
1. Make your room(s) feel like home.
Whether you are traveling with or without little ones, there are little touches of home that you can bring with you to make your DVC Resort suite more cozy and enjoyable. For the family looking to "go all out" with a bigger budget, select one of Disney's In Room Celebration packages. For more affordable aesthetics, be sure to bring your favorite scented candle, pillow or pick up some fresh flowers. If you are traveling around the holidays, you will see tons of families deck out their front doors with streamers, banners, cutouts and seasonal décor. Our favorite way to make the kiddos feel at home is to decorate their doors while they're asleep! Bring the magic of Disney to them from the first moment they wake up! One more reason why we LOVE staying in DVC Resorts by the way… everyone gets their own room. Learn more.
2. Have a character wake your family up.

It can be hard enough to get your sleepy heads out of bed to make those early morning plans. Why not have Mickey or Olaf wake them up for you!? Plan ahead with your resort and schedule your character wake-up call in advance before you even board your plane. Characters vary based on availability, reach out to your resort's front desk for more information. Don't forget to have the camera ready!
3. Order a birthday cake to magically appear at dinner.
Most restaurants in the Disney parks and resorts offer custom celebration cakes in a variety of shapes and sizes, no matter how small or large your party! Make sure you order these ahead of time through Disney's Guest Services before departing on your Disney vacations. If you forget, no sweat! Let your server know when you arrive to the restaurant that you would like to purchase a celebration cake. If you are one of the lucky ones to plan ahead, you have many more options to choose from, including two-tier mini cakes, Mickey Mouse shaped cakes and chocolate statuettes of your favorite characters.
4. Let the world know you are celebrating.

Throughout the parks, Disney's gifts shops and merchandise kiosks provide oversized buttons for you to show off what you are celebrating without saying a word… FREE. In addition, the park staff likes to create "magical moments" for visitors. Don't be surprised if you end up with a card, treat, complimentary photo, or something more spectacular. Some of the celebrations include Birthday, First Visit, Anniversary and Honeymoon.
5. Don't over plan your days.
One of the best tools out there to ensure you are getting the most out of your trip is the My Disney Experience website and app. [Note: Disney World has a different website than Disneyland!] Make restaurant reservations, plan your days, book shows and character greetings, FastPass+ short-wait reservations and more. Be sure to download the app so you have access to your itinerary at your fingertips. This app will even tell you the current wait times in real time AND collect your in-park pictures from rides and photo op stations. Just as a fair warning, don't be disappointed or get stressed if your days are not going to schedule. Some attractions in the parks have wait times over 3 hours during busy seasons. Keep an eye on what is most important on your list and be sure to cross those things off first.
6. Make dining reservations well in advance.

If happily-ever-after means sharing a meal with your favorite Disney character, don't wait to put your name on the list. Disney takes reservations up to 180 days in advance and even then you will be competing for prime dining times in peak season. Call Disney World (407-WDW-DINE) or Disneyland (714-781-DINE) at 7 a.m. exactly 180 days ahead of your arrival. Not big on calling? Book online through your My Disney Experience account. Options for character dining include breakfast, lunch and dinner so be flexible! Planning ahead of time will also help you research your options to find the discounts out there!
7. Wake up early to experience the little known "Rope Drop".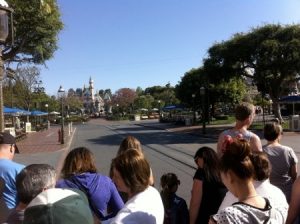 As early as 60 minutes before the parks open for the day, cast members greet crowds of guest for the "dropping of the rope". This term goes back to the early days of Disney, where a red velvet rope was quite literally dropped at the entrance to the park to let awaiting visitors in. Today, an actual rope is not necessarily part of the Welcome Shows, which vary from park to park. Morning festivities in Magic Kingdom, for example, include a song-and-dance led by the Mayor of Main Street, USA—oh yes, there is a Mayor! And, if you arrive extra early, you have a chance to be selected as the Family of the Day, an honor your family will never forget, that comes with a mini-tour of the empty park, a private photographer, special character meet-and-greets, bonus Fast Passes and inclusion in the opening ceremony. Experiencing this is a must at least once, to feel the excitement and buzz in the air. An added bonus for getting out of bed earlier: the parks are at their least crowded in the first hour or two of the day!
8. Schedule a magical makeover for your little ones.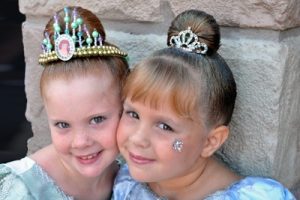 Book an appointment at the Pirate's League for a transformation into a pirate, empress or mermaid. Or step into an enchanted beauty salon at the Bibbidi Bobbidi Boutique to witness a fairy tale transition into a princess or knight! Your child will receive the works – make up/face paint, hair (style, glitter, extensions), costume, accessories and photos… all available in packages ranging from $40-$200. Plan on spending at least an hour depending on the package you select. Once again, these appointments fill up fast so be sure to book well in advance, as early as 180 days out.
9. Don't forget about the Disney nightlife – for the whole family.
Disney Vacation Club Resorts are not only stacked with amenities, they cater to their guests in a way no other company has mastered. Each resort has its own variety of games and activity programs – don't be shy about calling ahead to find out what is on the schedule for your next stay! If you want to venture out, Disneyland has the Downtown Disney District and Disney World offers Disney Springs (formerly called Downtown Disney too) both featuring a movie theater, dining, concert venues, bars, shops and nightly live entertainment. If you are wanting to have some late night fun without the kiddos, ask your front desk about in-room babysitting services!
10. Rejuvenate and relax with a trip to the spa.

After a few days in the theme parks, you'll need a day to relax. The heat, humidity, sun exposure and packed schedule alone are enough to need a recharge. Make a reservation at one of the many spas across the Walt Disney Resorts to schedule your treatment – we recommend the massage + facial package!
As you know, Disney Vacation Club is a timeshare ownership experience unlike any other! Check out the latest points chart to plan your next getaway at one of Disney's unrivaled resorts. If you are looking for a deal on DVC points, check out our listings here. Being a Disney Vacation Club Member comes with tons of perks, including the ability to pool hop at any Disney resort regardless of which one you're staying at, DVC Members only special events, free laundry facility use and more! Make sure you are checking into these too as you begin the planning process. Above all, the best way to create a magical trip to Disney with your family is to HAVE FUN!
"You can dream, create, design and build the most wonderful place in the world, but it requires people to make the dream a reality."
– Walt Disney