Oh, the places they stole.
Four times this year I've been to the canals of Venice, without ever setting foot in Italy. In Vegas, Macau, Qatar and where I live, Venice, California, there are facsimiles of the famous waterways, only cleaner, shinier, and without the creases of deep history.
Theme parks, made-made-islands, cruise ships, old quarter facades, entire cities fashioned to appear as someplace else. It's hard, these days, to find a land that has escaped the allure of reincarnation.
Many years ago, after making first descents of a number of wild rivers around the world, I was invited by Busch Gardens in Tampa, Florida to join a media event, the launch of their Congo River Rapids Ride. Some P.R. visionary had concocted a trope in which George Plimpton, the famous "participatory journalist," and I would make "the first descent" of the Congo River in Florida, with hundreds of media reporting. It was such a circus of counterfeit adventure that I felt I needed a shower after being splashed by the chlorinated Congo. It turned out Mr. Plimpton felt the same way, and as we left the Gardens he turned to give some advice. "If you want to experience the real thing, head over to Bradenton."
The Bradenton Area, on Florida's Gulf Coast, is the enemy of the artificial. It includes the town of Bradenton, Palmetto right across the Manatee River, Ellenton, the barrier island of Anna Maria, and a portion of Longboat Key, all part of Manatee County. Somehow this area survived the waves of development that washed away most of Old Florida, and seems to still float in a time when people didn't just live, but flourished, before air conditioning, theme parks, fantasy leagues, Gangnam Style, and Twitter.
Finally, a decade after George Plimpton's passing, I decide to explore this place that missed the boat to Make-Believe. There are no hotels themed as St. Mark's Square, Egyptian pyramids or pirate ships, but there is an impressive range of retreats, from century-old B&Bs to beachside resorts to luxury inns, private residences and downtown boutiques.
I find my way to the pet-friendly Courtyard Marriott, right on the Riverwalk, a throwback to the tow-paths that pulled barges up the Manatee River, delivering goods and gadgets to King Wiggins' Store. It's a sinuous two-mile stroll with the rolling river on one side, and a bright assortment of activities on the other, including porch-like swings, volleyball courts, splash fountains, botanical gardens, picnic lawns, and a Team Pain skateboard park, strategically spilled in front of a hospital.
At the western edge of the walk, past several manatee statues, beyond a plaque proclaiming Bradenton "The land of your heart's desire," I turn inland a few steps to the South Florida Museum, largest natural and cultural history museum on Florida's Gulf Coast. It's a coffer for erstwhile eras, and features a creature that seems from a gentler time: Snooty, oldest known manatee in the world.
Snooty was born when the first monkey astronaut was launched into space; The Ed Sullivan Show debuted; and The Cleveland Indians defeated the Boston Braves to win the World Series. It all seems like yesterday here, except perhaps when comparing the economics. The average cost of a new house at Snooty's nativity: $7,700.00; a new car: $1,250.00; a gallon of gas: 16 cents; a movie ticket: 60 Cents.
But, Snooty hasn't changed, except for a few added pounds, and a better pool. He has the same Wilford Brimley snout, the same rounded body and flat tail, and the same ageless appeal. He's beautiful, but not in any classic definition of the word. It's hard to believe sailors, even after months at sea, once mistook manatees for mermaids.
Here, in his 60,000 gallon pool, begirds the celebrated lumpy charmer, closest living relative to the elephant, and official mascot of Manatee County. At 65, the boy seems to be enjoying the retired life, shamelessly sashaying about, waiting for lunch. He eats about 80 pounds of Romaine lettuce a day, sustaining his 1,000-pound body. His diet and spa-time seem to have done him well. The average manatee lives only to about 13, due to mostly man-made threats, such as boat propellers, loss of habitat from coastal development, poaching, errant fish hooks and crab trap lines, and cold weather, all the more common with global climate change.
Snooty shares his tank with two fresh-faces, Longo, rescued off of Longboat Key, and Cheeno, rescued in the Caloosahatchee River, both suffering from "cold stress syndrome," a condition akin to frostbite in humans. The Museum serves as a second-stage rehabilitation facility, and provides temporary home for the new manatees while they heal. So far, Snooty has fostered 26 manatees that needed special care until able to be released back into the wild. The manatee is an endangered species–less than 5000 survive– and looking into Snooty's whispered, trusting eyes it is impossible to not become a rooter for the mammal's rights to well-being.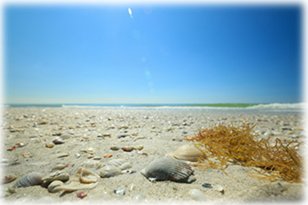 After tarrying with Snooty for a spell I wander around the rest of the museum, eventually stepping downstairs, where I meet Jeff Rodgers, Director of Education. He is delighted to show me a showcase honoring The Culture of Shell. There are replicas of middens, trash piles of shells left by early Native Americans, and, he says, "You can learn a lot about somebody by looking through his trash." Poor soil notwithstanding, the original Indians discovered the abundance of shells allowed them to create technologies that gave identity, and provided everything they needed.
With the first settlements, the men went out in dug-outs seeking elusive big-game– sharks, manatees, large fish–while the women and children were in the shallows harvesting oysters and clams, conferring the community a reliable protein source. "Once you've reached that level where subsistence is not an issue, and you move into surplus, then you start to see art, and ideas expressed through aesthetics."
The shells that make up the Gulf Coast are responsible for everything here today, Jeff says. It started with a culture that defined itself by extracting resources from the sea. The shells provided food in an infertile area, and emerging from that state of plenty, the culture evolved to exploit shells in fashioning weapons, making utensils, creating art, and even spirit houses. And that arc of the shell continues today. Who can resist plucking a shiny shell from the sea-swept shore?
The shell exhibit inspires me to collect some on my own, so under a coral pink sky the morning next I drive the bridge to Anna Maria Island, and take my good time shuffling up along the fine-grained beaches, an eight-mile string of bone-white sand that might be called the anti-Miami Beach….no neon, high-rises or showboats here. The highest thing is a palm tree, with an osprey on top. I begin on Longboat Key at the Mar Vista Restaurant, across from Whitney Beach, under a spreading buttonwood mangrove. I surrender to mullet and stone crabs, tide-to-table fare, pulled in just minutes ago.
Then I cross the span to Anna Maria, and dig my toes in the soft sugar at Coquina Beach. The sand seems to get even better, though, as I make my way north, along Bradenton Beach, to Manatee Beach, Holmes, Anna Maria, and ending at the secluded and somewhat secret Bean Point at the very northern tip, named for George Bean, first permanent resident of Anna Maria Island. Castled in the kelp are jut-eyed little crabs, a world of inch-high devils. The wet sand here is so sumptuous it's like Julia Child's butter.
Meandering back down the coast a ways I stop for dinner at the Sandbar Restaurant, smack on the beach. Ed Chiles, the owner, stops by for a drink and a nosh, and we watch as an almost nuclear sunset shatters the sky. "Like my exterior design?" Chiles asks to an audience too transfixed to answer.
I have a couple of sons, one 19 and one 6, so the next day I decide to check out what might be available for families, as am now thinking of returning with the brood.
The first find is a place called TreeUmph!, an aerial sandbox restricted for kids between the ages of 7 and 70. Sprawled along 14 wooded acres, it features wobbly bridges, bungee swings, and a 650-foot zip line. At first blush it seems the height of absurdity, but then, after a couple of Tarzan yells, it seems the triumph of spirit over gravity.
Next I head over to a giant igloo off I-75. It's the 113,600-square-foot Ellenton Ice and Sports Complex, the place where Olympic hopefuls practice, and where anyone can escape the 75 degree weather outside and cool down with a glide around the rink. I reach for the analgesic heat rub just watching the elite figure skaters camel spin, axle, lutz and swizzle in front of my envious eyes.
Then I motor over to the Anderson Race Park in Palmetto for a few spins in a go-kart around the mile-long track. Ever since I broke my arm in an unauthorized go-kart race in high school I've stayed away from the open-decked vehicles, but the sport and the conveyances have evolved so they are now safe enough for school. That's who I end up giving a run for the money… twenty-five teens from the Manatee School for the Arts taking a course on "the Physics of Motorsports," the only such class of its kind in the country. I'm a wimp compared to these guys, and even though I manage to stay inside my kart, the GoPro attached to my bumper goes flying off during a sharp turn. Nonetheless, I take the trophy for coming in last place.
I make a quick stop at a place where anyone, even Tom Hanks, can enjoy the pirates, McKechnie Field, the stadium where the Pittsburgh Pirates do their spring training. Then, with a couple of local saltwater cowboys, disciples of the net, I charter a T-craft and cruise to the west of Anna Maria Island. Just offshore we float over several manatees, vivid with prop scars, and then past several dolphins, who seem to flipper us off, before reaching deeper waters, where I promptly seal the deal by pulling in a holy mackerel, a huge king. I want to be very clear on this, since no one asked. I did not break the mackerel fishing record with this outing.
I finish the afternoon with Shaun Dutshyver, a true Florida cracker, seventh-generation native and owner of the Surferbus, a retired school bus refurbished with woodie paneling. It's parked like a food truck alongside Manatee Avenue, packed with surfboards, kayaks, and a tumble of candy-colored paddles. Shaun takes me paddle-boarding into the 487-acre Robinson Preserve, a trip through the leafy grace of mangrove tunnels into the blueways of the Perico Bayou.
There are birds galore, 100 species or so, from black-bellied plovers and roseate spoonbills to wood storks, great blue herons, snowy egrets and briefs of pelicans. And there are some 75 species of fish, including mullet, several of which make flying leaps attempting to hitchhike on my board. It's one of those places where I pole ahead of myself in perpetual expectation of miracles, and they seem to come true.
The next day is turn-back-the clock day; not the daylight savings crank, but the century savings adjustment. Under manatee-shaped clouds (after a few days here everything seems to shape shift into manatees) I head over to Manatee Village Historical Park, and meet Cathy Slusser, Director of Historical Resource. I pull out my wallet at the entrance, and she chides, "Put that away. Admission is free here."
Entering the tree-lined field is like falling into a vortex. A few paces and I'm in the middle of a collection of 19th century buildings, including the 1860 Manatee County Courthouse, the 1887 Union Congregation Church, a one-room school house from 1908, the King Wiggins General Store, established in 1903, the Apple Store of its day, with the first telephone in the region, and a mill where cane syrup was made, (a horse hitched to the end of the sweep walked in circles grinding the stalks.) Cathy, who wrote an historical novel set in pioneer days Manatee County, "From a Heavenly Land: Eliza's Story," tells me one of her favorite tales of the era, when one Ellen Clark, a mid-19th century homesteader, lost Charles, one of her workers. He wanted to be transferred to his family home in New York for proper burial, so she stuffed his body in a whiskey barrel, nailed the lid shut, and put him on the first ship north. "He was the first Manatee County man to be pickled," she shares. It's all worth the price of admission, even at ten times the fee.
For lunch, I take the wayback machine to the Cortez Fishing Village on the blue-green waters of Sarasota Bay, oldest surviving fishing village in Florida, dating from at least 1880. It has survived hurricanes, wars, depressions, the thrusts of fashion, and government regulations. Cortez isn't a living museum – it is the real fishin' thing. That's the hook. No strip malls, chains, car lots or condos here. The place has eddied out of the future. The old white homes are elevated off the ground (pre-glycol air conditioning), have front steps, screened-in porches, and barnacled boats parked out front.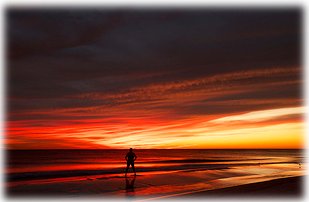 There is no doubt the most authentic eatery in this most authentic of villages is the Star Fish Company, a dockside joint that dates to 1923. Mullet, grouper, stone crab and shrimp are cleaved, gutted, grilled, fried, blackened, sautéed, and served in plain paper boxes, along with cornmeal hush puppies, coleslaw and French fries. Yet, despite the pedigree, there's something fishy here, and the owners would appreciate the bad pun… signs groan all around the picnic tables, such as:
"Why did the mermaid stop dating the clam? He was too shell fish."
"Seas the Day!"
"Time flies when you're having rum."
"Sometimes I wake up Crabby—but mostly I let her sleep in."
"Arrive a stranger; leave even stranger."
And my favorite, "Give a man to fish, he will eat for a day. Teach a man to fish, he will sit on a boat and drink all day."
Every dish here comes with a side order of puns.
The next day is my Green Day. Turns out Bradenton is not just authentically unspoiled, but it is honestly green. I begin on the north end of Anna Maria Island, along Pine Avenue which bills itself as "The Greenest Little Main Street in America."
I begin a stroll down the sand sidewalk (no toxic concrete here), and make a "resistance is futile" turn into Anna Maria Donuts, a designer bakery with hand-dipped gluten-glutted doughnuts so decadently good the place can't be eco-friendly. But it is. It's housed in a cluster of old, reborn buildings that together make up the "Historic Green Village," a Net Zero Energy project with Platinum LED certification. Steve Traves of AMI Outfitters shows me around. There are rainwater cisterns that flush toilets; storm water that irrigates native landscaping; an air conditioning system that cools with underground water; solar-heated hot water; free recharging stations for electric vehicles; a fully air-conditioned jail with no doors, windows or roof; a vegan taco shop; and AMI Outfitters, "where men shop for gear; and women shop for men."
For the dénouement of the trip I decanter east, to the far reaches of Manatee County, to the greenest vinery in America, Bunker Hill Vineyard and Winery. Wine in Florida? An eco-vineyard? Who knew?
I was born in a Quonset hut in New Haven, Connecticut…they were popular housing units through and after WWII, but have since joined the architectural heap of history. So I'm always delighted when I come across one that's in use. And here, at the end of a dirt driveway, is one of the iconic rounded steel huts, the portal into Bunker Hill.
Outside the door are piles of empty wine bottles…looks like someone had quite the party last night. Inside, though, are even more empty bottles, neatly stacked on maple wood shelves. Sitting at a long tasting table are owners Larry and Lenora Woodham, refugees from the corporate life, now living their green dream.
Lenora has to run to the vet to pick up the cat, so Larry offers to show me around. First, though, he explains the empty bottles. "We've never bought a bottle for our wine." All the wine the Woodhams make goes into recycled bottles, all contributed by past customers, some of whom drive long distances to make the deposits. Out back is an intern scraping the labels off of old bottles.
But the Woodham sustainable practices go well beyond the recycled bottles. The vineyard drip irrigation system is solar–powered, only real oak corks seal the bottles (and used corks are sent to be recycled into cork tiles,) and all Bunker Hill bottles are sealed with genuine hot wax.
All the wines are handcrafted and unfiltered, never blended, fermented with the skin of the grape. "The best wines of this planet are unfiltered," gleams Larry.
Larry says most vineyard owners today filter their wine, and by doing so, cut a year from the fermentation process, allowing quicker vine-to-shelf delivery, helping the bottom line. Larry believes filters compromise the natural flavor, and often add undesirable additives, such as dried blood powder, gelatin, fish bladders and sugar. So, he and Lenora choose to add the extra year to make their wine as it was done in Europe centuries ago.
I follow Larry's very small carbon footprints around the grounds.
Radiating from a seep spring are vines of Florida Muscadine, growing as far as the eye can see. The grapes are handpicked, and brought to the pressing room, where they are hand crushed. The residue juice is taken into the adjacent climate-controlled fermentation room, where it sits for a couple weeks. Under the fermenting containers are large glass ampoules where the liquid is hand-siphoned, and eventually transferred into the 55-degree Cave, where the wine ages at least a year before being bottled, then hand labeled.
Back at the tasting table Larry pours some samples of the fresh fruit wines that come through his scullery, from banana to key lime to cherry tomato and black and green tea. Ecotourism never tasted so good.
What an authentic man, Larry is, a thoroughbred Floridian, and an archetypal personality for Manatee County. After all, it turns out, his great great Grandfather William Iredell Turner founded Bradenton.
I step away, at a pace more unhurried than when I arrived. Slow still gets you there.