The Buena Park Boulevard of Fun is an entertainment corridor approximately one mile in length along Beach Boulevard, anchored by Knott's Berry Farm in the south and The Source OC (shopping & entertainment complex) to the north. Long before Buena Park became a mix of both residential and business, this area was home to farms and agriculture including dairy, wine and citrus groves.
This entertainment corridor can be traced back to its first attraction – Ghost Town at Knott's Berry Farm (opened in 1952) which was funded through Knott's early agricultural beginnings – selling various products at a roadside stand including the newly created boysenberry (a cross between a raspberry, loganberry and blackberry).
Buena Park is easily accessible from one of three major airports including one of the nicest airports in the state – John Wayne (SNA) located in Santa Ana only about a 25 minute drive away. Alternatively with decent traffic, Buena Park is about a 35 minute drive from LAX or 25 minutes from Long Beach Airport.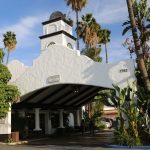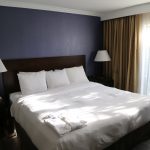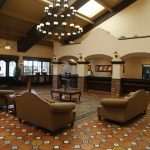 Where to stay? Radisson Suites Buena Park is conveniently located within walking distance of Buena Park's major attractions. Not in the mood to walk – a hotel shuttle will bring you to Knott's Berry Farm, Disneyland or several other locations along this part of Beach Boulevard. Despite such a prime location, the rooms are priced very reasonably. The hotel offers 200 spacious suites – each 500 square feet with both a living room and separate adjoining bedroom. Also features an outdoor pool and hot tub and a fitness center. Click here to book your reservation.

DINNER SHOWS
Teatro Martini. This is adult entertainment at its finest – filled with humor, edginess, intimacy and audience participation. Names of the performers will change, but faces will stick with you – Rob with his slick 'stache, Grift with his affable personality and the larger then life Madame Gretta who overseas a bevy of beautiful women – she calls her Precious Jewels. Fast paced, the action happens right in front of you – because the theatre is so small.
If one of the performers spots you in the audience don't shy away from their attention – revel in it but know their intentions will probably result in significant audience laughter – at your expense. Or if you start laughing, the audience will be laughing with you rather then at you.
This variety show features music, magic and acrobatics. Performers double as your hosts – delivering food and beverages directly to your table. For an optimal adult beverage experience sure to garner glances from other curious patrons, order the drink in the shape of a sexy woman's leg – and while not exactly to scale, nonetheless certainly impressive in size. Or simply flirt with one of your charming hosts, check their name tag, glance at the drinks menu and then request a martini mimicking their name.
Medieval Times . You know you are in an extraordinary venue when guardians of the 'castle' refer to you as 'my lord' or 'my lady'. Prior to the show guests are free to walk around and explore at their own pace. One of the attractions (for a nominal additional fee) is a medieval torture chamber containing nasty looking implements such as a rack, a pear, a pendulum and the Judas Chair lined with dangerous looking metal spikes.
This two hour fast-paced 'glimpse back in time' is an entertaining tournament for people of all ages. Every audience member is given a crown with seating arranged according to the color of the crowns. Sections of the crowds cheer on knights based on their flag colors. It becomes quite competitive at times with the audience shrieking with energy and excitement especially during the jousting and sword fights. Other highlights include horsemanship and falconry.
Food is served court-side sans utensils to help facilitate the feeling of being in ancient times.
And for those wanting to feel the mood of Medieval Times prior to a show, dig deep into the archives for the 1996 film, The Cable Guy. For more information and to book a show, visit: www.medievaltimes.com
KNOTTS BERRY FARM ATTRACTIONS
Knott's Berry Farm. Billed as "America's First Theme Park", the origin of Knotts date back to 1920 when founders Walter and Cordelia Knott farmed 20 acres of land. That original land is now a part of Knott's Berry Farm (today the total acreage is 160 acres). Like the rest of Orange County, Knott's Berry Farm has changed dramatically in the past nearly 100 years and Walter & Cordelia certainly would be amazed at its current scale and popularity.
From an agricultural beginning rooted in vegetables in the 1920's Walter became familiar with the boysenberry based on the work from Anaheim Parks Superintendent Rudolph Boysen – Rudolph crossed a loganberry, red raspberry and a blackberry to create the now well-known boysenberry. An annual celebration of the boysenberry is held on the farm during the springtime Boysenberry Festival. The Knotts began growing various berries including boysenberry's and Cordelia began making and selling jams and jellies. This was followed by chicken dinners which soon became a very successful part of their business, Mrs. Knotts Chicken Dinner Restaurant (founded in 1934) continues to serve some of Mrs. Knotts traditional recipes.
This theme park is much smaller than nearby Disneyland (located about 15 minutes away) and as a result, can be easily be navigated. Refreshingly, there is not as 'commercial' a feel here as one often finds at other theme parks. Numerous rides are offered ranging from adrenaline boosting roller coasters to family friendly water rides.
Ghost Town is a unique part of the park focusing on nostalgia for the "old west". This western setting features a number of buildings visitors can peek into including a blacksmith, gold assay office, town jail, school house, general store and more. A fun part of visiting Ghost Town is interacting with the folks who are dressed in era costumes – these 'employees' take their individual jobs very seriously …all in the name of fun and education.
And in May 2018, Knotts debuted a memorable and thrilling ride, called Hangtime, the Ride (a surfing themed roller coaster). This ride opened to great accolades from those brave enough to experience its thrilling drop, twists and turns. It is certainly a head turner for those on the ground who perhaps are not able to build up the confidence needed to take it for a 'spin'. This is California's only Dive Coaster with the highlight being an agonizingly slow descent up a 150-foot vertical hill, stopping briefly at a 60-degree angle as fear builds before plummeting straight down followed by several heart stopping inversions. For more information visit: www.knotts.com
Knotts Soak City. Perhaps sometimes overlooked due to the recognition of Knott's Berry Farm on the other side of Beach Boulevard, Knott's Soak City offers a different kind of fun – centered around water. This 15-acre park, Orange County's largest water park, features numerous water slides, a 750,000-gallon Tidal Wave Bay wave pool and a 1/3 of a mile always flowing Sunset River – popular with those languidly floating on inner tubes. One of our favorite slides is the Malibu Run; this particular slide complex has both open and closed tubes (yes it is completely dark inside the closed tubes so your screams will feel even scarier) as well as several steep drop off slides.
A number of rides are best enjoyed with the family including The Wedge where you hike a series of steps to the top and 2-6 people hop into an oversized inner tube with a plastic floor and then 'fall' down a giant open air tube all the while twisting back and forth until you shoot out the bottom into a large pool.
The ultimate children's water playground is the Beach House featuring three stories of wet fun including water guns and a 500 gallon dump bucket which unloads every 5 minutes. And kids really love Banzai Falls where one shoots down water slides head first. Soak City is open on select days from May through September. Plenty of lockers are on site – and if you forget your swim suit, a store next to the main entrance sells a variety of swim apparel. For more information visit: www.knotts.com/play/soak-city
Knott's Independence Hall is located across the street from Knott's Berry Farm and next to Knott's Soak City. An underground pedestrian walkway conveniently connects both sides of Beach Boulevard. Knott's Independence Hall is an exact replica of the original hall in Philadelphia, although this one was built in 1966 rather than in 1753. And instead of being surrounding by tall buildings as in Philadelphia, water slides or roller coasters are the backdrops here. Open to the public free of charge, guests can explore the first floor, see a full size replica of the Liberty Bell and view other presidential items of interest.

And when hunger calls several culinary establishments are worth checking out.
DINING
Portos Bakery & Cafe – you know you've hit upon a culinary jackpot when one has to wait in a line just to get into another line. Currently operating several locations within Los Angeles, this is their only Orange County location (and currently the largest of their restaurants). A major hit since the grand opening in early 2017 – the crowds have continued unabated since. Don't be dismayed by the lines – they move fairly quickly. Use time in line to decide what you want to order – the selection is diverse and it is tempting to try more items then your stomach can handle in one sitting! However you can't go wrong with their famous specialties including the cheese rolls, potato balls and meat pies. Known for their high quality and tasty offerings – all at affordable prices. Visit: www.portosbakery.com
Mrs. Knott's Chicken Dinner Restaurant has served over 20 million customers since its founding in 1934 by Mrs. Knotts. Greatly expanded since 1934 to service the increasing number of visitors to Knott's Berry Farm – diners can choose to eat in the old tea room if space allows (opt for the booths inspired by the original dining room) or dine in several other larger spaces within the restaurant. While the look of the restaurant has certainly changed over the years the classic fried chicken dinner remains the same – every meal comes with a set of tiny moist buttermilk biscuits and an accompanying boysenberry spread. And several of the restaurants signature drinks are infused with boysenberry juice.
Rock & Brews – driving down Beach Boulevard one does not easily miss seeing this restaurant – its sign is an oversize neon lit electric guitar. Combining all things Rock & Roll a visit includes a constant streaming experience of rock and roll videos, rock focused art and the colorful Great Wall of Rock which also extends onto the ceiling. A sizable bar spans the length of one wall featuring numerous brews on tap. The drink menu is impressive with a great selection of beer, cider and specialty drinks – including a new favorite of ours, the Strawberry Basil Margarita. The food menu focuses on American comfort food – perhaps most known for their craft burgers. Also a fine selection of pizzas, soups and salads. Pet friendly. Visit: www.rockandbrews.com
The Cauldron
This nondescript white office looking building on the coveted corner of Beach Boulevard and La Palma is simply marked by the words The Cauldron. Don't let the exterior discourage you from entering. Once inside you are transported into the creative artistic space designed by owner Lara Hanneman. As former Director of Entertainment Production at Knott's Berry Farm, she spent years working on some of their most creative ventures including Knott's Scary Farm and designing rides and restaurants.
This space is dark but inviting – Lara is a prolific artist and her intriguing paintings line the walls – mostly of women and witchcraft themes. Go off the traditional cocktail list and order one of their custom concoctions. Our recommendation is the Ceridwen Cherise – a mix of Grey Goose Cherry Noir, lemon juice and a hint of cinnamon. Or opt for the local themed drink – the Knotty Kid – an eclectic fusion of Boysenberry Cotton Candy, Smirnoff Vodka and lemon juice.
Bar, table and lounge style seating. And the witches VIP room can be reserved for private events – hint it is located behind the faux bookshelf. Visit: www.thecauldronbar.com
And one more stop to consider.
CGV Cinemas is located in The Source OC, a major entertainment and shopping complex. Features one of the country's first 4D movie experiences – during a recent visit after a pre-movie demonstration of the seat's abilities, we overheard other moviegoers talk about needing a seat belt – fortunately that need never materialized. For those who have never experienced a 4d film before – hold on to your seats; they rock back and forth, vibrate and are calibrated to synchronize the feel of what you see on the screen. An action hero jumps off a building – you will be treated to wind blowing in your face. A crazy driver crashes a vehicle into a brick wall, you also get to experience this jolt – however not nearly as horrific as the scene unfolding on the screen.
For more information and to plan your fun-filled adventure to Buena Park, visit: www.visitbuenapark.com