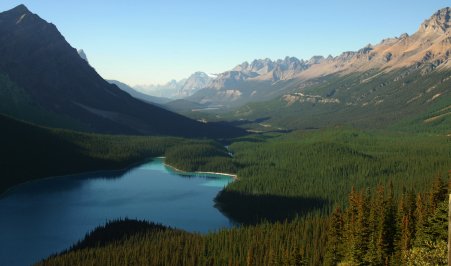 It was the summer of 2010 and we wanted to escape our city life in Austin, Texas and visit the Pacific Northwest. We had ten days off and decided to drive from Texas, to Oregon, Washington, and British Columbia (3000+ mile car trip). We had just bought a new VW and thought it would be fun to drive it across country and have an adventure along the way (and, boy did we ever)!
We entered BC the "round-about" way by ferry from the NAS base on Whidbey Island to Victoria BC (you can make reservations for some of these BC ferries, so plan ahead). I highly suggest traveling on at least one of the ferries in British Colombia because it is a great way to see some of the Canadian coastline. We saw thousands of puffins and what we thought was a whale plume in the distance during the journey, it was fun!
We had booked a hotel room at Accent Inn in Victoria BC for a couple of days with a family-owned hotel that also had a hotel in Vancouver (made it really easy for us since that was another destination on our itinerary), but we did not make any activity plans so that we could depend on the locals' recommendations and be more impromptu rather than planning out everything before arriving in Canada. It was a good thing that we had booked our hotel though because we didn't realize July 1st was Canada Day (we thought we had avoided the crowds of July 4th weekend in the states!) and hotels were booked up.
We ended up stopping at the visitor center in Victoria so that we could gather local flyers and talk to a tourism expert who was able to recommend activities still available for the holiday weekend.
Through the BC tourist official, we ended up going deep sea fishing off of Vancouver Island which was completely amazing. I kinda like fishing, but deep sea fishing is a whole adventure on its own (do not forget the Dramamine if you even get a little motion sick). I caught a silver salmon, red snapper, and a smaller halibut. We even found a storefront in the Fisherman's Wharf that would smoke and vacuum seal our fish so that we could take our catch home with us!
I had a great time overall. We met some wonderful people, compared mosquito size (Canadian vs Texan), and had some Canadian beer! Overall, our time in Victoria BC was marvelous. Next stop, Vancouver and the Strait of Georgia!
To Come:
Part 2: Vancouver and the Strait of Georgia
Part 3: Glacier National Park