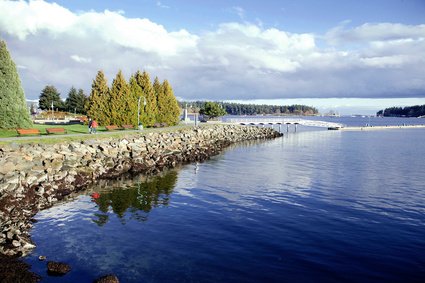 Boomtown Nanaimo, British Columbia, is currently one of the hottest housing markets in Canada. Baby boomers all across the country are casting their aging eyes west in their quest for a retirement haven, and the many advantages of Nanaimo, BC, are becoming known.
First off, there's the mild climate moderated by warm Pacific currents arriving from Japan. Nanaimo only gets a couple of weeks of snow a year, quite a contrast to central and eastern Canada which can be snowed in from December to April. There's enough rain to keep the city's gardens and parks lush and green, but plenty of clear, dry days for outdoor enthusiasts throughout the year.
Nanaimo isn't a big city – under 100,000 – so traffic jams are the exception, and there's still free parking downtown. As the main service center for the upper two-thirds of Vancouver Island, the City of Nanaimo has all the services you could ask for, from the big box stores of North Nanaimo to intimate boutiques and cafes downtown.
Nanaimo is well connected. BC Ferries runs large car ferries from Nanaimo to Vancouver every couple of hours, and seaplanes are constantly coming and going on their way to/from downtown Vancouver or Vancouver International Airport. Nanaimo also has a regular airport south of town and you can get a free extension to Nanaimo on many Air Canada tickets to Vancouver.
Another great attraction for snowbird retirees is the fact that Nanaimo real estate is still affordable. Housing prices have increased 50 percent in recent years, but you can still purchase real estate here for about half which comparable properties would cost in Vancouver or Victoria. Nanaimo Realty, Remax Nanaimo, and Coast Realty Nanaimo can tell you more.
However Nanaimo's greatest attraction is its friendly, outgoing people. Nanaimo still has a certain "small town" air lost in go-go places like Toronto, and it's easy for newcomers to plug into the local scene. There's always something happening in the Harbour City. It's paradise found.