The Canadian province of Saskatchewan is a hidden gem. Less well known than its neighbor Alberta, it boasts a population of approximately a little more than 1 million and has roots in Aboriginal history.  The province is named after the Saskatchewan River, which the Cree named Kisiskatchewani Sip, meaning "swift-flowing river."  In fact Canada, in the language of the Huron is from Kanata, which means "settlement."
Saskatchewan is also a prairie province.  Think flat landscapes and farmland. Picture endless miles of bright yellow fields of Canola under a blue sky dotted with white puffy clouds.  Combine that with some of the best restaurants in all of Canada, numerous lakes, a bevy of summertime concerts and festivals, and you have yourself a recipe for an exquisite adventure.  But before heading into the prairies, it's worth stopping in the capital city, Regina. With a population of approximately 200,000, Regina is small but mighty.
Accommodations
I stayed right smack in downtown, the perfect vantage point to take in the city's sights. The Radisson Plaza Hotel Saskatchewan Regina, or the Radisson SK as it's popularly referred to, is a historic building, an easy 10 minute drive from Regina International Airport. One of Canada's grand railway hotels, it overlooks the shady Victoria Park.  The lobby décor is regal and luxurious. The neat thing about this location is you can walk to Victoria Park for movie nights in the summer, eat in world-class restaurants, and stroll over to popular Wascana Park.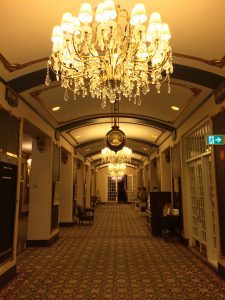 The rooms offer free Wi-Fi, a fitness center should you choose to want to work out, and the best part, the elegant Victoria Tea Room for High Tea on Thursday, Friday, and Saturday afternoons.  Sink your teeth into Strawberries with Chantilly Cream, Macaroons and petite sandwiches – decadent!  The Monarch Lounge is right off the lobby and offers a variety of wines, beers, cocktails as well as scotches and whiskeys for a night in.
Activities
Regina is green, lush, intimate and vibrant.  You can feel the energy of an up and coming city – from its art gallery to the farmer's market to Salsa on the plaza.
Mackenzie Art Gallery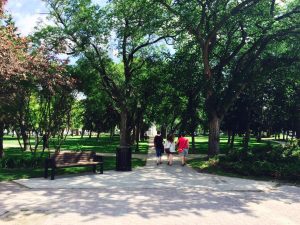 A leisurely 20 minute walk from the Radisson will have you walking through the sliding doors of the unpretentious entrance to Saskatchewan's largest public art gallery.  With over 100,000 square feet of space on three levels, the Mackenzie has original works of contemporary and historical art from Canada and around the world.
Don't miss the Gallery Shop on the same level as the entrance. Artists and designers from across Canada display special pieces, including ceramics, glasswork and jewelry made in Saskatchewan.  In fact, Queen Elizabeth herself bought a pair of beautiful red baubles from this very same shop!
What's unique about this gallery is the 'Living Room' section on the second floor.  You'll find an inviting space to hang out in comfortable couches, surrounded by exhibits.  If you want a lesson in 'Realism', be sure to walk through the Mary Pratt exhibit running May 17-August 24, 2014.  One of Canada's most popular still-life realist artists, Mary Pratt's 'Homemade jelly' along with 'Chocolate Cake' exhibits are a visual treat, while bringing to mind the value of hard work and dedication required to make these foods.
The Beat Nation exhibit through September 7, 2014 is a fabulous section that educates you on hip hop and Aboriginal culture.  For urban Aboriginal youth, hip hop has been a driving factor for activism and you'll see this reflected in the video performances displayed in the exhibit room.
You'll also come across sculptures and installations that highlight the realities of the Aboriginal people today. My favorite was the 60 feet mural by a graffiti artist.
The Art in Bloom exhibit showcases designs by local fashion designers inspired by surrounding art pieces in the gallery. Partnering with Saskatchewan fashion week, the gallery has created a unique exhibit where art meets fashion.
This gallery is great for families with children as there's a kid's play section on the lower level, where many community events take place in summer.
Hours of Operations
Monday to Thursday 10 am – 5:30 pm
Friday 10 am – 9 pm
Saturday, Sunday and Holidays
12 pm – 5:30 pm
For more information, visit www.mackenzieartgallery.ca
Wascana Centre

Larger than Central Park, Wascana Centre is home to 2,300 acres of green space and hosts the Saskatchewan Legislative Building, including other important landmarks such as the Royal Saskatchewan Museum, the Science Centre and even an IMAX Theatre.
I recommend a picnic lunch by the lake.  Watch out for the geese crossing the road!  The area around the Candy Cane Playground has ample barbeque pits and picnic tables and is perfect on a hot summer afternoon.  Post lunch take a stroll and stop to smell the flowers in the Queen Elizabeth II Gardens.  I was told the layout was inspired by the gardens of Versailles.  A variety of flowers is apparently planted in different patterns each year, providing a great excuse for repeat visits.
Walk towards the beautiful Legislative Building, popularly known as the "leg" (pronounced "ledge") and pause for a moment to admire the architecture.  A public tour is the best way to experience the history of this region.  34 different types of marble from all over the world have been used in constructing the majestic interiors, while a separate section downstairs has pictures of past government officials and the First Nations peoples.
The Fringe Festival
The international Fringe Theatre Festival is a terrific concept that presents innovative, live theatre for audiences of all ages.  The performing artists are usually from provincial, national and international touring companies.
The interesting part about these shows is that the artistic freedom of actors is unrestrained and thus uncensored, although ratings are provided for family or adult performances.
The show I attended was running at the Mackenzie gallery and titled "The Canterbury Tales". I believe it lasted roughly for about an hour and was a one man show performed entirely by Erik De Waal.  A unique take on a literary classic by Chaucer, this contemporary interpretation is set in a South African shantytown called Canterbury amidst poverty and is heavily satirical at times.  These shows can sometimes involve audience interaction, which can be exciting! Definitely worth visiting at least once, find a show time that's convenient for you and get ready for a fun time at the theatre.
Restaurants
Regina is home to a plethora of fabulous restaurants, with some talented chefs.  The trend right now is farm-to-table foods sourced from locally grown farms in and around the area.
I was invited to try dinner at Crave Kitchen + Wine bar, just a few blocks from the Radisson SK hotel. Located in a very characteristic building, Executive Chef Jonathan Thauberger was recently awarded the Gold Medal Plate at the Culinary Championships. His talent is evident from the first course all the way to desserts.  I started off with a delicious rich and hearty Gazpacho cold soup with Gherkin peppers that gave a spicy kick to the overall taste.  I don't think I've ever tasted these peppers before!
For my main course, I opted for the Saskatchewan Quinoa Chicken dish which I was informed was one of the most popular items on the menu so I felt I had to try this. It was delicious. It was incredibly flavored with tomatoes, feta, and pesto vinaigrette.  I had that with the sustainably raised prawns with Garlic and Chili, light yet bursting with flavor.  Some of the other items on the menu that caught my eye were the Quill Creek Bison Ribeye with Camelina Bernaise Sauce, Heirloom tomato and Le Cendrillon tart. It just sounded so exotic that I think I would return to Crave just to give this a try.  The Prawn + Saffron Risotto along with the Prosciutto Wrapped Beef Cheeks also appeared tantalizingly unique, but alas I had to save room for dessert.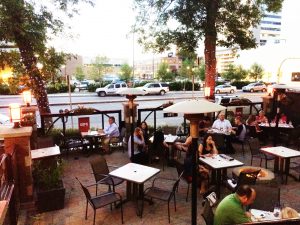 Small portions of the Strawberry and Rhubarb Tart, Lemon curd and Caramel Sauce and the flourless Chocolate Torte appeared before me and I dutifully paid equal attention to each one. In the end the not too sweet chocolate torte was my favorite, with the Rhubarb a close second. I wasn't a fan of the Lemon curd because I don't like lemony desserts and along with the caramel sauce, was a bit too sweet for my palette.
Overall, the restaurant surprisingly has a very unpretentious vibe for such fantastic farm-to-table food. The outdoor patio is pretty and can be a great space to have lunch or dinner in summer! Crave Kitchen + Bar is definitely one of those experiential restaurants where the food is delicious and down-to-earth.  Coming from San Francisco, I often find the farm-to-table restaurants overpriced, overbooked, and the food a little pretentious.
Shopping
There is no dearth of shopping in Regina, whether at one of the five large shopping malls such as Cornwall Centre or the artsy Cathedral Village neighborhood which offers plenty of locally crafted gifts. Downtown is host to numerous fashion boutiques and can be a great way to spend an afternoon!
Check out unique Saskatchewan art at Traditions Hand Craft Gallery where you can find glass wheat stalks, each handcut and lamp worked! It's a great souvenir if you want to take home a piece of the prairies with you.  Jacqueline Berting, who grew up in Saskatchewan, majored in glass and began the Glass Wheatfield encompassing 14,000 waist high glass wheat stalks. You can find many of her beautiful works at this gallery.
I was pleasantly taken aback by all that Regina had to offer: from its Aboriginal roots, a dazzling array of community events and incredible food, visit before the tourists discover this hidden gem.
Getting there
From the United States: Direct flights from Denver will have you in Regina in no time at all! United, WestJet and Delta all fly to Regina as well.
For more information on Regina visit www.tourismregina.com