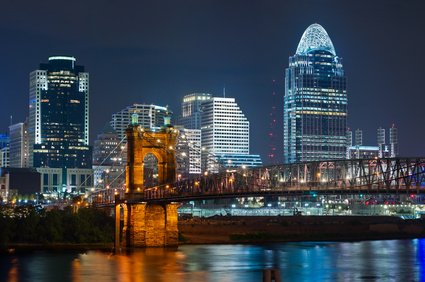 If you happen to be passing through Cincinnati, or perhaps enjoying an adventurous excursion as a new local resident, then this definitive road trip guide will be essential for you. Travelers can enjoy beautiful horizons packed with scenic hillsides. This awe-inspiring backdrop provides an amazing canvas to showcase the architectural magnificence of the city. There are countless historical locations to gaze upon in wonderment, and the region facilitates avid enthusiasm in athletic activities. With the all-encompassing details provided below, you will be primed for an endlessly extensive amount of entertainment. Witness all the glory that this spectacular city has to offer!
Before Heading Out on the Road
Transportation is a fundamental element for an enjoyable venture. To avoid any interruptions caused by vehicular malfunctions, it is wise to preemptively take care of every basic car need. Every minor detail should be fine-tuned for perfection. The easiest way to guarantee expert automobile care is to make an initial stop at Busam Cincinnati.
Without a doubt, Busam Cincinnati is the most dependable Cincinnati car dealership. They have a distinguished reputation around town, and the devoted folks that operate the business are some of the friendliest people you will ever meet. Their prominent establishment is Cincinnati's oldest dealership, and the family-owned company has been catering to local customers since 1909. It is the perfect location for new residents to purchase a classy new ride to drive through town, and passerby can receive convenient maintenance that is dependable and affordable.
Summer gets hot and humid in Cincinnati, so it is imperative that travelers keep their air conditioning systems in pristine shape. Ultimately, the weather can be extremely unpredictable in this zone, but that is part of the wonderfully wild experience in Ohio. As a safegaurd against rapid shifts in local climates, it is smart to swing by this renowned dealership to make sure you are prepared for all possible road conditions. Winter can bring severe blizzards and ice storms, which mandates solid windshield wipers and road gripping tires. All of these necessities are available at one reliable spot.
Where to Find the Best Food In Cincinnati
Now that your mobility is assured, it is time to chart the best sources of food. Cincinnati may not offer restaurants with famous chefs like the ones in this men's Vegas travel guide, but it is home to some wholesome family food choices. For an immensely satisfying quick stop, check out Skyline Chili off of Madison Road. This family-friendly restaurant offers mouthwatering cheese conies that local citizens tout as a regional delicacy. Aside from their delectable chili cheese dogs, they also have a well-rounded kids menu that caters to a wide range of taste preferences.
For a more substantial meal, head to Montgomery Inn, and be sure to bring your appetite along with you. Extravagant barbecue is the centerpiece of their legacy, and the ribs they serve are notorious around the world. Nothing compares to the succulent juiciness of their grilling mastery.
After dinner, it is time for a treat, and Graeters is the place to hit next. They flamboyantly boast the best ice cream on the planet, and they are not exaggerating. New heights of creamy goodness are available to all dessert lovers and dairy connoisseurs. You have not experienced the luxurious indulgence of true ice cream until you have been to Graeters. The prime outlet is conveniently located at Hyde Park Square; from this central spot, they provide original flavors that delight locals and tourists alike.
Walking Around Town
Pedestrians are privy to a more personable experience when they take the time to mosey around town. A saunter in Cincinnati can be a pleasurably rewarding adventure. It is well worth savoring time spent in this enigmatic city. Hyde Park is a wonderful place to relax in leisure. It is a remarkably cozy district with a uniquely jolly vibe. It is an especially safe area for family activities, and the peaceful nature of the area lends itself to a vast array of recreational fun.
For a more dynamic experience, walkers can also take a stroll through Fountain Square. This iconic plaza decadently serves as an emblem of the city's prideful heritage. The expansive artistry of Cincinnati's historical architecture is thrilling to witness in person. The bustling core of this city facilitates a lively trip for everyone that engages in it. On top of the enchanting horizon of preeminent buildings, this section of town has cultivated a vivacious nightlife.
Cincinnati's Main Attractions
The Cincinnati Art Museum is one of the most prestigious locations to visit during your voyage. The building contains one of the oldest art museums in the country, and they have an incredibly substantial collection of fine art to witness firsthand. Romanesque structures house religious masterpieces that can inspire every imaginative mind. Within the last decade, this organization underwent a major expansion that yielded permanent prominence for art patrons everywhere. If this is not enough creative expression for you, also check out the Contemporary Arts Center.
Another key attraction is the Cincinnati Zoo and Botanical Garden. This famous tourist haven houses rare gorillas, tigers, giraffes, rhinos and many more stunning creatures. With origins tracing back to 1881, this joint establishment is riddled with glamorous construction designs that date back over one hundred years. The Cincinnati Museum Center at Union Terminal is another prime destination. The innovative reinvention of the obsolete train station gives all visitors a surreal exploration of history and science.
Kings Island is an integral stop. This thrilling amusement park is packed with never-ending excitement. With seasonal celebrations for numerous holidays, there is always a specialized adrenaline rush awaiting you around the corner. Trips to this theme park can be a memorable foundation of a vacation, and it can become a traditional family outing.
Cincinnati Sporting Locations
Cincinnati is lucky to have two thriving national sports teams native to their town. Baseball fans are entitled to a riveting performance whenever they head to the Great American Ballpark. This is the venue for the Cincinnati Reds, and this team does not disappoint their home-town constituents. For nostalgic memorabilia, drop by the Cincinnati Reds Hall of Fame & Museum.
Meanwhile, football lovers can experience a thriving local sports community that is supporting the Cincinnati Bengals. This explosive NFL team is on fire right now, so head straight to Paul Brown Station for an unforgettable game.