When Australians go to the USA, statistically, they will most likely hit up Orlando, New York, Chicago and LA.
But what about all that land in between? No Texas? No Arizona? No Wyoming? They didn't even make the top 10.
Don't get me wrong, I've been to all 4 of those cities and they are fantastic holiday destinations. But what if you want to get off the beaten path a little?
On my last trip to the States I spent some time in a few of Texas's cities, but I also discovered a gem out in Texas Hill Country that fit that bill perfectly. Just an hour outside of San Antonio is a town called Bandera, the self-proclaimed cowboy capital of the world.
And 30 seconds into your visit you will understand why. Locals are inseparable from their cowboy gear, the area is surrounded by large ranches (mostly guest ranches now), they boast the highest number of world champion cowboys per capita, and it has a strong history of cattle drives originating here to go across the country.
Ok those last two were less obvious but I think I've made my point.
One of the best ways to experience Bandera is to actually stay on a dude ranch. It was a perfect way to experience what felt like true (if a little stereotypical) Texas culture. Here is a snapshot of day-to-day life on the ranch.
Horse rides through Texas Hill Country
In two days I went horse riding three times and each time we explored a different region of the 300 acre property of the ranch. It's a beautiful way to see the country, but while it may look like a comfortable way of getting around, it's actually hard work ensuring you don't destroy your inner thighs. I got there eventually but it's not as easy as it looks!
Hay rides around town
Every evening we'd load up in a trailer on bales of hay and go feed the longhorns and goats. While the long horns are quite happy to keep their distance, it didn't stop them staring you down. The goats just loved to say hello.
Relaxing in this Gorgeous, if a little foreboding living room
I feel like it wouldn't be Texas without a giant longhorn skull on the wall would it? But this image speaks more than I ever could describe about it. There's a pool table table behind me, games galore, and comfy couches for those that just need a little down time.
And then this one was upstairs, another lovely room of death.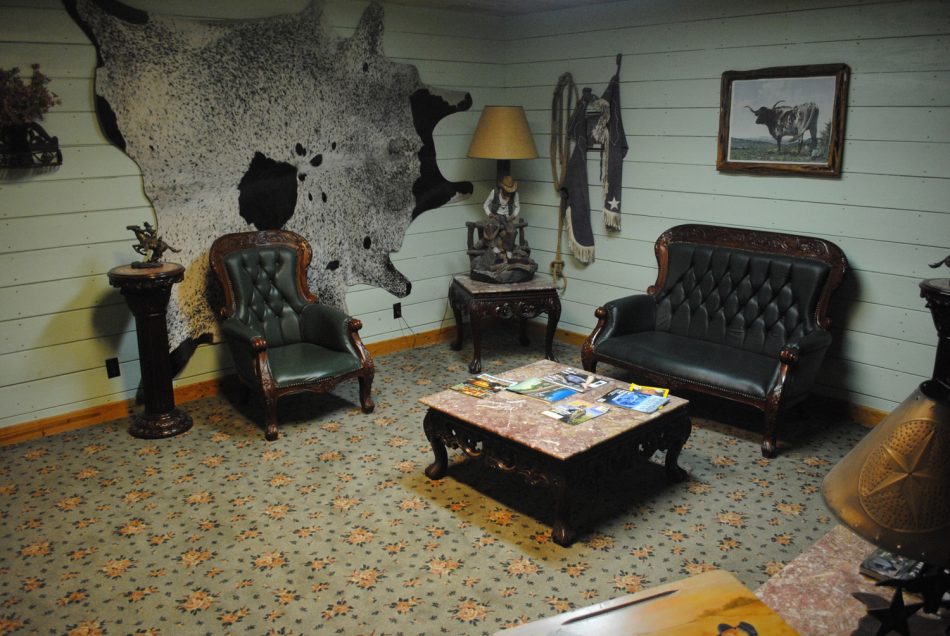 Drinking like a local in the township
To get the full Bandera experience though you can't just stay on your ranch. The town itself is where you can interact with one of the 857 locals who live in Bandera. I also imagine that chatting with the locals was as much an experience for them as it was for me because I got the feeling not too many Australians make it through these parts.
One such interaction with the lady at the bar went a little like this:
Me: "Just a Shiner please."
Bar lady: "How old are you?"
Me: "25, ma'am"
Bar lady: "Well I'm takin' your word for it"
In her deep southern accent. It was brilliant: she didn't even check it.
And as she brought out our drinks she asked me "Are y'all from France?"
I politely corrected her.
Now I won't try and pretend that I have the most Aussie accent in the country, but French would not have been my first guess.
A must-visit in Bandera however is the 11th Street Cowboy Bar. It is an enormous bar that brings in cowboys from all over the area and could see hundreds of people partying on any given night of the week (except Mondays and Tuesdays, when I sadly visited).
They have live music and three huge barbecues for you to bring your own meat. I'm not sure how things are done in the US, but in Australia, we are generally encouraged to buy food at the bar when we go out. They also provide the sides for free and as long as you keep throwing back beverages, they're happy.
Bandera, a place where the population remains at 857 because every time a girl gets pregnant, a cowboy leaves town. A place where cowboy boots and hats are as commonplace as shirts and pants. And a place where you will feel more welcomed than any big city in the world.