Houston combines Texas authenticity with artistic flair. If you like cowboy boots and rodeo with your cutting-edge art scene, mosey on over. In addition to world-class museums, innovative visual experiences should please even self-proclaimed museum haters. The culinary panorama is in the spotlight, with over 10,000 restaurants to tickle your palate. From inexpensive neighborhood spots to chef-driven eateries drawing big spenders, you'll never go hungry.
Arts and Culture
If you favor your travels liberally dusted with art, the Houston Museum District is home to a whopping 20 cultural gems, all within a compact 1.5- mile radius.
Big Texas doesn't mean spending big bucks; a dozen of the museums are always free while the rest provide complimentary admission on a designated day.
The Menil Collection
The Menil is one of the country's most formidable private collections, housed in an understated building designed by Renzo Piano. The labyrinth of art and native greenery is bathed in exquisite natural light. Surrealist, pop art and African tribal works are standouts. The Menil treasury includes the Rothko Chapel. This meditative space's lofty mission is to inspire peace, freedom and social justice through art. Free.
Museum of Fine Arts, Houston
The Museum of Fine Arts, Houston, known as the MFAH, is one of the country's largest art museums. It encompasses over 65,000 works from six continents plus a sculpture garden. The collection's highlights include Impressionist and Renaissance masterpieces. When it's time for a quick bite, a curated selection of mouth-watering food trucks can be found in the MFAH's main parking lot each afternoon. Save your lunch receipt and you'll receive free same-day admission.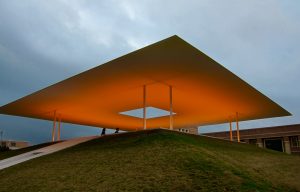 SkyscapeThe leafy Rice University campus is home to James Turrell's Skyscape. The pyramidal structure is equipped with an LED light sequence that projects onto the ceiling and through an aperture in the roof. At twilight, Turrell's composition of light compliments the natural light for a reflective experience that borders on psychedelic. Free each evening (except Sunday) at sunset, but reservations are necessary.
The Alternative Art Scene
The Art Car Museum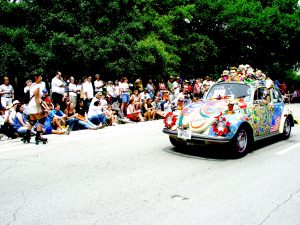 The Art Car Museum is a funky favorite that celebrates the spirit of Texas car-culture mixed with a healthy dose of visionary art. Dubbed the Garage Mahal, the imaginative cars are decorated with innovative materials. The annual Art Car Parade is a chance to see dozens of decked-out cars that are the singular visions of their creators.
Beer Can House
Houston takes the cake when it comes to offbeat home décor and the Beer Can House is a folk art icon. This private home is decorated with 50,000 beer cans, bottles, pull-tops and other beer-related objects cramming every inch of available surface.
The Orange Show Monument
The Orange Show Monument is a landmark house that took local postal worker James McKissack 20 years to finish. Oranges were McKissack's favorite fruit and the house is a love song to them, with orange-themed décor everywhere. Found objects, mosaics, a wishing well and additional citrus-infused bric-a-brac crowd every nook and cranny.
Eats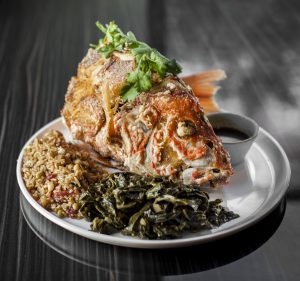 Houston is winning praise as one of America's great eating capitals. With such a rich abundance of restaurants, you'll be bombarded with cuisine from every corner of the globe.
Holley's
Holley's manages to deliciously blend influences of Chef Mark Holley's Ohio/Kentucky childhood with the New Orleans foundation honed during his lengthy culinary stint in The Big Easy. Holley adds a smattering of Asian and South American technique for good measure, creating a delectable melting pot of flavors. The menu doesn't hit a false note but extra kudos are reserved for the spicy gumbo, decadent oyster shooters and photo-worthy Thai-style snapper that's sculptural in its beauty. Don't skip the house-made rolls, buttery delights dusted with benne seeds.
Holley himself cuts a charismatic figure, as handsome as his lookalike Forest Whitaker. He makes each guest feel special from the moment they are seated, infusing the atmosphere with genuine down-home hospitality.
State of Grace
Ford Fry's State of Grace is located across the street from Fry's alma mater, Lamar High School, so he's hometown to the core. Start with one of the potent cocktails like a refreshing Planter's Punch made with dark rum and a zippy blend of citrus juices. The hip and stylish crowd isn't afraid to sully their expensive clothing when they chow down on Texas-style treats such as twice-fried chicken and finger-licking-good beef ribs.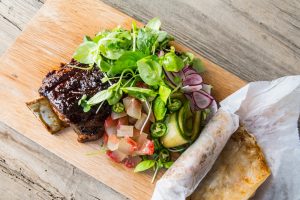 The pasta is delightfully al dente and as good as any I've had in Rome, Naples or Bologna. An ethereal-crusted strawberry rhubarb tart and sticky toffee pudding are the sweets of your dreams. Make reservations, because this place is very popular.
Aladdin
If you enjoy the cuisine of the Middle East, inexpensive Aladdin is worth a stop. Everything is freshly prepared with farm-picked produce. Delights include kebabs, falafel, hummus and minty tabouleh, all served with homemade pita bread served steaming hot from the oven.
Maharaja Bhog
Maharaja Bhog is a vegetarian Indian eatery that serves a delectable all-you-can-eat Thali-style meal for a wallet-friendly price. The menu changes daily according to what is freshest. The wait-staff goes the extra mile to please, creating special plates to whet fussy appetites. Come hungry, as the waiters make it their mission to stuff guests.
Sleep
The newly renovated downtown Four Seasons Hotel Houston is an obvious choice if you crave luxury. Expect to be pampered by the doting staff from the moment you walk through the door. Guest rooms are loaded with every imaginable creature comfort. After you dive into the city's art scene, enjoy a refreshing dip in the Four Season's delightfully decadent pool, the perfect place to cool off from Houston's legendary humidity. Relax with a bliss-inducing service at the fabulous onsite spa, where indulgent treatments infuse locavore scents like Cowboy Crush, Houston Dream and Texas Green Tea into top-of-the-line products. Even if you don't book a treatment, guests may utilize the steam and sauna.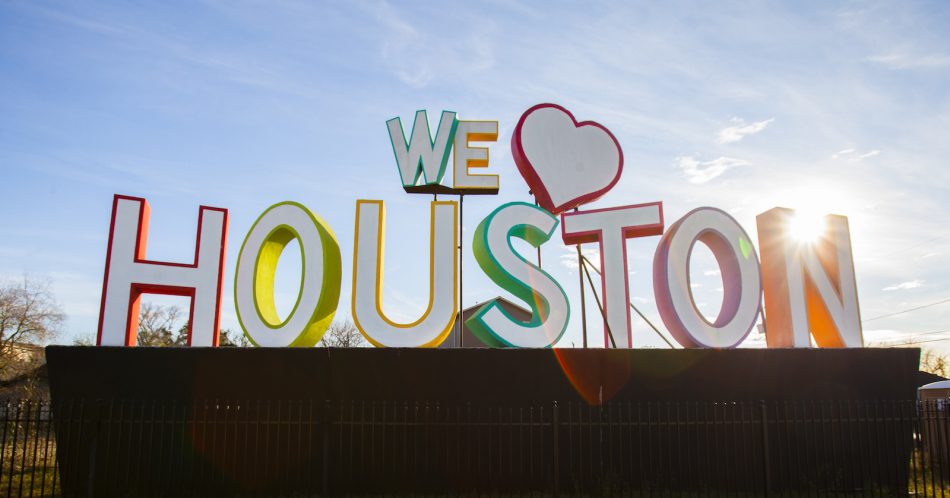 Getting around
Despite it's reputation as a driving town, Houston's Metrorail will whisk you from downtown to the Museum District in minutes. B-Cycle bike share will have you pedaling on a comfy cruiser-style bike in a jiffy.
Save with CityPASS
Consider purchasing a Houston CityPASS. You'll get admission to many Houston attractions for one low price, saving nearly 50% over purchasing individual admissions. CityPASS attractions include the Museum of Fine Arts, Space Center and the Aquarium. Pass holders can skip the line at attractions, a time saving bonus.
For more information, go to VisitHoustonTexas.com
Photo credits: Julie Soefer, Visit Houston and the author