During our recent long weekend there, we were escorted by Mazatlan tourism guides to key attractions, recreational activities, quaint towns and wonderful restaurants. Although we had only 2-1/2 days to explore the area, we saw major attractions and found several under-the-radar gems. It was easy to see how Mazatlan has earned the nickname "Pearl of the Pacific", derived from the natural beauty of sandy beaches, clear water and mountain views. Some feel that the name also has historic origins from when Spanish galleons came here for Baja pearls and local gold.
On the Mexican Riviera
We stayed three nights at Pueblo Bonito Emerald Bay in what is known as Nuevo Mazatlan (New Mazatlan) where condo and hotel developments dot the beach north of the busier and concentrated hotel area, the Golden Zone. The sprawling resort has lush gardens with fountains and tree-lined pathways between the buildings of guest suites, restaurants, pool and lobby giving it an elegant ambiance and feeling of going back in time. Our balcony overlooked the large pool area and the beach beyond and the outlying mountains were also visible in the distance. Because we had busy itineraries, we weren't able to spend much time there, but the room was spacious, light and well-appointed. Pueblo Bonito also has a state-of-the-art spa and fitness center.
Sunday Brunch at Pueblo Bonito provided an amazing number of diverse selections including many local dishes, seafood, sushi, made-to-order omelets, pastries, desserts and champagne.
A Day Trip of Culture and Adventure
But there's more to enjoy beyond the resorts and ocean. On our first day, we traveled through rural areas into the jungles of Sinaloa about 45 minutes outside of Mazatlan to visit Huana Coa Adventure Park for zip-lining fun. Our friendly and knowledgeable guides gave us instructions and kept us entertained as we flew through the trees on a course consisting of nine runs totaling 1 mile between 10 platforms. As a first-timer, I was initially apprehensive, but ended up loving the experience and wanting to zip through the course again.
Located nearby is the Los Osuna tequila distillery where we took a tour of the facility and learned many surprising facts about making tequila. The process of making 100% pure blue agave tequila was described by our guide and the tour was topped off with a sampling of the delicious Los Osuna spirits at a lovely outside bar. The hosts are very generous with their pours and it would be easy to spend an afternoon enjoying the samples. But there was much more to see!
From there we were off to visit El Quelite, a small town with colorfully painted houses, beautiful flowers and a lovely old church. We went directly to El Meson de los Laureanos restaurant for lunch; it seemed more like a museum as we walked through several rooms filled with displays of artifacts and items representing the history of the area.
The restaurant's owner, Dr. Marcos Osuna, is a strong proponent of rural and small town tourism in the Mazatlan area and has been instrumental in getting funding for improvements in El Quelite and attracting tourism. Outside in the courtyard, we were served hearty portions of Mexican specialties, such as lamb, pork, beef and quail dishes served with fresh hot tortillas.
After lunch, a small stage was set up near our table to provide entertainment that was a big hit with our group. We watched numerous performances that included traditional folk dances, native dances (including a ritual fire dance and an eagle dance), and a particularly adept gentleman who performed lasso tricks.
In El Quelite they still play Ulama, a sport with roots dating back to 1600 BC that was played by the Aztecs. It involves 2 teams dressed only in loin cloths, hitting a 7-pound rubber ball back and forth, using only their hips to score points on a short and narrow dirt court. On our way out of town, we passed this statue commemorating Ulama.
The Golden Zone and the Malecón
Back in the city of Mazatlan, the Golden Zone is the bustling center of tourist hotels, nightclubs, restaurants and businesses. The Malecón promenade runs along the waterfront about four miles through the Golden Zone to Old Town.
There are several monuments representing Mazatlan's heritage, culture and economy along the way. The Fisherman's Monument (Monumento al Pescador) symbolizes the city's roots as a fishing village — a man with fishing net and a woman representing the Tropic of Cancer. Fishing (including commercial shrimping) is one of the top three industries of the Mazatlan economy along with tourism and agriculture (78% of Mexico's tomatoes come from the state of Sinaloa where Mazatlan in located).
Among other monuments and sculptures we saw on the promenade was the La Continuidad de la Vida (Continuity of Life), depicting a naked couple standing on a giant snail's shell above leaping dolphins and symbolizes life in harmony with nature.
Something that will have to wait for our next visit to Mazatlan is a ride on one of Mazatlan's pulmonia (pneumonia in English) taxis, so named because the joke was that the open air would give you a cold. One of the monuments on the Malecón gives honor to these iconic vehicles that run through the Golden Zone to Old Town.
Mazatlan's Carnival, its annual week long international festival for the celebration of Mardi Gras cited by some as the 3rd largest after Rio and New Orleans. Our visit was within a month of the 2013 Mazatlan Carnival (Feb. 7-12). The only observable preparations were the tall papier-mâché statues over 20 feet high strung along the Malecón, which is also the site for the Carnival Parade. Statues are created each year to represent characters consistent with the theme for each year's Carnival. This year, the 115th, has a movie theme and represented in the statues are important celebrities from the world of cinema. Mazatlan seems like an ideal place for celebrating Carnival and it's a bit more family-oriented than other locales such as New Orleans.
Rural Sinaloa
Our day trips outside of the resort area of Mazatlan and took us on winding roads through rural areas with small farmhouses and rooster farms. Occasionally, we saw bicyclists as this area of Mexico is very popular for cyclists who come here from around the world.
Cockfighting is a tradition in Mexico and one that involves great sums of money. Cockfighting is of course illegal in the United States and is considered cruel by many, including me. But it is part of Mexican heritage and an important part of Mexican culture today. At this rooster farm, not the largest in the area, there were about 900 roosters, each kept in its own small shelter.
Mystery of the Petroglyphs

Las Labrades is an isolated beach outside of Mazatlan that is home to Mexican history and hidden treasures — ancient petroglyphs (300 carvings of shapes and faces) that were discovered on rocks on the beach. We enjoyed spending a couple of hours climbing the rocks and searching for the petroglyphs. Who carved them? What were their purposes? When were they carved? These are mysteries that have not been completely solved. There is some agreement that they were carved between 1000 and 1500 years ago, based on estimated dates of a nearby archeological find but another nearby find appears to be from several millennia earlier. There is still doubt about who created them and their purpose. Were they religious or art? Las Labradas is recognized by the National Institute of Anthropology and History as an "archaeological monument zone," and there is a museum under construction at the location. Currently, a small building with a twig thatched roof houses replicas of the petroglyphs, artwork depicting ancient civilization, and educational information.
Traditions and Heritage in Old Town
Shrimping is a major industry in Mazatlan and restaurants serve enormous portions prepared in many different styles as well as many other fresh seafoods. At the Shrimp Market in Old Town, vendors have plentiful supplies of shrimp to offer.
At the nearby enclosed market where the locals also shop, vendors sell fresh fruits, vegetables, cheese, meat as well as other common items such as colorful hand-woven clothing.
Although similar in some ways to markets that one can find in cities in the United States with booths filled with fresh fruit, vegetables and items you might find at department or grocery stores, there are things we don't see and we were warned about by our guide. In Mexico, the entire flesh of animals, such as cows, is eaten. Nothing is wasted. So at the market we saw carved cow heads, pig snouts and more.
The Cathedral of the Immaculate Conception (Cathedral Basilica de la Inmaculada Concepcion), built between 1875 and 1899, is a beautiful and stately structure in Old Mazatlan. It was quite a surprise to learn that each of its 28 stained glass windows feature a Star of David to commemorate the significant funding that came from Jewish families for the church's construction.
A Bounty of Traditional Food
We were treated to wonderful full-course meals with heaping plates of fresh shrimp, octopus, scallops and other seafood along with other specialty items at Pedro and Lola's, Los Arcos, La Costa Marinera and La Puntilla (where another member of our group had this steaming hot pot of tasty shrimp).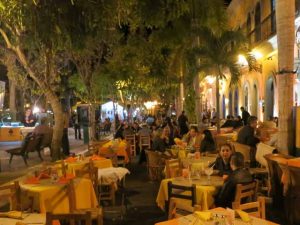 While dining on delicious fresh seafood and local dishes at La Costa Marinera, we were serenaded by Ernesto who is also a waiter at the restaurant, which was in a marvelous beachfront location with white sand. I'd like to share this clip of Ernesto evoking the romance, mystery and history of Mazatlan with his song.

Wait, There's More
This is just a sampling of things about Mazatlan that make it unique as a beach resort and Mexican city. Mazatlan is a Nahuatl (language spoken by the Aztecs) word meaning "land of deer" probably because deer were prevalent in the area centuries ago (there are none now). Mazatlan was founded in 1531 by the Spanish to use the natural harbor to ship gold, however, much of its history begins in the early nineteenth century with investors that helped develop the harbor and established trade relationships with other areas of the globe. Germany in particular was important because it led to a significant German immigration during the 1800′s that provided investment for the development of the commercial harbor and other industries. In addition to enabling Mazatlan to become what it is today, there was a significant impact on culture, probably best noted in the local music, Banda, which sounds like traditional Mexican music with an Oompah vibe. German entrepreneurs also developed the Pacifico brewery, the beer Mr. TWS drank while in Mazatlan and one of Mexico's beers exported to the US. Finally, a Mazatlan icon, its El Faro lighthouse is the second highest still-operational lighthouse in the world (about 523 feet above sea level).

There are many other places to go and things to do in Mazatlan that will await our next trip, such as whale watching cruises, long strolls along the Malecon, and lazy afternoons sipping Margaritas on the beach.

For more information, start here: Mazatlan Tourism Board

Disclosure: We were guests of the Mazatlan Tourism Board and Pueblo Bonito Resorts at Emerald Bay, but our opinions and perspectives are our own, as always.

We had never been to Mazatlan, Mexico before and weren't sure what to expect — except beautiful beaches and luxury resorts, perhaps. We found those and so much more, including history, culture and adventure. Mazatlan is a charming Mexican city with a distinctive character and even a little mystery. In Mazatlan, traditions have continued for many years allowing it to maintain an authenticity that one doesn't find in many resort areas. The people are proud of their heritage, hard-working and friendly — quick to offer a smile or some help. They also embrace their culture and put it front and center as much as the natural beauty that led to the area becoming a major travel destination.