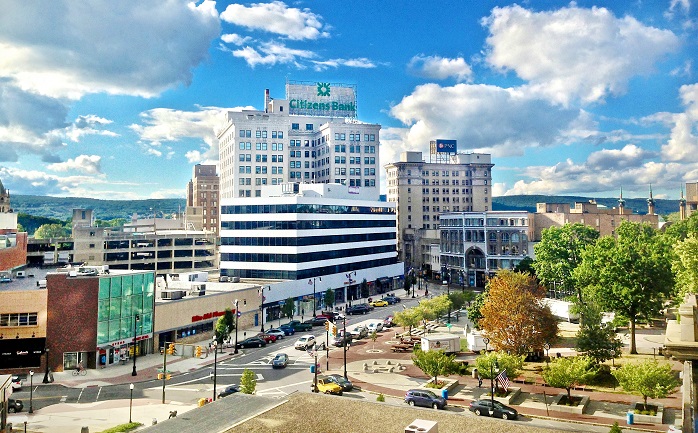 Wilkes-Barre is located in the Northeastern part of Pennsylvania, near the Poconos. The picturesque Susquehanna River flows through the Wyoming Valley and the northern part of Wilkes-Barre. It's a great place to visit for a special occasion, date night, entertainment, or just to enjoy some beautiful scenery. Several restaurants offer enticing meals with full bar menus to make your night out enjoyable and filled with wonderful memories.
Cook Bar and Restaurant
This award-winning restaurant is locally owned and is one of the city's most beloved eateries. It is recognized as one of the best restaurants in Wilkes-Barre. Located in an older neighborhood, the upstairs offers an atmosphere that is casual and quiet, while the downstairs bar offers an atmosphere filled with fun and laughter.
Some of the restaurant's tasty dishes include: stuffed pork chops, chicken Marsala, crab cakes, and penne with vodka sauce and chicken. Several of their dishes are gluten free and made from fresh ingredients. The portions are more than adequate and the service is excellent. The downstairs bar has an exceptional wine and cocktail menu.
Rustic Kitchen Bistro and Bar
Rustic Kitchen is conveniently located on Highway 315, you'll feel like you stepped into a Tuscan villa filled with handcrafted artifacts. This unique bistro inside the Mohegan Sun Pocono Casino specializes in Italian Mediterranean-influenced dishes. The main dining room offers a more private setting for those intimate occasions, while the Bar Café offers a more casual atmosphere where many order pizzas, right out of the wood-burning oven.
Some of the more noteworthy items from their menu include: arancini, baked rigatoni with sausage, margherita pizza, and seafood ravioli. The wine list is extensive and their sangria is exceptional. This is a great place to unwind and enjoy great service and reasonable prices.
Le Manhattan Bistro
This is the city's premier French dining bistro and one of Wilkes-Barr's best restaurants. Located downtown, this gorgeous and elegant brasserie is a delightful surprise. You'll think you're either in Paris or Manhattan, but you will not be disappointed with the food and its exceptional quality.
The menu offers a little bit of American favorites, such as: salmon, sea scallops, filet mignon, and mouth-watering pasta dishes. Some of their best French cuisine include: Duck Confit, Le Coq Au Vin, and Beef Bourguignon. For an appetizer, the stuffed mushrooms are magnificent. They are made with creamy goat cheese, basil pesto, and Arcadian lettuce. The crème bruleé is a must for dessert. Their Sunday brunch is also very popular. The bistro serves several Eggs Benedict choices, French toast, and crepês.
River Grille
Located along the Susquehanna River, the River Grille offers a casual atmosphere with an outside deck offering live music and scenic views. Locals enjoy coming here to watch football, eat good food, and have a refreshing cocktail from their fantastic drink menu. It's especially popular on weekends.
The Bloody Mary's with Sunday Brunch is one of the all-time favorites. This restaurant serves comfort food, burgers, sandwiches, and salads. Their Lobster Mac and Cheese is especially tasty. All meals are made from scratch with a fun and inviting atmosphere. Definitely a place worth checking out!
Bettellis Villa
If you're looking for an authentic and traditional Italian restaurant, Bettellis Villa is a terrific choice! This family owned eatery offers recipes that came straight from Grandma's kitchen. The food is always fresh as it comes from the local farmer's market. Their marinara sauce is outstanding and the pizza is exceptional, unique, and flavorful.
The rack of lamb is also delicious, as well as the eggplant and pasta dishes. If you love a good veal dish, then be sure to try the Veal Saltimbocca or the classic Veal Parmigiana.