I've never been a huge football fan, but given the chance to talk to Don Shula, one of football's most beloved coaches, winner of back-to-back Super Bowls with the Miami Dolphins, while at the same time chowing down a world-class burger at a new restaurant bearing his name, you think I'm gonna say no?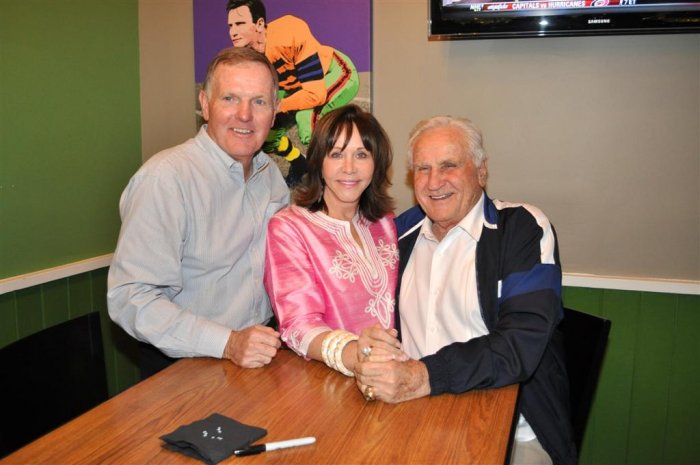 Bob Griese and the Shulas
The occasion was the opening in 2012 of the first Shula Burger at the Postcard Inn in Islamorada (formerly Holiday Isle, a legendary hotspot of the Florida Keys back in the day). The burger joint is the newest part of the Shula culinary empire, which consists of Shula's Steak Houses, Shula's 347 and Shula's 2 Steak and Sports.
"We had a lot of success in restaurants, starting in Miami Lakes where we live, then on to Tampa, then outside Florida," said Coach, as I found myself respectfully calling him as everyone does, a title he'll never lose despite not having coached for years. "We'd never done it before, but my wife, she has a great business mind."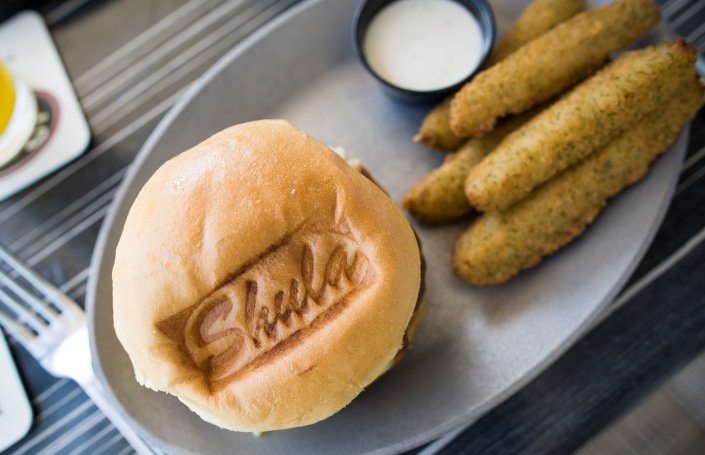 So does his son, David, who runs the food empire, and who also had coached for the Cincinnati Bengals. Opening night at Shula Burger, David was explaining to rapt football fans the details of a play scrawled on one wall – one of his dad's plays from the Super Bowl years that was found on a yellow legal pad Coach had drawn. Sitting near the wall bearing the play writ large was a familiar face: Bob Griese, fabled Dolphins quarterback and winner of said Super Bowls.
Coach looked great, still fairly active at 83, though not as much as he'd like: A balky back had sidelined his golf game, he grumbled. I asked where the next Shula Burger would be opening.
"I don't know," he shrugged, as we sat on the outside patio of the restaurant. "They don't tell me anything."
"But Coach, you're the face of the franchise," I offered. He just smiled.
And he's still good dealing with reporters bearing loaded statements.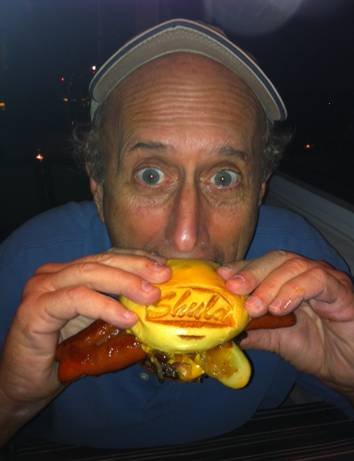 "Hey Coach, I have to say, you have a way better personality than Bill Belichick," I teased about the sour-pussed Pats' coach.
He laughed and held up one hand, Super Bowl ring flashing, as if about to make a point, but diplomatically stopped, talking instead about what a great receiver Wes Welker was for the Pats and calling Tom Brady "a great quarterback, just so cool under pressure." Just a few feet away sat Griese, one of the greatest and coolest of all time.
Shula Burger is a lovely place with, naturally, a football motif, and an impressive menu of burgers of all stripe, the buns fresh and fluffy and branded – literally – with the Shula name. My fave was Coach's as well, "The Don," which has an all-beef hot dog, split and grilled, served atop a burger with pickles, onion, sauce, cheese and mustard served on a branded brioche-style bun.
"You go to a barbecue, what do you get?" the Coach asked. "A burger and a dog. Why not put 'em together? Makes perfect sense."
Coach was looking a little tired, but remained gracious despite my blabbering, but I moved on as he moved inside, to pose with the staff, Griese, his son, his wife, anyone who wanted his time and chance to pose with him and talk burgers or football. But mostly football.
Now, I wish I had his ear, I'd love to know what he thought of the replacement officials in the NFL used early in the 2012 season. I'm sure he'd have plenty to say – between bites of "The Don" that is.
For information on Holiday Isle and Shula Burger, visit www.holidayisle.com