West Edmonton Mall, North America's largest covered shopping and entertainment centre and Alberta's number one tourist attraction draws some 31 million annual visitors. In this gigantic structure tourists and locals alike can take their families to an amusement park, skate in a large-sized skating rink, play a round of golf on a miniature golf course, and shop and eat in the more than 800 stores and restaurants – and do this all under one roof.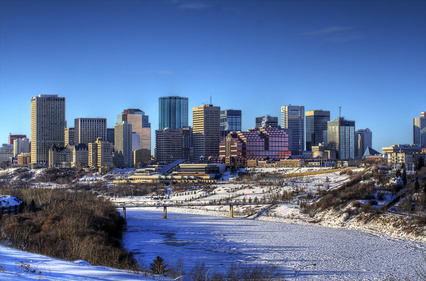 View of the heart of Edmonton
It is virtually a city within a city, employing some 23,500 people – a huge world unto itself. Eight city blocks long and three wide, the Mall is the most unique shopping and entertainment experience in North America. Its magnitude makes it more of an indoor town than just an ordinary plaza. In the words of a bellboy in our hotel, "You know! People say it's the 'eighth wonder of the world'."
The West Edmonton Mall, which opened its doors in 1981, with additions later on, has an area of about 570,000 sq m (6 million sq ft) – about 115 football fields in size. A shopper's dream and a world of excitement, the dazzling complex attracts between 60,000 and 150,000 daily shoppers.
Within its walls are to be found all types of services, including major department stores; 100 eating establishments offering the cuisines of the world; an 18 hole miniature golf course; a glass-domed Ice Palace with an NHL-size rink – the second home to the Edmonton Oilers Hockey Club; Ed's Recreation Centre is an entertainment complex consisting of a bowling alley, pool hall, music stage, arcade, and restaurant; the world's largest indoor wave-pool in a five-acre Waterpark, and Galaxy land – a gigantic amusement park; the world's largest indoor man-made lake; movie theatres; a Las Vegas style casino; Sea Life Caverns – an underground aquarium featuring exotic sea creatures; a large share of the city's night life establishments; theme streets such as Europa Boulevard, Bourbon Street and Chinatown; enough parking for 20,000 autos in the
Entrance to Chinatown
Inspired by the traditional oriental bazaars, a shopping centre has been turned it into a world-class tourist destination. The Centre's stores, attractions, shops and services combine to form one of the most comprehensive retail, hospitality and and entertainment complexes on Earth.
For visitors walking around, the Mall is a virtual paradise of things to do. While shopping they can stop and admire an immense fountain with 19 computer controlled jets weaving and dancing; sea lions performing in a lagoon; and gaze in wonder at the recreated life-size Santa Maria, Columbus's famous flagship.
For the young, the greatest attraction is Galaxyland. It is the second-largest indoor amusement park in the world, incorporating 24 rides and play areas, including the world's largest indoor triple loop roller coaster with the highest G-force. Every day the Park is crammed full of people looking for excitement. For those seeking a serene atmosphere, this is not the place to be. The noise of the rides and babble of humanity saturate the atmosphere.
North Saskatchewan River
Many visitors usually end their tour of the Mall at the gigantic 20,000 square m (4.9 ac) Waterpark – the world's largest indoor wave-pool and 24 slides and attractions, including the world's tallest permanent indoor bungee jump. As we entered, I thought we were on a Caribbean isle. Before me, the Waterpark appeared to be a small lake or an inlet on a Polynesian coast. The constant temperature, which varies between 26 to 30 C (79 to 86 F) makes this enormous indoor pool a comfortable year-round resort – called by Albertans 'an isle of tropical delight'.
As we sipped our drinks on the edge of the water, artificially created waves gently swept over the painted cement beaches. Hundreds of children romped in the crystal-clear blue waters, while others screamed as they were hurled down from water slides and tubes. James, a native of Edmonton, with his family sitting at our table, smiled when I asked him if he ever left in winter for southern lands, "Why should I want to take a costly vacation? Here, we enjoy the delights of the Caribbean all year-round."
At any time of the year, visiting the West Edmonton Mall is an exciting event. However, for a more thrilling experience, one should come to, Alberta's capital city during Klondike Days (now Called Capital EX) or one of the other twenty major celebrations annually held in Edmonton Festival City. Held during the last part of July, not only tourists but many of the 1,150,000 inhabitants of metropolitan Edmonton take part in the Klondike Days Exposition. It is the prime time to visit the city and its celebrated Mall.
View of the Saskatchewan River
If one wants to share in the Klondike Days festivities and, at the same time, enjoy the many offerings of the West Edmonton Mall, the Fantasyland Hotel, a 355-room theme abode located in the Mall, is the place to stay. The hotel is a marvel of luxury with a great many of its rooms featuring imaginative motifs, completing the aura of fantasy, which the Mall defuses.
After touring five of these 120 theme rooms: Arabian, Polynesian, Roman, Hollywood and Igloo coach, I could see what the guide meant when she said, "We want our guests to remember the unique attributes of the West Edmonton Mall and its hotel. It's an enticing complex where people come to shop, play, and stay."
Central Edmonton
If you Go:
How to Get There:
Besides public transportation and taxis daily shuttle vans operate from several hotels to the West Edmonton Mall.
The Place to Stay When Visiting the West Edmonton Mall:
Fantasyland Hotel, the top hotel in which to stay when visiting the West Edmonton Mall. 17700 – 87 Avenue, Edmonton, Alberta, Canada T5T 4V4. Tel: Toll free – 1-800-737-3783 or (780) 444-3000. Fax: (780) 444-3294. Email: rooms@fantasylandhotel.com Website: www.fantasylandhotel.com ,
Some Important Touristic Sites in Edmonton Not Mentioned in Article:
Alberta Legislature Building – one can relax in its park surrounded by historic grandeur. www.assembly.ab.ca
The Art Gallery of Alberta – the building a work of art downtown presents a venue for international, Canadian and First Nations art. www.youraga.ca
Art Gallery in Edmonton
Fort Edmonton Park – Canada's largest living history park with a replica of the fur-trading Fort Edmonton. www.edmonton.ca/fort
Telus World of Science Edmonton (formerly the Space & Science Centre) – offers breathtaking realistic views of life on earth and voyages throughout the universe. www.odyssium.com
Royal Alberta Museum -one of Canada's most popular museums tells the history of Alberta, including that of the aboriginal peoples. www.royalalbertamuseum.ca
The North Saskatchewan River Valley is the largest stretch of urban parkland in Canada. www.edmontonrivervalley.com
Another Festival Worth Attending
The Edmonton Heritage Festival, the world's largest celebration of multiculturalism on one site, held in August, vies with the Klondike Days in colour and activity. Held annually, the festival features the cultures of over 85 ethnic groups.
For Further Information, Contact:
West Edmonton Mall Tourism Information: 2472, 8882 -170 Street, Edmonton, Alberta, Canada T5T 4M2. Tel: 1-800-661-8890 (toll free in North America). E-mail: tourism@westedmontonmall.com Website: www.westedmontonmall.com
or Edmonton Tourism 9990 Jasper Avenue NW, Edmonton, Alberta, Canada T5J 1P7 Tel: 1-800-463-4667 (toll free in Canada/United States) or (780) 496-8400. E-mail: info@edmonton.com Web site: www.edmonton.com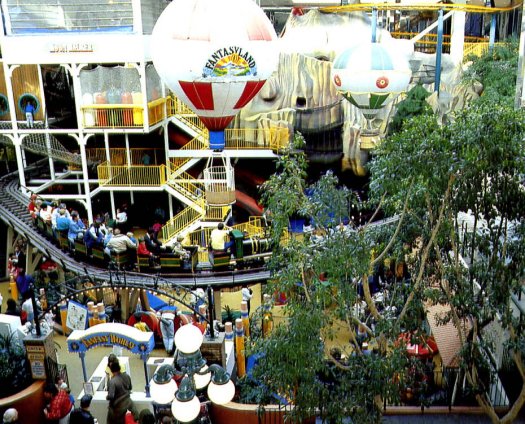 West Mall Amusement Park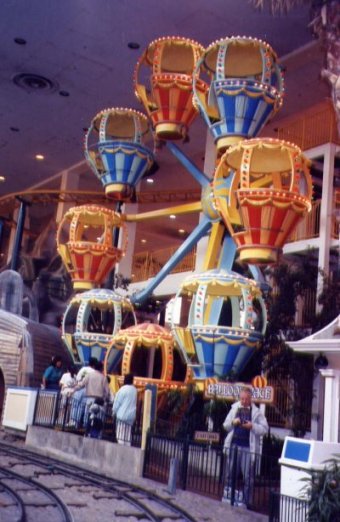 Galaxyland – West Mall