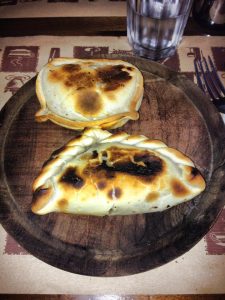 As with most international adventures, a trip through South America should include copious amounts of eating. This continent is certain not to disappoint no matter what your tastes (but it would hopefully include a fondness for red meat and wine).
Buenos Aires, Argentina is one of the most metropolitan and beautiful cities in the world. Not only is it full of incredible museums, parks, street art, and cafes but the food is fantastic. The varieties and flavors of steak are magnificent and you can truly taste a richness in the meat. To add an extra kick of flavor, be sure to add some chimichurri sauce. It is generally served on grilled meats and vegetables and made with parsley, oregano, garlic and oil.
Once tiring a bit from ingesting red meat continuously, empanadas are the perfect solution. With fillings like chicken and corn, they are a great snack with an afternoon coffee. Salad bars are also well perfected with delicious vegetables including marinated eggplant and generally light oil and vinegar dressings.
Argentina also boasts of sophisticated and scrumptious Italian cuisine, which of course wouldn't be complete without gelato. This refreshing dessert is well loved and easy to find, especially in varieties of dulce de leche, Argentina's favorite caramel flavor. And be sure not to miss out on the country's most loved wine, Malbec, a robust red that Argentinian's drink in copious amounts.
A close neighbor, Uruguay, is a charming extension from the bustling metropolis of Buenos Aires, and offers similar European based cuisine. Uruguayans do tend to like their meat a bit more well done than Argentinians but their love for wine and gelato is just as ubiquitous.
Brazil, the largest country on the continent, boasts a variety and complexity of cuisine that matches its size. Internationals are probably most familiar with Brazilian barbecue style restaurants; they feature servers that continuously come to the table with different cuts of meat until you are too full to eat any more. Be sure to try picanha, a rump cut, alcatra, top sirloin, and you can never go wrong with filet mignon. To clear your pallet, taking advantage of the salad bar is a sure bet.
A trip to Brazil wouldn't be complete without sampling feijoda, a hearty stew cooked with black beans, pork and beef. This is said to be the national dish of Brazil, and like most meals in this country, be sure to come hungry.
If the red meat is becoming a bit monotonous, there is an abundance of delicious seafood dishes to be found. Try sampling pirarucu, the world's largest freshwater fish found in The Amazon. Or moqueca, a traditional Brazilian seafood dish in a coconut milk stew which is a bit similar to Thai coconut curries.
One of the best ways to experience a country is tasting it's street food. Acaraje is a northern Brazilian favorite that originated with slaves taken here from the West African coast. It is made with peeled black eyed peas, mushed into a ball and deep fried. It is then split open and slathered with a spicy fish paste, some salad and shrimp. The perfect snack on the go.
With an endless variety of flavors and options the food of South America will never leave you hungry but always wanting more.