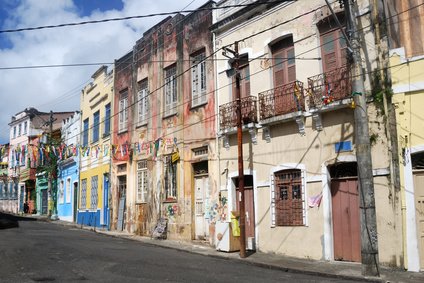 "God, Brisa," I sighed, tightening my ponytail as we climbed the steep concrete stairs to the classroom in El Salvador. "I don't want to be here." "I know, me neither," Brisa whispered. "Mondays suck." We shared a withering smile, knowing that the next four hours would leave us emotionally exhausted. I took a deep breath, then stepped into the second grade classroom where we would spend our next hour.
The classroom was green, like everything else at Fe y Alegria, a pastel green that reminded me of a mint-chocolate chip ice cream cone. To our dismay, the students were already running around the classroom, knocking over chairs and hopping on desks. Two girls were slopping soapy water on the floor and pushing grimy mops across the tiles, leaving bubbling streaks of dirty water. I noticed with a somersaulting stomach that the teacher was nowhere in sight. Brisa had noticed, too, for her face had gone pale and her crystal blue eyes were wide with fear. I mustered a weak grin, which I'm sure looked like a grimace, and shouted, "Good morning!" over the dull roar of the students. Upon hearing my English accent, the kids quickly looked up from their activities and scurried over to hug and tickle me. They swarmed Brisa too, until we were so completely covered in children that we couldn't walk. I bent down and hugged the kids closest to my waist, giving clingy little Arly a special kiss on the cheek. I looked helplessly at Brisa; the kids wouldn't leave. Instead of getting bored and leaving our side after we returned their embraces, they clung tighter to our legs, like starfish clutching an ocean cliffside.
I set to work to pry their limbs from mine, smiling all the while but gritting my teeth to keep from snapping in frustration. "Okay, sit down now please," I tried to reason with them to no avail. Finally, Brisa wriggled herself free enough to snatch a marker to write the date on the white board. For these children, victims of poor teaching and rote memorization, the white board is the magic tool. The kids suctioned to my body looked nervously at the board, then up at me with their pleading black eyes, then back at the board. Finally, they unwound their arms from my torso and returned to their desks to take out their English notebooks for the day. I sighed again. This was going to be a long day.
I surveyed the relatively calmer class and smiled. "Good morning," I repeated, to which I received a musical, "Good morning!" in return. All smiles, the kids squirmed with delight in their seats, poking each other with their half-chewed pencils and looking expectantly at me. "Vamos a empezar," I said in my most authoritative Spanish. "Today we are going to learn about family," I told them, and Brisa began to write and draw on the white board. Arly ran up to me then and tugged at my hand, leading me to her desk. I explained to her the assignment, which was to copy all of the vocabulary words then draw a picture of her home and family. Within minutes, the class was quietly writing in their notebooks. Brisa and I grinned at each other in secret pleasure at our success in shutting up thirty second-graders.
But our pleasure was short-lived. All of a sudden, Francisco stood up on top of his desk and started beating his chest like a gorilla, stamping his shiny black shoes on the desk surface. I rushed to him and tried to pull him off the desk, but he hooted and struggled, kicking me and writhing around in my arms. In our fight, he knocked over a huge basket full of coffee beans that hit the floor in a cascading rain. The beans spread all over the girls' newly mopped and still damp floor, under desks, inside backpacks, outside the door. I lacked the words to tell Francisco to pick them up, so I pulled his arm over to the basket and showed him to do it by doing it myself. By this time, all of the students were out of their seats and laughing hysterically. They began to chase each other around the classroom again, pelting one another with coffee beans and sticking their tongues out at each other. Across the room, Brisa was making a girl spit chewed coffee grounds into her hand. I watched in horror as some kids picked up beans by the handful and shoved them greedily in their pockets. I yelled, pushing the students' shoulders down into their seats. But it was no use.
The kids' play began to grow more violent. Now, desks shoved aside, two boys had faced off in the middle of the classroom for a fake fistfight. In a show of machismo, the little boys, clad in their minty green pants and white ironed shirts, ran at each other with fists outstretched, clasping their arms around each other's waists in an attempt to pull the other to the ground. The girls looked on, chanting and giggling, twirling around in their pleated skirts and white bobby socks. Some of the students, without asking permission of course, had left the classroom to buy candy and had returned with neon lollipops that tinged their lips with blue and orange and made their fingers sticky with sugar. Brisa and I rushed to break up the boys' fight, but they ran away from us, trying to hide behind their desks and pushing their metal chairs in front of themselves as protection from us. Again, I screamed, but I could barely hear my voice above the students' gleeful yelling.
Brisa sat down in a slump on the floor and began to twirl her hair with her finger, mindlessly plucking every other coffee bean from the floor on which she sat. I looked hopelessly at her, then back at the savage children, then back at her. And I sat down, too. "I don't know what to do!" I exclaimed. I wanted to walk out of the classroom and leave the school and never come back. I didn't care if these kids ever learned English, or if I never saw them again. "The teacher should be here," Brisa said. "It's not our job to punish the kids!" I shut my eyes to try to drown out the second grader din and sighed. This had not been what I was expecting to find at my praxis site in El Salvador.
I opened my eyes to find Arly staring me straight in the face. "Hola, Cristal," she said to me sweetly and stroked my cheek with her small dirty hand. "Hello, Arly," I told her back, and I tickled her underarm with my fingers while pulling her onto my lap. Her short brunette bob flounced up as she sat down, and she laughed and hugged me tight around the middle. I hugged her and let her hug me, running my hand up and down her back and pressing my cheek to the top of her head. She smelled of yeasty, day-old bread, too-sweet, sticky lollipops, prepubescent sweat, and laundry soap. As I hugged her, I watched the other students gallivant around the classroom, obviously oblivious to me. They ran in circles, tripping each other and falling, giggling, screaming. I looked down at my little Arly, who was peering up at me happily, her arms still clasped around my waist, her black Mary Janes swinging contentedly, and I kissed her forehead. I heard someone across the room begin to cry, and I looked over at Brisa. She rolled her eyes. "This is by far the worst day we have had!" she said with certainty. I just laughed. "At least we have Arly," I said.