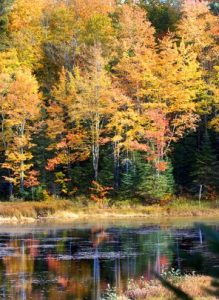 Near the end of the film, Zorba the Greek, Zorba dances by himself. His arms are spread out and his hands are open towards heaven. He shouts, "Everybody needs a little madness." Well, that's my story and I'm sticking to it.
I had just spent five days camping at a Good Sam rally in Centreville, Michigan. Although the staff members were welcoming, the participants warm and friendly and there were plenty of activities and lots of entertainment, the rally seemed endless.
The temperature soared to over ninety-five degrees every day with a humidity index that pushed the temperature to above one hundred and five degrees before noon. To add to my misery, we were not permitted to use our air conditioners because of insufficient power at the fairgrounds. My camper became a mini-sauna. If horses sweat and men perspire and women glow…then I became a Christmas tree in July.
It was our last morning. I had had my coffee and had said my good-byes to a few new acquaintances. I was waiting in a slow-moving line at one of the two dumping stations. During my hour-long wait, I fingered the contents of the plastic box that was propped on the hump in the center of my truck. It contained CDs, maps, a couple of dollar-off coupons at various campgrounds and lo and behold, a one-day pass to a nudist colony in Michigan. It had been sitting, gathering dust, for over a year.
Michigan is a big state. To amuse myself and kill some time, I decided to check it out on the map. Union City, by all my calculations, looked about fifty miles away and in the direction that I was heading. I had one extra day before needing to be at my next appointment. Before modesty could take hold, my brain went into overdrive and all I could think about was diving into a cool, refreshing swimming pool…naked.
Madness, I tell you. It was sheer madness. I have never done anything like this, nor have I ever seriously contemplated doing anything like this.
I called the campground and discovered that the one-day pass was still good and "yes, I could camp there overnight."
The drive was on back roads and since I suspected that they did NOT have billboards advertising their whereabouts, I called when I reached Union City and got specific directions.
I was amazed at my calmness. I still believe, and will to my dying day, that my clamminess was due to the weather, despite the fact that my air-conditioner blasted out icy air that produced goose bumps on every square inch of exposed skin, and not anxiety.Not knowing what to expect, but believing full well that I wouldn't run into anyone with whom I was even slightly acquainted, I felt I would probably go (largely) unnoticed as most over-fifty, gray-haired, bespectacled, pleasingly plump women do. After arriving and checking in, I was given (fully clothed by a fully clothed guide) a tour of the facilities. The volleyball court, an indoor swimming pool and hot tub, a lake with boats for rowing and fishing, a sandy beach and an outdoor conversation pool were first rate and very inviting.
For my first venture or should I say "adventure" I decided on the conversation pool.
The first thing that struck me funny was that when I went into my camper to strip off my clothes, I closed the blinds.
Everyone who walked past me on the path greeted me and smiled. They gave me the once-over like I was still twenty years old. This was done with a look, a nod and a smile. There was no ogling, leering or smirking…..nothing that made me the least bit self-conscious. I, of course, did the same…..except that I did ogle, leer and smirk.
In the conversation pool I was immediately acknowledged and made comfortable enough to join the conversation. I confessed that this was my first "nudist" experience and was admired for my bravery.
From the conversation pool a group, myself included, went to the mud bath…another first and chivalry prevailed. A hand was extended so that I wouldn't slip.
Conversation flowed as it had in the pool. An hour later we scrubbed and rinsed off in the lake and unfamiliar hands gently washed the mud from my back.
Exhausted from the sun and all the new experiences, I returned to my camper for a short nap but couldn't resist one phone call. My friend Bal in Boston liked to live vicariously through me and when she answered the phone I asked as nonchalantly as I could muster: "doesn't the American Constitution guarantee that all men are created equal?"
"Yes," she answered, recognizing my voice almost immediately. "Why do you ask?"
"Have they been sold a bill of goods," I responded with a giggle.
"Okay, where are you?" she asked.
We talked and laughed for the next half-hour before signing off.
That afternoon in front of the wide-screen television set in the lounge I was approached by familiar faces.
"Hi," the couple said in unison, "had we known that you were a nudist we would have spoken to you about it at the camping rally this morning."
"This morning," I responded, "I wasn't a nudist." (So much for not running into anyone I know.)
That evening I danced, totally uninhibited, to music on the new jukebox with friends I had met in the pool.
The experience, on a scale of one to ten, was easily a twelve. I am still an over-fifty, bespectacled, gray-haired pleasingly plump woman who mostly goes unnoticed in a crowd. Thanks to the one day at "Turtle Lake in Union City, Michigan, I'm back to feeling the way I should…feminine, beautiful and desirable. The toughest thing about my one day of madness occurred the next morning when I had to put my clothes back on and go out into the big, anonymous world.
"Would I do it again? In a minute…as soon as the sunburn stops stinging.