Remember when you were a kid and the carnival would come to town, and there would be one great ride after another, gooey kid foods, a happy crowd and a sense of being somewhere special? The Florida Keys are like that—but with better rides (things to see and do) and definitely better food.
I recently spent five days in the Keys, and packed in a whirlwind of sightseeing goodness (and packed in sumptuous plates full of fabulous food). Top to bottom, Lower Keys to Upper, this chain of southernmost US islands is a visitor's delight—I challenge anyone to go and NOT have a good time. Let's break down a few of the ways a wanderer might succumb to the traveler's treats around every Keys corner, starting with Key West:
But first, oh no, not another piece about Key West that says something along the lines of, "Key West is a state of mind." But damn, just strolling around, getting handshakes from the warm breezes, getting nose-shakes from the fragrant tropical plants, getting eye-shakes from the beautiful 19th-century architecture of its charmingly weathered single-family homes—there's a vibe here, an otherness that is appealing from the first breath. I arrived following a quick lightning storm: the air was appealingly seasoned with tropical spice. Key West is a city where you will see a juggler with three-foot dreadlocks riding a unicycle, while a cocker spaniel in a Santa suit trots at his side—and they aren't heading to perform, they're on their way to the beach. And no one bats an eye. If Key West isn't a state of mind, it's a state of soul.
I stayed a few nights at the Lighthouse Court Hotel, one of a set of six historic Key West Inns. The rooms are big and comfy, in separate, nicely restored old buildings with modern interiors. There's a center courtyard with a pool and decent buffet breakfast. It's dubbed the Lighthouse Court because it's right next to the Key West Lighthouse and Museum, which is well worth its 88 sweaty summer steps to the top, because you get a 360-degree panoramic view of the city and its seaside environs.
Six-toed Cats Cheat at Poker

The hotel is easy walking distance to madcap Duval Street, if you need a cocktail or ten, but I cruised some of the local attractions first. Right across the street is Hemingway House and Museum, a beautiful manse where Papa shacked up with one of his many wives. My tour was led by a wry guy who shot ironic asides all during the fun tour and who had a special communicative relationship with many of the house's famed six-toed cats, named things like Lionel Barrymore and Elizabeth Taylor. The story of the building of the swimming pool alone is worth the admission.
I also didn't miss the Key West Butterfly and Nature Conservatory, which is a magical place of soaring and diving flashes of light. It did take me back to my acid days at college, but this is a lot healthier. Beautiful hothouse environment with spectacular winged things (birds and butterflies zipping about and pausing to eat sweet plated delicacies), brilliant tropical foliage and a pair of pink flamingoes named Rhett and Scarlet.
Hogfish aren't pink, but they are much tastier than flamingoes—at least the way they serve them up in gratifying sandwiches at the harborside Hogfish Bar and Grill. Great fish dip and other sauces crank the savory appetizers up to a 10.
Later took a sunset kayak tour in the beautiful mangrove setting of Big Pine Key. The shepherd of the kayak flock is Bill Keogh of Big Pine Kayak Adventures, a genial guy whose dog Scupper parks himself on the bow of Keogh's kayak like a masthead. Saw lots of egrets, herons and a roseate spoonbill. Glimpsed a big turtle who emerged from the turtle grasses long enough to see a dog piloting a kayak, shook his head, and had to go under again.
A Pub that Made a (No) Name for Itself

The rigors of a kayak paddle demand sustenance, and what better place than the nearby No Name Pub, lacking a name since its construction in 1931. It's so popular even the local, endangered Key Deer were wandering the parking lot hoping someone would buy them martinis. The place is thickly carpeted in dollar bills and an even thicker "Krazy Keys" atmosphere. Tasty conch fritters and friendly folk.
The next day was filled top to near-bottom with the almost other-worldly atmosphere of the Dry Tortugas National Park, a fine 70-mile ferry ride from Key West. It's almost hallucinatory coming to this Civil War-era fort and prison after a couple of congenial hours in open waters on a big ferry. This is a massive island fortification, surrounded by a living—and snorkleable—coral reef. I'm going to write about this experience in depth later, so I'll merely say here: wow!
Luckily, no park rangers arrested me for my ferry-blown hair, so I was free to make it to the Mallory Square Sunset Celebration back in Key West. Somebody with a fine sense of taste did serve up a spectacular seaside sunset, helped along by the fire dancers, acrobats, buskers and other artists that swarm the Square. Getting primed with the eyeball-crossing strong drinks at El Meson de Pepe's, a colorful Cuban restaurant (savory appetizers too!) helped make my sunset even more sunny.
Bridges, Botany and Blackfin

Back in the saddle the next day, biking over the historic Seven Mile Bridge, that's even grayer than I am, at 100+. Bikes came courtesy of the nearby Overseas Outfitters; the osprey we saw that kept flying from rail to rail came courtesy of raptor heaven. He didn't bother the nurse shark that was burbling down below. Lunch later at the Key Fisheries brought a revelation: the lobster reuben sandwich, like a lightning bolt of flavor. Zing!
Checked into the beautiful seaside Kona Kai Resort in Key Largo, which is also an art gallery and botanic gardens. The garden steward is Rick, an ethnobotanist who gave us a passionate tour of the stunning grounds, filled with flowering plants and exotic fruits. Rick's delving into the deeply entwined (and dependent) relationship of humans with plants was fascinating and informative.
Planted myself in bed to get up early for a half-day of sport fishing with Team Warrior out of Islamorada. The captain, Stephen Stough, completely restored a 1971 53' Hatteras from its sunken state to a gleaming queen of the waters. Though the fish were hiding in the deep because of a passing storm, we still landed (with the help of capable first-mate Mitch) a blackfin tuna and a mahi mahi, which were magically transformed into tuna tartare and coconut breaded filets at the Lazy Days restaurant soon after. Delicious.
Meals for the Mind and Body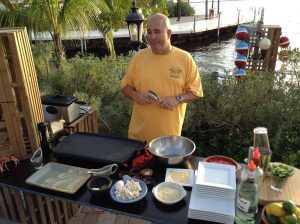 Round-up posts can become too much of a good thing, so I'll stop here, though I savored so many other trip goodies, like touring the Mel Fisher Conservation Museum, having a breakfast bounty at the quirky, historic and charming Blue Heaven, both in Key West, and then in Key Largo, cruised the canals on the actual African Queen from the Bogart movie of the same name and had a hands-on demo of coral restoration techniques at the Coral Restoration Foundation.
Those were meals for the mind. For the mouth, my goodness, a fantastic wahoo dish, served "Matecumbe style" at the Fish House, and had, from wonderful watermelon mojitos to dizzying Key Lime pie, a spectacular custom meal at the hands of chef Bobby Stoky at Sundowners.
And yes, there was more. But another time, another round of typing. The Keys: zany, historic, mysterious, deep, layered, flavorful and incredibly fun. Go there, and your inner compass will tell you to return again and again.
Resources
The best general site to check out the deepest range of Keys attractions is from the Florida Keys Tourism Council at www.fla-keys.com