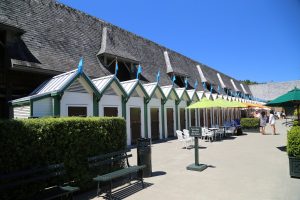 We recently visited Francis Ford Coppola's winery and estate (Francis Ford Coppola Winery) in northern Sonoma County which with good traffic is about 1 hour and 20 minutes north of San Francisco California. The location is a rather bucolic one, the winery is nestled against the hills surrounded by vineyards. We have visited hundreds of wineries over the years; this one is unique. While wine is the focus of their operations here, the estate offers so much more.
This winery is built upon Coppola's travel experiences; when you have travelled around the world as much as he has you have perspective upon a variety of topics – cuisine, wine, architecture etc. This winery is a compilation of some of the best things Francis has experienced during his International travels.
Take Rustic for example (restaurant on site), as the name indicates the food here is not meant to be fancy, but rather to provide good food at reasonable prices with a "homemade" element. You can order up a hamburger but there's much more than that! There is of course an international flair to the menu; start with a Capiranha from Brazil then follow with a Moroccan, Italian, French, Argentinean or Polynesian influenced main course. Our favorite is their Rack of Lamb Madame Bali. A house favorite is the Mrs. Scorsese's Lemon Chicken – "drowned in lemon juice" – if you like lemon and its tanginess, try this one. A garden has been planted on site and their own local vegetables will be used in the dishes as much as possible.
Chef Nick Petrilli came over from St. Helena in the Napa Valley where he worked with well-known Michael Chiarello (most recently at Chiarello's Bottega in Yountville).
At the time of our our visit construction continued on the grounds and outdoor facilities. How often can you find a large pool at a winery, meant to be used rather than treated as eye candy? There are actually two pools here (totaling 3,600 square feet) each connected by a swim through canal way. The inspiration for building the pools comes from when Mr. Coppola watched children play around the fountain at his Rubicon Estate Winery in Rutherford and felt their frustration at not being able to go into the water.
In the style of Western European beaches, 28 cabines are located around the pool and can be rented per day (changing rooms, storage, private shower). Come for the wine, come for the pool or come for both.
Once the pool is completed (hopefully by mid to late Fall 2010) there will be a poolside grill and bar. Admission in 2010 is free and a nominal fee will be charged for the use of the pool starting in 2011. There is also a well stocked indoor bar on the first floor below the upstairs tasting room.
Another highlight of a visit to the winery are Coppola's personal movie memorabilia collections. The table that Mr. Corleone sat behind in the Godfather series is on display, the car from the movie Tucker, five of Coppola's Oscar statues and various movie props from The Godfather and Apocalypse Now.
Cory Beck, General manager and Director of Winemaking at the time, has been with Coppola since 1998 (starting at Rubicon Estate in the Napa Valley). Winemaking is in his blood so to speak; his grandfather was vineyard manager for the famed Chateau Montelena and Cory also spent some time here after college. He sources fruit from 125 growers around the state and as a result has lots of varietals and locations to work with. His wines are inspired, balanced and have flavor profiles that will appeal to a wide variety of palates. Two wines to try; Sofia (a lighter styled Riesling – one of Sofia Coppola's favorite varietals) and the "Director's Cut Cinema" a limited production Cabernet Sauvignon Zinfandel blend.
Francis Ford Coppola Winery is located about 20 minutes north of Santa Rosa – take the Independence Lane exit (the winery is just west of the 101). This and other local wineries in the Alexander Valley make a nice day trip from San Francisco and other parts of the Bay Area. Santa Rosa's Charles M. Schulz airport services non stop flights to Los Angles, Las Vegas, Seattle and Portland on Horizon Air.
Please visit: www.franciscoppolawinery.com or call: (707) 857-1400