One of the joys of being a travel writer is that I get to fulfill my quench for knowledge and adventure daily. Whether by plane, train or even camel on occasion, I am fortunate to explore the nooks and crannies of this planet, absorbing the cultures, traditions, religions and especially the cuisine of foreign lands. Amongst the passport stamps and customs checkpoints, it remains important to me to explore my roots. And that is why every year I wander in wonder through the United States, in an attempt to rediscover the beauty of where I'm from. From the sun-soaked beaches of Miami to the rugged, sprawling mountains outside Denver, from the small towns hiding in the crevices of Idaho's rolling hills to the Big Apple's grandeur and skyline, I invite you on my journey to rediscover America.
NEW YORK CITY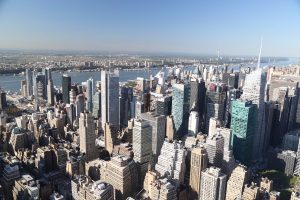 Over eight million people call The Big Apple home and about 63 million visitors enjoy the bustle of this world-class metropolis each year. After living in New York City for five years, I decided to leave behind my local grocery store and dive bars in the East Village to venture where most no locals dare be seen—Midtown Manhattan.
Tourist cap on, subway pass in hand, I emerged from the 42nd Street Subway into New York City's heartbeat, Times Square, famous for its bright lights and constant energy.
Where to Eat:  Midtown is home to some of New York's most famous and mouthwatering restaurants—and they often come with a spectacular view. The Edison Hotel in Times Square, for example, has something for all palates. While The Terrace Restaurant is a casual, all-day eatery that elicits a French brasserie feel (think elegant cocktails and a variety of chops), stepping into Edison's 701 West restaurant is reminiscent of a 1950's Hollywood film set, with large blue drapes overlooking Times Square.
Where to Stay: A tourist's literal dream, the aptly named Dream Hotel Midtown was perfectly located in the city's nucleus for our New York City adventures.  For a more boutique experience, The Refinery Hotel, also in Midtown, is known not only for its industrial accents such as 12-foot ceilings and distressed hardwood floors, but also for its stylish rooftop bar with 360 degree views of the city.
Eat & Drink
After all this exercise, time to eat! New York City is home to some of the best food in the world for all palates—desire barbeque? Head to Randall's Barbeque for mac n' cheese and ribs! If you like fusion, Bar Moga is a delicious mix of Japanese food and American classics. Dessert time? Van Leeuwen Ice Cream is a favorite of locals—and vegan ice cream is better than you'd think! Thirsty? Head to Raise New York and try a cocktail for a cause—I'll drink to that!
MIAMI, FLORIDA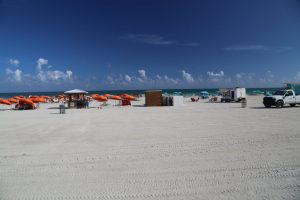 While New York City may bring the grimy at times (just ride the Q train past midnight), Miami brings the glamour. A city known for its white sand beaches, star-studded nightlife on South Beach and ever-changing food scene, the three-hour flight from NYC to Florida's southern gem may be just the escape you need. And escape I did—from exploring the graffiti walls of the hip and trendy Wynwood district to the constant rhythm and pulse of Cuban flavors in Little Havana, Miami feels like a whole new world from the streets of Manhattan.
Where to Stay: The Biltmore Hotel in Coral Gables (one of Miami's posh, more suburban neighborhoods) is a destination in itself. It's enticing year-round with activity and culture. Guests can participate in everything from cooking to yoga and aerobics classes, book a tennis workshop or play 18 holes of golf. It became instantly famous after opening its doors in 1926, hosting the glitterati of the decade at multiple galas, fashion shows and golf tournaments.  My favorite part? The massive swimming pool — which is a truly grand affair with marble statues under a promenade, private cabanas and its own bar and restaurant.
KEY WEST, FLORIDA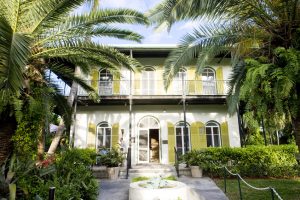 Contrasting the grandeur of Miami, the Florida Keys, located about 15 miles south of mainland, are a low-key haven for fishermen, foodies, and beach bums alike. Often referred to as "America's Caribbean," the archipelago is home to more than 1700 islands. This trip I spent time on the most developed island, Key West. One of my favorite activities was snorkeling in the third largest coral barrier reef system in the world with Fury Water Adventures. A visit to Key West in incomplete without experiencing the unique nightlife and gay-friendly bars and restaurants on Duval Street. Known as the "Longest Street in the World" Duval spans from The Gulf of Mexico to The Southernmost Point in the Continental USA.
Where to Eat: For a formal sit-down experience, I enjoyed the "Toes in the Sand" Dinner at Casa Marina, A Waldorf Astoria Resort. As the name infers, dinner is served on the hotel's white sand beach, listening to the waves collapse against the shore, and literally feel the sand between toes. Blue Heaven, the rustic restaurant where the famed American journalist Ernest Hemmingway frequented, is another must try (along with their famous Key Lime pie, of course!)
DENVER, COLORADO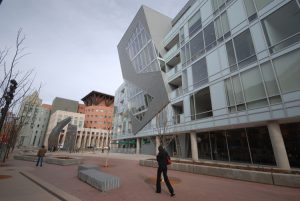 Denver is more than just the capital of Colorado—it is the state's hotspot for culture, cuisine, nature and innovation. The city has grown exponentially within the last half decade, and now is a destination in and of itself—in fact Denver continued its ascension as a top tourism destination in 2017 by welcoming a record 31.7 million total visitors. Of course, Denver's proximity to nature is a huge draw for tourists. Just minutes outside the city center are trails for hiking and running, opportunities for kayaking and even 85 miles of bike paths to utilize through Denver B-cycle, the city's pioneering bike-sharing program. When worn out from all the athletic activity, I decided to explore The Mile High City's center a bit and was equally impressed. The city continues to utilize its space, emphasized by development of neighborhoods such as "RiNo" –River District North—a creative environment where I was immersed in some of the best food, music, and art in the country! The newly refurbished Union Station in the heart of Denver is more than a historic transportation hub—it is home to ten unique chef-owned bars and restaurants. The craft beer scene in Denver is unparalleled—with almost 200 breweries and more popping up each day, there is always a reason to go out for a drink.
In addition to its innovations in food truck culture and its elaborate street art visions, Denver is also a mecca for live music. The Red Rocks Amphitheatre, an open-air theatre built into a natural rock formation that produces incredible rocking natural sound, is only 20 minutes outside of the Denver. I even decided to take local transit one morning from Denver and hike around Estes Park, a town in northern Colorado known as the base of Rocky Mountain National Park and home to majestic wildlife including elks and bears. Denver serves as the perfect metropolitan home base for exploring the rugged interior of the United States.
Where to Stay: The Kimpton Hotel Born just feels as though it belongs in Denver, exuding a cool and authentically urban vibe. Located in the popular neighborhood of LoDo, the city's most up-and-coming neighborhood and transportation hub, The Born is an urban refuge after long day's getting lost in the city and nearby nature.
SUN VALLEY, IDAHO
Honestly, even as a travel writer I had no known much about the state of Idaho prior to my travels. I knew it was out west and that is was likely sparse—but that was it. Yet, like often happens when exploring somewhere new, my expectations were greatly surpassed. Though it seemed secluded and remote, Sun Valley is incredibly convenient to access with airlines such as Alaska Airlines, who provide direct flights from Seattle and other western cities. While Sun Valley is famous for its epic ski areas during the long winters, the resort town is just as spectacular in spring and summer months.  A haven for nature lovers, the diversity in terrain and landscape is perfect for hiking the labyrinth of hiking trails, riding on equestrian routes and dancing through wildflower meadows—all with stunning views of the valley. It's also important to remember to look up at night. I was entranced by the clear skies and dancing constellations over Sun Valley, feeling gratitude for the lack of light pollution.
Where to Stay: Hotel Ketchum, the newly opened boutique hotel in the town Ketchum, was very much worth the wait. The hotel boasts many new facilities including an outdoor pool and hot tub, an on-site ski shop, and healthy and inspired locally sourced meals. Centrally located on Main Street, it is the perfect home-base for launching adventure in the area. Makes sense that their slogan is: 'Settle in, set out," indeed! Another new property in the area, The Limelight Hotel Ketchum, is home to 99 rooms and prides itself of a vibrant atmosphere, spacious guestrooms and hands-on adventure programming for guests.
ELKHART LAKE, WISCONSIN:
A newbie to Wisconsin, I was enthralled by the idea of visiting Elkhart Lake, a lively yet quaint town nestled on the shores of a crystal clear lake. Arriving in Milwaukee Airport, I was surprised by Elkhart Lake's proximity to nearby cities while still feeling entirely secluded in Wisconsin's Kettle Moraine State Forest.  While of course the lake is a destination in itself (think swimming, kayaking and paddle boarding), I was surprised by the amount of activities on land! Specifically, I learned how to make innovative dishes from the professionals at L'ecole de la Maison Cooking School, tried my crafting pottery at the quaint Two Fish Gallery, and even golfed 27 holes at the renowned 250 acre Quit Qui Oc Golf Club.  Finally, growing up on the East Coast, I had never truly understood the sport of racing, which is why visiting Elkhart Lake's Road America Experience—America's National Park of Speed—was an enlightening (and quite lightening fast!) experience.
Over the course of a few days, I spent time on the crystal-clear lake, walked around the mom-and-pop shops and galleries, and came to discover a part of my country I hadn't explored prior.
Where to Eat: The surplus of activities in Elkhart Lake certainly build up an appetite, and luckily the destination has a wide variety of dining options. I enjoyed small plates at Cottonwood Social, with ingredients that are inspired by Wisconsin's lake, as well as the creative creations as The Paddock Club, serving European traditional dishes in a restored iconic building downtown. Lola's on the Lake was an elegant finale to my time in town, with panoramic views of Elkhart Lake and a distinguished ambiance.
Where to Stay: The Osthoff Resort, sitting elegantly on 500 feet of recreational lakefront, is renowned for its amenities and history in Elkhart Lake. Each of the 245 suites, each featuring a kitchen, dining and living room and balcony, making that "home away from home" feeling a reality. There is also no shortage of pampering at The Osthoff Resort, with the hotels' Apiria Spa, which focuses on purifying and detoxifying the body with elements of wood, fire, earth, metal and water.
The Shore Club, a newly renovated resort in Elkhart Lake which was originally known as Lakeview House, is a prime choice for guests who desire natural beauty and surroundings, with its own private beach on the lake and a relaxed vibe.