This spring, I was invited to visit rural Marble in Colorado and experience the great American outdoors. Growing up and working in cities all my life, I had never been on a hiking holiday before and Colorado was going to be my introduction to the American outdoors.
I flew into Denver, Colorado before driving to Marble, a 4-hour drive away. A friend had a family holiday home there on the outskirts of Marble where they had been visiting since he was born. Marble is a town of about 150 people but in its heyday in the late 19th century, there were almost 800 people living there, working in the marble quarry. This little town is famous for marble and provided the precious stone for the Lincoln Memorial and the Tomb of the Unknown Soldier. The quarry shut in the late 1940s and reopened in the 1990s. You can pick up pieces of marble as souvenirs in nearby Redstone. The marble from Marble is top grade, and the town is also home to the Marble Historical Society and the yearly Marble Symposium, with many artists coming every year to showcase their work. The nearest supplies were in Carbondale about a 15 mile drive away and Marble's only restaurant, a delicious (I am told) BBQ place was opening up only on 1st May. Everything else was shut too and it felt like a ghost town.
Marble is well known for other things as well such as hiking and skiing. The views are unparalleled and being close to Vail and Aspen, hiking in summer and skiing in the winter are close by. It is also much quieter than its famous neighbours which will give you a peaceful stay if you do not like crowds. It may feel like a ghost time in spring, but I am told in summer the town is teeming and the population can double or triple even. Marble has its own hiking trails too which we took advantage of.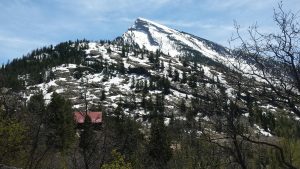 When we arrived, snow was still on the trees and more was coming down from the sky. Every day, the snow would melt by morning and fall again by evening. This went on all week and the waterfalls that we had views of from the cabin were full and overflowing with melting snow. The hummingbirds, which come through by the hundreds in the summer, were starting to come by on their yearly migratory path and we put out the bird feeders filled with sugar water for them.
On our first hike, we went up Daniel's Hill to Lizard Lake (about a 2 mile hike) and headed towards Crystal, an abandoned ghost town about a 10 mile hike from Marble. There is a population of 4 people in summer, but with no running water, heat and electricity, and a propensity to get snowed in until May the residents usually vacate by end of summer. Unfortunately, we didn't make Crystal as part of the way was covered with snow that had blocked the path. I wished we could ha
ve made it through. I can only imagine the haunting and surreal atmosphere to see an abandoned town, building left standing where people no longer inhabited.
There were other hiking trails like Lead King Basin and the Carbonate Creek Trail for the more advanced hikers, both featuring bear warnings and advice to carry bear pepper spray. We held on to our bear bells, clanging them as loud as we could in the silent wilderness. Bears I am told don't like loud noises. We did see Bear and Moose scat (poo to the uninitiated) and we were unsure if we were relieved or disappointed at not having seen either.For an easier hike, we walked down to Beaver Lake, crossing a small dam. No beavers in sight but their 'condominiums' looked well established and lived in.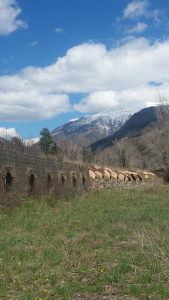 We decided to stop and have lunch at the Redstone Inn and Restaurant in the nearby town of Redstone. In the sunshine on one of the rare, hot days we had, we marvelled at the restored coker ovens that 'baked' the coals that came down from the mines. The iron doors to the cokers were long sold for money by the village. Redstone Castle, a giant mansion, stood imposingly in the background, closed for the spring. We asked about visiting and were told renovations were taking place. They were unsure if it would open again and we were disappointed. The village held a Redstone Museum and a roadside library. The local retailer (Tiffany of Redstone) had an overwhelming variety of antiques from blacksmith tools to old windows, homemade preserves and handmade jewellery. The owner recycled salvaged items and repurposed them into decorative pieces. He boasted that a TV network had approached him to film his work and he was very excited to be on TV.
As Aspen was close by, we decided to go see what the fuss was all about. It took about 1 hour and 20 minutes to get to Aspen. Most of the shops and restaurants were closed for the season, refurbishing to open for summer hiking in May. We overhead that April is known as Mud Month (for obvious reasons) but the snow kept falling and there was no slushy mud in sight. Our burger joint we visited 520grill was in a basement, and looked like your basic takeaway with a few plastic chairs and tables thrown in, but it was the best bison burger I have ever had. After lunch, we wandered off to the Aspen Microbrewery Company (www.aspenbrewingcompany.com) and tried a couple of skis (flights) of taster beers. Dog owners came in for a drink while their dogs hung out and came round for pets. Drinking against the backdrop of the Aspen mountains heavy with snow was very cool indeed.
We had also heard about the hot springs in the area and found one in Glenwoods Springs, a nearby town about an hour away.,The Iron Mountain Hot Springs (www.ironmountainhotsprings.com) boasted an impressive 16 hot springs and a swimming pool by the Crystal River. For $23, you received an all-day entry to the facilities and towel rental. The snow fell while we soaked in 100 degree pools, feeling like the monkeys in the Japanese hot springs, relaxing in style. With that many pools, we never had to share with anyone else and it was bliss to chill out in private and talk openly. We easily spent 3 hours there and the receptionist reminded us to keep our receipts because we could return later if we wanted to. They stayed open till 10pm. Afterwards, we traded in the hot springs for an early dinner at the Glenwood Canyon Brewing Co (www.glenwoodcanyon.com) with a hearty pub food menu and a microbrewery. Again, another great burger and the Hanging Lake Honey Ale was just perfect after a tough day at the hot springs!
Every evening, we would go back to the cabin and light a fire with real wood. We toasted marshmallows for our s'mores, baked cookies and drank beer bought from the breweries. With the fire crackling and snow falling, we would sit and munching on our cookies and s'mores, and relax. It was days of picture perfect postcard moments. My introduction to the great American outdoors was complete.