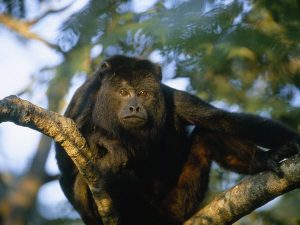 A deafening jungle downpour assaulted the clay roof of my cousin, Rob's Nicaraguan ranch house. Lying snug in bed, I foresaw the cancellation of our excursion at first light to track the elusive Mantled Howler Monkeys. Every day for the last week, I'd been woken by the guttural roaring of howlers somewhere off in the Mombacho jungle, but I had yet to lay eyes on one. The fierce rain was so loud from inside the house that even if they were calling from the trees surrounding the house, I knew we wouldn't hear them. I would leave for Seattle that day with or without the thrill of seeing a howler monkey. Probably the latter. It was almost five a.m. Soon the sky would lighten, the monkeys would start calling (if they didn't cancel their dawn concert for rain), and we'd be stuck in the house trying to figure out how to get down the mountain to the Managuan airport with the road flooded out.
I dozed in and out of consciousness with one of the house cats, Minusculo, (named for his amble girth), stretched out beside me. I dreamed of flying home, the way one does and then wakes to find that they haven't risen, gotten on with the day. The sky became a dark grey but still, it dropped rain at a ferocious rate. Then, tauntingly, the unmistakable roar of the monkeys began their assault on the dawn.
Sat up in bed. By my estimation the howlers were only beyond the property's boundaries, somewhere down the driveway in the jungle canopy… much closer than they'd been all week. Howler monkeys are the loudest land animal in the world and upon hearing them, you can imagine the world's end. Their amplified roar is like a struggling drainage system reverberating in hollow pipes at top volume. I lay back in the bed and listened, chicken skin rising on my arms. The excitement of the noise is something to be experienced.
At seven a.m. I shuffled through the bedroom door, accompanied by two dogs and three cats who thought sleeping in my room was a rare treat. Rob's wife, Jill, presented me with my morning latte.  The rain had stopped but the house was surrounded by dripping trees and pond sized puddles.
"Rob didn't wake you earlier because of the rain." Jill looked apologetic, knowing my interest in seeing a monkey before we left for the airport in an hour.
"I heard." I sipped the nutty local coffee. "I'll just have to come back to Nicaragua in the dry season. Where's Rob?"
"Gone to look for them." She stared out the window at the lush greenery surrounding their early retirement home.
I didn't hold much hope of Rob locating the nomadic monkeys in the thick greenery of the rainy season, especially now that the howling hour was over.
Throwing humidity -dampened clothing into my duffle bag, in an effort to pack, I set aside my camera. Priceless pictures of my relatives in their new found country would barely show my family in Seattle what I'd experienced in Central America during this amazing week on the side of Mount Mombacho, near Granada. I had shots of ox carts, colonial architecture, barking tree frogs, a fisherman selling his catch from a bicycle to a restaurant, beautiful smiling Nica children, coffee growing in rows on the side of a volcano, hundreds of islands in one of the world's largest lakes, a blue morph butterfly, trees big enough to drive a car through, and relatives I hadn't seen in way too long, one little one I'd never met before.
I zipped my duffle bag and brought it to the kitchen where I heard yelling outside the house.
"I found them!" Rob's words punctuated the morning's silence, mottled with exclamation points. I knew who he'd found.
My heart rate jumped like I'd scored a backstage pass to a U2 concert and took off out the back door, where I'd left my mud-caked hiking boots. They were wet from the rain but I squished into them and hopped along after Rob. "Come on, Kim. They're just down here!"
"I wish I could get a picture of you, Kim!" Jill teased from the kitchen window as I disappeared into the greenery wearing a nightgown with hiking boots.
Since my arrival, I'd hiked every day through the coffee fincas on the hillside of Mombacho Volcano, the mountain that towers over the town of Granada. The three of us had spent afternoons shopping for pottery and embroidered dresses, lunching at Granada cafés over plates of fish called guapote while Rob and Jill taught me the history of Nicaragua. I'd seen volcanic crater lakes and visited an eco-resort on Lake Cocibolco with its own helicopter pad, palapa hut cabanas and oropendola nests shaped like hanging baskets. In six days we'd had a blast. I had no right to want anything more.
But I did. I wanted to see those dang howler monkeys before I flew north to Seattle that day. Before life returned to normal without moths the size of flying mice and people speaking Spanish. Keeping up with Rob's ferocious pace, I huffed along. This was a man, older than me, who hikes every day for at least an hour with his dogs, along the altitudes of Mombacho. We wound our way down a hill and into the thickest part of the forest. I felt a cutting sensation across my bare shins but only cared enough to pull up my wet socks and keep moving. I'd put some salve on later when seeing a howler monkey wasn't a burning need in my heart.
The familiarity of following my cousin was reminiscent of my childhood and our shared afternoons with my sister in our grandparents' backyard when we'd run through a cold sprinkler, pick rhubarb for pies and then later catch fireflies in glass jars. My sister and I had always thought Rob was the bee's knees and would've followed him anywhere. Forty years later, Rob and I were in the jungle of Nicaragua, searching for those elusive monkeys.
"They were over by the tadpoles." We huffed along the trail, one of many that web the dormant volcano and define finca boundaries. Past rows of waist high coffee plants, we followed a long line of leaf cutter ants down a hill, all the while keeping a lookout in the treetops above us. Except for the bird calls, all we heard were drips from the recent rain. No howling.
I'd come to Nicaragua quite by accident. Well, more by surprise. When my husband had arranged for my surprise trip to Nicaragua, as a birthday present, I'd been flabbergasted. "Really? This isn't a joke?' My husband is famous for jokes and teasing. I only had a week to figure out what to take to a Central American country where I'd be staying in a house that had electricity most of the time. Rob joked I'd need earplugs to sleep through the howling of the monkeys that hung out above their roof. When Rob and his adult son built the house they'd positioned it under two trees for shade. Turned out it was also perfect for frolicking monkeys and on some treetop highway that connected the east side of the mountain with the west. I was ecstatic about all parts of my upcoming trip to Nicaragua but especially so about seeing monkeys in the wild. But all week they'd stayed away. They hadn't visited the house, hadn't gotten any closer than a mile away, judging from the morning howls. When we'd gone looking, we'd come up empty.
On that last morning, Rob and I came to a stop by a dilapidated cement structure half full of rain water that now contained tadpoles. "They were right here," Rob said. Scouting the tree tops, a hundred feet above us, we saw no movement. We waited. And waited. The dogs listened too. All we heard were raindrops dripping around us.
Suddenly a loud gulp sounded high above us in a macone tree. I stretched my neck and attempted to see through my steamed up glasses.
Then I saw it.
A howler monkey with spindly brown arms outstretched between two branches, watched us from the top of the world, its head cocked to one side. Her vocalization sounded like she swallowed a ping pong ball on a microphone. Gulp. Gulp.
"There's another one," Rob whispered. Searching the greenery above our heads, we saw others move in to the tree's foliage.  It was a small group of five or six – not the usual twenty-five but Rob explained it was probably a sub group of mothers with babies.
A small monkey took a long swing to change trees and join the gulping female. Soon we had several monkeys staring at us from 100 feet up. The gulping continued.
The zoom on my camera was grossly inadequate but I snapped off a few shots, in case. Unable to see through my steamy glasses, I attempted to take video footage, complete with discovery channel narrative. "There appear to be four adults and several babies watching us from the jungle canopy…" I whispered.
Rob and I made a pale attempt to impersonate the gulping sound but no howling followed. Howling is done by the males. These appeared to be mothers. The bugs circled my sweaty head and I ignored them for once in my life. Itchy patches materialized all over my shins but I couldn't tear my eyes from the show above us. I stood awestruck, resplendent in my dampened nightgown, steamy glasses, dirty, wet socks and muddy hiking boots.
The monkey's vocalizations are made at dawn, bedtime, and when they are on the move from tree to tree. And even then only the males are equipped with the enlarged hyoid bone just above a giant throat pouch that acts as an amplifier. It's believed the cacophony is used to warn other monkey groups of their territory and position in the jungle. They don't like to mix groups.
If I sang to them, would they be interested in my vocalizations? A verse of Amazing Grace proved my voice was early morning hoarse. The monkeys knew it wasn't my usual money-making performance because they neither joined in, nor clapped.
I attempted "The Lion Sleeps Tonight" – all the parts – which isn't easy at any time of day. My cousin laughed at my poor attempt to communicate with them. Then I ran a few lines of jazz scat, but by now the monkey's seemed bored, completely unappreciative of my musicality. They jumped around in the trees, eating bunches of leaves, already plotting their escape from the noisy humans.
All week my cousin wanted me to love everything he'd come to love about Nicaragua. Funny thing was – I did. Every butterfly he showed me, every flower, every brightly colored bird, every taste of food, every view was fascinating to me. Like the first time at Disneyland, this was one of the coolest things I'd ever done in quite an adventurous life!
I'd fallen in love with Nicaragua.
I watched the monkeys and tried to drink it all in with the hope I'd be able to describe it effectively in the weeks to come. But, experiencing something and describing it, are two very separate things and even a writer hits limitations when it comes to achingly beautiful moments. And I knew I'd never be able to do justice to that moment when we found the howler monkeys, to properly convey the anticipation, the excitement and later the gratitude. I was thankful that day for many things…not only the howler monkeys who struggled to stay free in the jungles of Central America, but for every incident in my life that lead me to that moment with my cousin in Nicaragua. To my husband who encouraged me to fly off to Central America even though my children were finishing up their school years, I felt grateful. To the monkeys, I was beholden.
"Pretty cool, eh?" Rob smiled.
"Yes," I whispered reverently. "Definitely cool."