I am a self-acknowledged history nerd with a film degree. I had no idea that Pittsburgh had an abundance of sites covering my two big interests – colonial and current celebrities. Mostly I am interested in the places celebrities were – so that I can stand in, sit on, or touch the same spot. I imagine I am forging a connection that transcends space and time, that the celebrity's genius energy can infiltrate my own and affect it in a positive way. With movie sets I am inspired by the creation; linked to every other person who has enjoyed the film; reminded of beauty and enjoyment, of moving, living art that touched and moved me in some way.
As a tour guide in Philadelphia, I walk by the statue of George Washington outside of Independence Hall a few times a week. I wasn't expecting to have him greet me in the airport upon my arrival to Pittsburgh! It turns out that our illustrious first President got his start as a 21-year-old major from the Virginia militia in the French and Indian War which was fought in western Pennsylvania. George Washington is one of my all-time favorite Founding Fathers, and I was thrilled to learn about the early part of his career.
On a bluff overlooking Pittsburgh's Point State Park, across from the Monterey Bay Fish Grotto restaurant, is an impressive bronze statue of George Washington and Seneca leader Guyasuta by James A. West. The two historic figures first met in 1753 when Guyasuta guided young Washington along the Allegheny River to meet the French at Fort LeBoeuf. Major Washington was sent to deliver an ultimatum to the French requesting that they depart 
western Pennsylvania so that the British could trade with the natives in peace. The French refused to leave, leading to the French and Indian War the next year. Washington's account of this harrowing trip to and from the Ohio Valley was published in America and England and made him a celebrity. Only 22 years old and already destined for greatness!
Washington spent almost five years in the Pittsburgh region, fighting in many battles of the French and Indian War, including two unsuccessful attempts to take Fort Duquesne from the French. In late 1758, Washington led the Virginia troops in General John Forbes' successful takeover the fort after the French abandoned it. (General Forbes, incidentally, is buried in the altar of Christ Church in Philadelphia.) Standing next to the Washington/Guyasuta statue affords a spectacular view of Point State Park, where Fort Duquesne was, the only remainder a reminder outline. This smaller turtle-shaped outline close to the park's fountain is overshadowed by the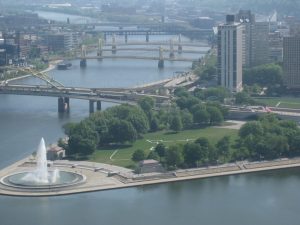 outline of the larger Fort Pitt, further inland, that was built by the British after the war. We also saw views of the park after riding up the Duquesne Incline, and we rode by the sites of the forts on Segways, bikes, and on a boat. My only regret was not having had the chance to get off our conveyances to lie down on the grass inside the borders of the actual sites. Next time!
Fort Pitt, from which the city gets its name, was built after the war and finished in 1761. It was one of the largest and most elaborate forts at the time. All that remains of it is the Block House, a self-contained fortification outside the actual fort which originally served as a first line of defense. It is the oldest structure in Pittsburgh (1764) and is free and open to the public.
This is colonial history at its finest – a chance to experience the sites where George Washington became the leader he would be for our country. As a young soldier in the British army, he learned leadership, military prowess, honor – setting the foundation, his skill set as it were, for his future role as commander in chief of the revolutionary army and first president of a brand new country. Breathe in his energy and forge your own path to greatness!
While historical celebrities are my favorite topics while traveling, my film production training also makes me partial to Hollywood celebrities, especially the places they film at. Movies and television wouldn't be the common denominator in popular culture if the majority of us weren't enthralled by Hollywood's magic. Pittsburgh has dubbed itself the Hollywood of the East and Pittsburgh Tours and More has a great movie tour called Lights, Camera, Pittsburgh! It was well-crafted and well-presented – interesting, informative, fun – with popcorn and of course, props! The highlight for me was getting to wear the Flashdance sweatshirt (not an actual prop from the movie, but still full of nostalgic value for some of us). Another highlight was receiving my own Pittsburgh pickle – a little green plastic pickle pin ala Heinz which apparently is a favorite souvenir of Russell Crowe's when he comes to town.
The tour is on a bus with a video screen to view movie scenes that highlight Pittsburgh. There are several well-known movies referenced as well as more obscure ones, pretty much something for everyone. Flashdance and The Dark Knight Rises (find out how they blew up Heinz Field and get the inside scoop on the personalities portraying football players in the scene) were my personal favorites. We also saw a ballroom in the Omni William Penn Hotel that was filmed for a scene in Foxcatcher, a story from the Philadelphia area. The tour highlighted indoor and outdoor sites of movie scenes filmed in Pittsburgh while also providing overall history and acquaintance with the city as we rode through the various neighborhoods. There was even a special guest zombie appearance! If you are a Pittsburgh Steelers fan, bring your Terrible Towel for photo opps. Our guide was cheerful, knowledgeable, and perfectly patient with our extended photo taking.
For me travel is all about memories, creating new ones and linking to past ones. It's about inhabiting the spaces of others and sharing in that creative life energy. Pittsburgh has plenty of that to offer, as well as the colonial and current celebrity clout to go with it.
Disclosure: My trip to Pittsburgh, PA, was made possible by the VisitPITTSBURGH tourism association. My opinions and perspectives are totally my own — as always.