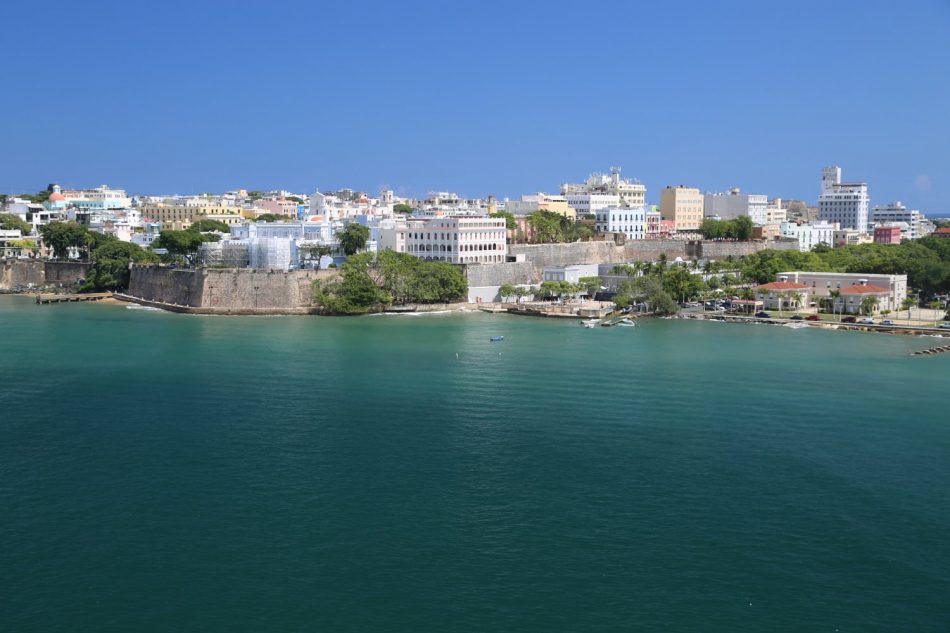 Spend a Long Weekend in Puerto Rico. Puerto Rico is an ideal Caribbean Island for a number of reasons; history – with buildings that date back to the 1520's there is no older "western culture" in the Western Hemisphere. Christopher Columbus claimed Puerto Rico for Spain in 1493. Food – Puerto Rican cuisine is Spanish & Caribbean influenced, outdoor activities, water sports, great beaches and ease of travel. Its a "fly and drive" destination. Puerto Rico is also a "techno-tropic" destination, meaning all major USA cell phone carriers work island wide with no extra charges incurred for use.
US citizens can easily travel to Puerto Rico – no passport is required and money does not have to be exchanged. With over 750 domestic and International flights weekly its a destination that is well served from both the mainland USA as well abroad including non stop flights from select locations within Europe.
There are a number of resorts to stay at on the island – two good choices in and around San Juan are the following:
For luxury at a rather reasonable price consider the Sheraton at the Conference Center located about 10-15 minutes from the airport and only 5 minutes from Old San Juan. This rather new Sheraton boasts a beautiful outdoor swimming deck on the 4th floor overlooking Old San Juan and the harbor (large cruise ships often docked here). The pool is very long and next to the hot tub and bar. Fake grass is kind to your feet surrounding the plethora of lounge chairs. A full spa, an on site casino (coupon given upon check-in), a full self service business center and Choices restaurant all complement a stay here.
Visit: Sheraton Conference Center
El Convento in Old San Juan combines elegance with old world style and reasonable prices for this type of luxury. This hotel is located in a 350 year old building, totally renovated and used to house a Carmelite Convent. El Convento is centrally located – on the same plaza that houses the historic San Juan Cathedral and Ponce de Leon's tomb as well as within walking distance of a number of museums. El Convento is a member of the Historic Hotels of America and in fact this organization's oldest member! Visit: www.elconvento.com
Old San Juan
This photogenic part of San Juan is truly meant for walking and exploring – at only 1×2 square miles you can easily cover the old town in less than a day. Small cobblestone streets, colorful buildings, art museums, Spanish & Caribbean infused restaurants, tons of shops, tons of history – this is charming Old San Juan. It is location to the oldest "western" history in the New World. Some buildings date back to the 1520's.
Fort San Cristobal is a highlight with fantastic views overlooking the ocean especially when those big tropical billowing white clouds build up in the distance. Construction on this fort was begun by the Spanish in 1634 and it covers 27 acres; its not small! A series of tunnels built by the Spanish army, views from the top of the fort, and huge cisterns designed to collect rainwater are highlights of a visit.
Fort San Felipe del Morro is another historic fort worth visiting – the original construction of the foundation is even older than Fort San Cristobal – here construction started in 1539. This fort has a long history of being attacked including by Sir Francis Drake.
Did you know famed Spanish explorer Ponce de Leon is buried in San Juan Cathedral. His marble tomb is here – in a room next door is a beautiful painting of a modern refreshing painting Madonna and children (note the children's skin color) – don't see a painting like that in Europe very often!
Don Q Rum Museum & Tasting Room is located in the harbor across from Pier 1 in Old San Juan. This historic brand was founded in 1865. The self guided museum includes historical information about their Rum. Their rum was even used in the first Pina Colada that was created in 1954. A small tasting bar provides free samples – yes, after a few samples of their 12-year old 80 proof rum aged in oak barrels you might be feeling a bit tipsy. Other delightful new fairly new additions to their offerings include a Pina Colada and a Mojita Rum – one of the best "mojitos in a bottle" you will find on the island. Visit: www.donq.com
Activities
There are a plethora of activities in Puerto Rico – for short stays you won't be able to do everything – here are just a few we recommend.
Hacienda Campo Rico is minutes from central San Juan. This 2000 acre plus "ranch" is home to several companies offering a variety of activities including ATV tours. After hopping in one, you get to "rip" through the ranch, screaming through tall grass fields, and driving over rocky, limestone rutted roads in the nearby hills. reaching hills. Steep, rough and sharp turns are key components of driving in this part of the ranch.
After the ATV rides, think you have received your adrenaline boost for the day. Wrong. Enter the Argo Amphibious vehicles. These vehicles are built in Canada and were originally designed for use in heavy snow. Without any snow in Puerto Rico, the vehicles have been adapted for the jungle – they turn flawlessly and quickly, can handle very muddy conditions, steep terrain and are amphibious. Fortunately guides drive these – the ARGO vehicles can do just about anything on land or water other than fly and inexperienced drivers are bound to do some damage. We discovered that when one of our drivers ran into a tree with our own ATV.
The Argo vehicles turn flawlessly and quickly and deftly handle very muddy conditions. During our visit, we were asked how what type of driving we would like to experience. In unison we all yelled "crazy". Not the wisest idea. By the end of the tour we were shaken, sore and had blisters on our hands from nervously clutching the metal safety bars. Not to mention most of us were covered in mud which turned out to be an excellent "sunscreen" for our horse riding later in the day. Mud is the color of "fun" as we were later told.
Not to be outdone are the zip lines – all 5 of them. One is 1000 feet long, dubbed the "big Mama". Sliding down this one is a minute of very high velocity. The lowest zip line drops you right into the appropriately named "Mojito Bar" where it is forbidden for "itinerant musicians, beggards and women of doubtful reputation" to enter.
This ranch is a must visit for adventure enthusiasts (driving can be as slow and calm or adrenaline infused depending on preference).
Hacienda Campo Rico: www.haciendacamporico.com
Tropical Trail Rides (ATV's & Horse riding) – www.tropicaltrailrides.com
Zip Lining, Kayaking – www.camporicoziplining.com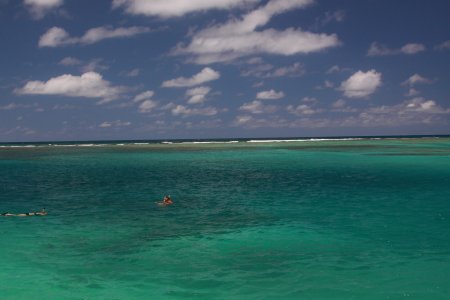 Culebra Island is 18 miles off shore from mainland Puerto Rico and only 12 miles from St. Thomas and the US Virgin Islands. Flamenco Beach has been voted one of the top beaches in the Caribbean by several publications. Usually its pure white sand beaches are relatively isolated but this time in the middle of Semana Santa its sand was covered with hip young college students partying. Its about an hour catamaran ride here from Marina Puerto Del Rey. Snorkeling is decent with a number of reefs in the area but the true highlight is the beach and the crystal clear waters!
Culebra Island only has about 2000 permanent residents – you can rent a car here. Camping is very popular as there are a number of campsites right next to the beach. A small bay with brackish water has a number of sea turtles. Vieques Island is not far from here and one of the highlights there is the bio-luminescent bay at night.
There are several transportation options – we chose East Wind Adventures – food and all the rum punch and pina coladas were included in the trip to and from the island!
Several sights we did not visit on this trip but were highly recommended are:
Arecibo Observatory is the largest radio telescope on the planet at 1000 feet across. Its located in the mountains of northern Puerto Rico about 30 minutes from the town of Arecibo. Open year round. Visit: http://www.naic.edu/
El Yunque has been voted as one of the top 7 wonders of Nature – this cool and mountainous rain forest is located at elevation, it receives a lot of rain and as a result boasts verdant green vegetation and a plethora of waterfalls. El Yunque is only about a 45 minute drive from Old San Juan via a highway and then on a much smaller slower road leading up into the mountains. There are a number of very nice hikes here (some more challenging than others) leading through the jungle – along some rivers including in some cases waterfalls. Highly recommended is the short and fairly easy hike, La Mina – which leads to a waterfall. Visit: http://www.fs.usda.gov/elyunque/
Rio Camuy Cave Park is one of the largest cave systems in the world complete with an underground river and a 200 foot sinkhole! The main cave, Cueva Clara, is nearly 700 feet long. Its no surprise the Puerto Rico has so many caves in its hills and mountains – as limestone is predominately found on the island.
Restaurants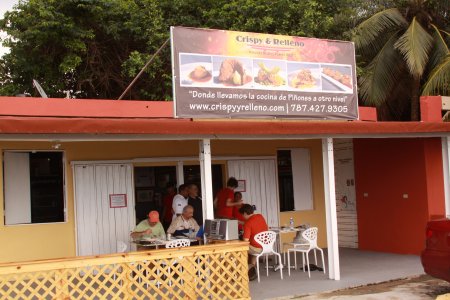 Crispy y Relleno at first glance is a simple road side stand like so many before that you've seen in the tropics. However as you drive by you might be surprised to see only a handful of tables out front with no tables inside the actual restaurant. Strange, yeah. Upon stopping, indeed – those are all the tables they have (4 of them)! The inside is nearly devoted entirely to production. This is no ordinary road side stand. The large collection of medals, plaques and "excellence" awards hanging on the walls testify to that. The Caribbean food is creatively prepared by hand by owner and chef, Fernando Parrilla. All dishes have beautiful presentation. During a recent visit, we enjoyed very tasty dishes such as, King Crab Salad, Shrimp in a Coco & Ginger sauce, fresh Grouper, Turnover stuffed with Chorizo and those are just a few samples of the diversity here. Crispy & Relleno is located next to the busy Route 187, KM 6.4.
La Perla – as the name indicates in Spanish is literally the restaurant as the "pearl" situated underneath a giant shell which serves as the roof. This is one of the few restaurants worth taking a look at on Google Earth – zoom in and see the detail! The restaurant is located at La Concha ocean-front resort in San Juan. The "shell" was constructed in 1958 and is complemented well with the reflecting pool outside. Beautiful Murano glass lamps light the inside. Besides the obvious architectural appeal, La Perla features an amazing wine list ranging from Bordeaux 1st Growths to Napa Cults – some of the higher end labels can be seen near through the glass near the bar just before you enter the restaurant. The wine list is also available on Ipads.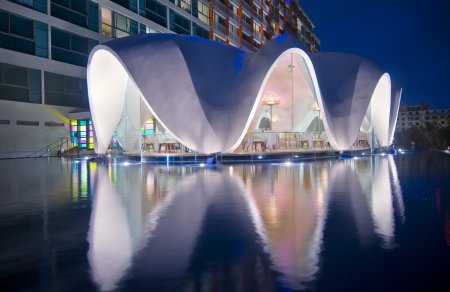 The menu is not huge in diversity like their wine list – rather focuses on select plates and creating unique flavors. A couple of appetizers we recommend are the Black Truffle Soup and the Lobster Escabeche. The entrees include several seafood and fish dishes as well as steak. Oh and another highlight of a visit is the bar downstairs – its one of most happening and lux night spots in San Juan. Visit: www.perlarestaurant.com
Parrot Club has been a mainstay in Old San Juan since 1996. The focus of the food here is on new Latin cuisine at decent prices. Chef Guillermo Gonzalez includes a number of fish and other Caribbean influenced dishes. There are two highlights of a visit here; the very long bar and its wide selection of drinks and their desserts (and desserts usually rank low on our palate)! Live Jazz and Spanish music plays depending on the day. Location: 363 Calle Fortaleza a few blocks from the San Juan Cathedral and its adjacent plaza.
Toro Salao is located in the heart of Old San Juan. We were intrigued by this restaurant after seeing their menu cover photo – its of a couple dining peacefully in the center of a bull fighting ring with a big black bull standing nearby ready to charge. This romantic restaurant dishes out the best of the Old World with a Puerto Rican flair. Beautifully presented and prepared tapas are the highlight of a meal here. Ask for their green hot sauce – its great on a variety of their dishes but especially so on the mussels. We asked if they bottle and sell it – negativo, but they really should!
Dining is outdoors in the plaza or next to the main bar on the first floor or in a more private location on the 2nd floor. Live guitar music is played during certain evenings. The main bar sits next to a few of the tables – as expected, they have a great selection of Puerto Rico rums. Service is fantastic, the servers are friendly and helpful with making food recommendations.
Visit the main Puerto Rico tourism site run by the Puerto Rico Tourism Company here: www.seepuertorico.com