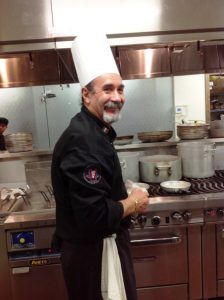 One of Regina's most surprising culinary treasures is Fortuna Ristorante Italiano, a restaurant that offers parts of Italy's authentic culinary heritage of fine dining in Regina. The five partners responsible for its creation felt there was a need for and a definite interest in a high-end Italian restaurant in the city, envisioning a dining venue that would offer dishes that would define Italian culture. And well they did. The Fortuna has every right to boast of its rich authentic cuisine that brings the best of an Italian experience and atmosphere to Regina.
Ever since its opening, there has been absolutely no advertising for the restaurant. Word has spread with the result that it is always filled with customers. Top-quality ingredients and the skill of the chef have made this establishment one of the most popular places where to enjoy an authentic Italian meal.
One could say that Fortuna is the epitome of the immigrant experience Pasquale (Pat) Fiacco, one of the partners and former long-standing Mayor of Regina for 12 years and now the CEO of Tourism Saskatchewan, speaks of his restaurant with passion and pride for here at the Fortuna we learn the story of the province's Italian heritage and the Italian community's total integration into Canadian society.
The history of the Fortuna began in the last century when Italians from central Italy were lured to western Canada in their search for a better life. Some settled in Regina and it was their descendants who in honour of their lineage created the Fortuna.
Like in all places were they settle, Italians usually leave their mark on the cuisine of the area. The small Italian community of Regina numbering some 1,500 people, is proud of its renovated Fortuna Restaurant, an establishment that serves, according to one of its owners, the choicest dishes of Italy that are inspired by Italian culture and tradition.
This night, a group of some dozen of us, came to test his words. Sitting down in the warm, family-run atmosphere of the restaurant we were soon devouring dishes of Antipasta, topped by the spicy home-made sausage Salsicce Italiane accompanied by two smooth wines, the white Santa Cristina Orvieto and the red Badiolo Chianti, both crumbling the appetizers under our tongues.
The creation of the restaurant and the enthusiastic management of it by the five partners no doubt improved its visual and culinary attributes. And moreover it is the handiwork of the Fortuna's Executive Chef Gianni Poggio that has brought its food to an excellent standard. The Chef is an artist who has won a number of prestigious culinary awards, one of them being Italy's most celebrated the Collegium Cocorum. Every item on the menu is fresh and everything coming out of his kitchen has to be perfect. He cooks with passion, literally ensuring that customers are getting the best of Italian cuisine at the Fortuna.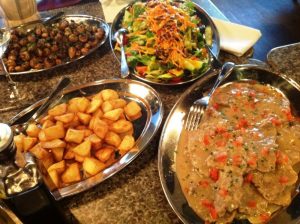 The appetizers put us in a mood for what was to come. Soon we were gorging ourselves on the creamy Risotto dello Chef, made with chanterelle mushrooms in a white sauce, Gnocchi al Pomodoro, an absolutely delicious potato pasta mixed with tomato sauce and fresh basil, and Strozzapreti alla Romagnola, another freshly made short pasta similar to linguini mixed with the chef's hand-made Italian sausage, spinach and spicy tomato sauce.
We were sated with food when the second main course was served. It included two tasty dishes, Salmone alla Griglia (seasoned salmon) and Picatta al Limone (veal scaloppini in lemon sauce). We were so full that we could hardly do them justice but we made sure to take our time because food such as this could not be left on the table.
Sealing this evening of gourmet delights was the dessert Pannacotta, a heavenly type of vanilla custard flavoured with lemon zest and topped with a delicious berry sauce.
While indulging in this array of first course dishes, Pasquale introduced himself to me. He was pleased to meet a food writer because he wanted the wider community to know something about the Italian-Regina community and its role in the city's mosaic of cultures, explaining that "even with their small numbers the Canadians of Italian descent want to make an impact on the culinary life in the city". He wants his customers to feel right at home and so they do. Mid-way in our conversation, a guest tapped his shoulder wanting to thank him for giving Regina a wonderful authentic Italian fine-dining establishment. "Not only is the food great, but you're all so darn nice", a statement that I totally supported. Is it the Italian or Saskatchewan hospitable spirit that makes this place such a drawing card?
Even though the restaurant has been serving Italian food for some time, there are plans for expansion. The Fortuna will be opening up its patio shortly where the restaurant will be featuring 'Italian tapas'. The five partners intend to make and keep it an A-one gourmet jewel in Saskatchewan's emerald grassland.
For more information, contact:
Tourism Regina, Box 3355, Regina, 925 Rose Street, Saskatchewan S4P 3P1. Tel: (306) 789-5099 or Toll Free: 1-800-661-5099 (Canada & USA). Fax: (306) 352-1630. Email: info@reginaroc.com Website: http://tourismregina.com
Muna Salloum also contributed to this piece