The lights and allure of Las Vegas has long held curiosity for me.
It's a dazzling playground for all. From mind-blowing entertainment, dancing fountains, world-class cuisine and 24-hour casinos – and all on one street!
There's no denying that Las Vegas is a relentless assault on the senses and earns its high-octane reputation as the Entertainment Capital of the World. But is there actually more to Sin City than sensory overload?
I was determined to find out on my recent trip and here I offer some of my personal highlights – both on and off the Strip.
On the Strip
HOTELS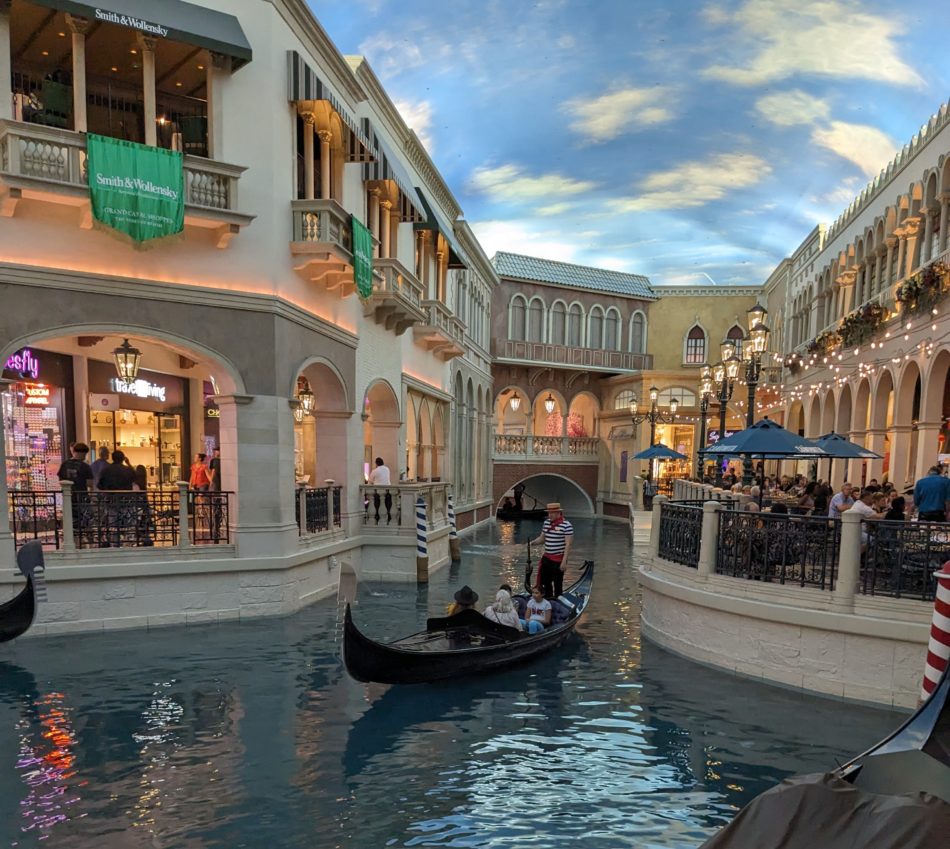 The hotels themselves are attractions in Las Vegas and we made sure to take some time out of our busy schedule to do some hotel hopping along the Strip. Do your research first and treat yourself to a tour of some of the hotels with the best theming, including Caesars Palace, New York New York and, our five-star home for a few nights, The Venetian.
Where else can you ride a gondola, visit St Marks' Square and ascend the Eiffel Tower all in one day? Embrace the concept and travel the world – Vegas style! (Having done all of these things for real, it loses a bit of its shine but is nonetheless spectacular to see.)
And be sure to check out the shopping at Caesars Palace and The Venetian too. Whether or not you make any purchases, it's worth the experience.
ATTRACTIONS
The hotels are also home to many of the city's most popular attractions.
Titanic: The Artifact Exhibition, at Luxor Hotel
Here the grand story of the "Ship of Dreams" is revived through 300 real artifacts and recreations of the contrasting third, second and first-class cabins and the Grand Staircase. A recovered 15-ton section of the Titanic's starboard hull made for a dramatic conclusion to the exhibition. An emotional, informative and enjoyable experience – and a good way to tick another themed hotel off your sightseeing list.
Shark Reef is the perfect family attraction. Home to more than 2,000 aquatic animals, it's a great choice for keeping youngsters entertained for an hour or so. It doesn't have to take too long to get around so easy to fit in among your busy Vegas itinerary – and another great excuse to  appreciate some hotel theming.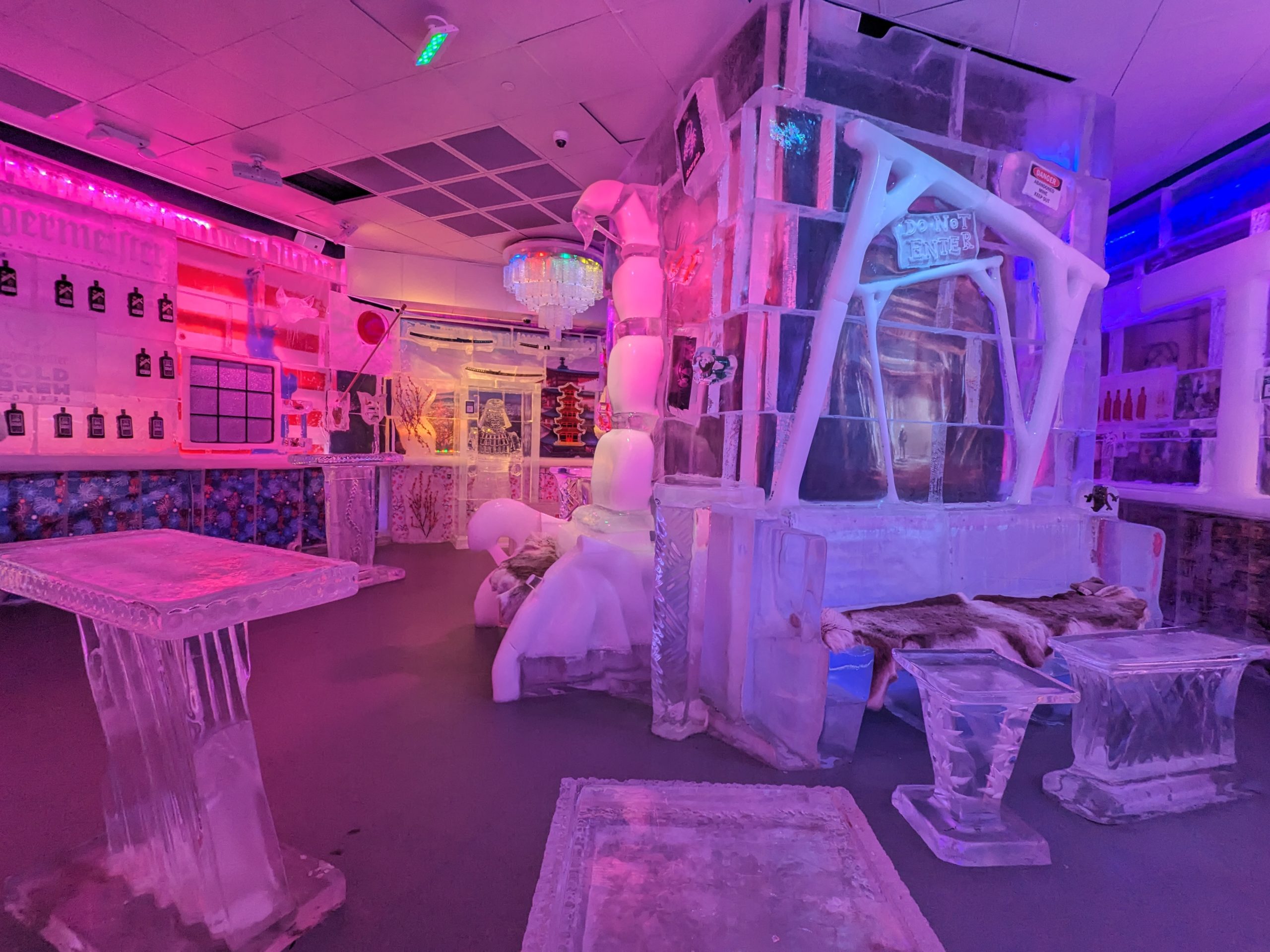 You'd be right in thinking an ice bar would be a popular haunt in the Vegas summer! We checked out the VIP package one night which includes two cocktails (or mocktails), photos and free gift. A fun, if surreal, experience, if only to appreciate the creative carvings that go in to make up this icy oasis. A welcome chilled out escape that we enjoyed.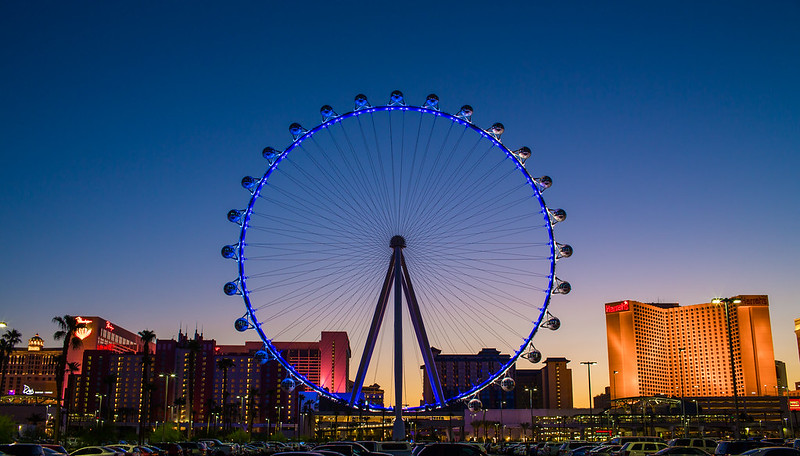 The largest observation wheel in North America, the cleverly named High Roller offers a unique perspective of this neon-clad city from 550 feet in the air. As we discovered, the 30-minute revolution in one of its spacious pods is also the perfect vantage point from which to appreciate the new 112-metre high LED illuminated Sphere. A sight to behold – and ever-changing. I recommend a night flight to take in Vegas at its brightest and best.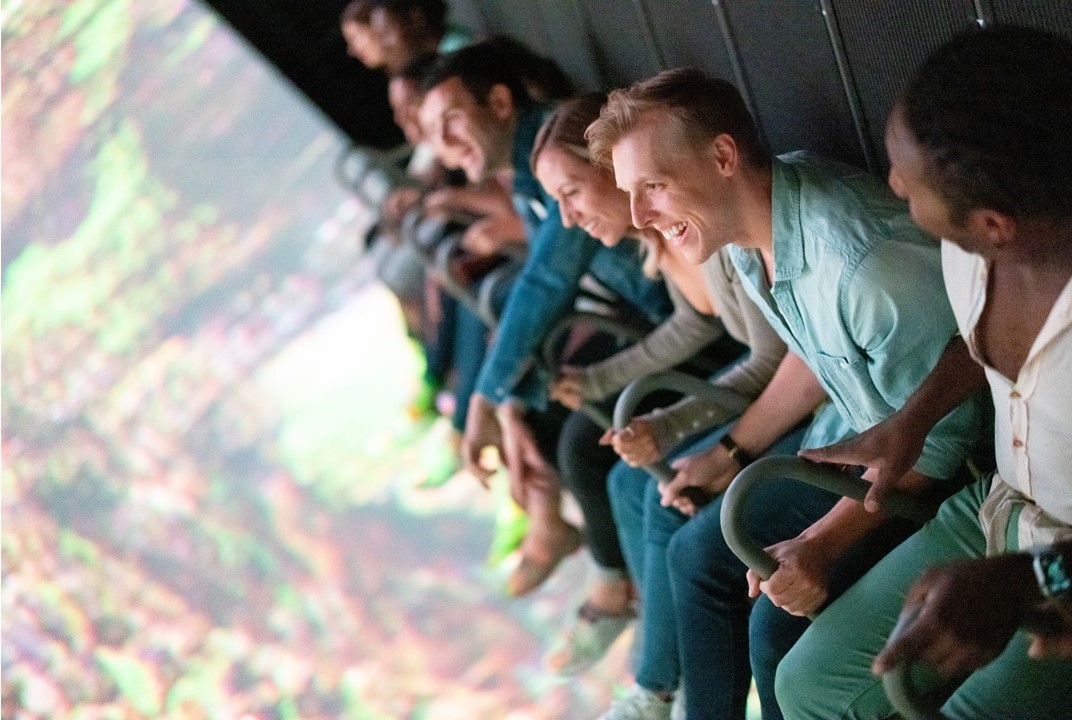 One of the city's newest attractions, this multi-sensory state-of-the-art 'ride' allows you to dip, dive and glide over awe-inspiring landscapes. For those who have been to Disneyland, think Soarin' – but over The American West, Iceland or The Canadian Rockies. Lots of fun.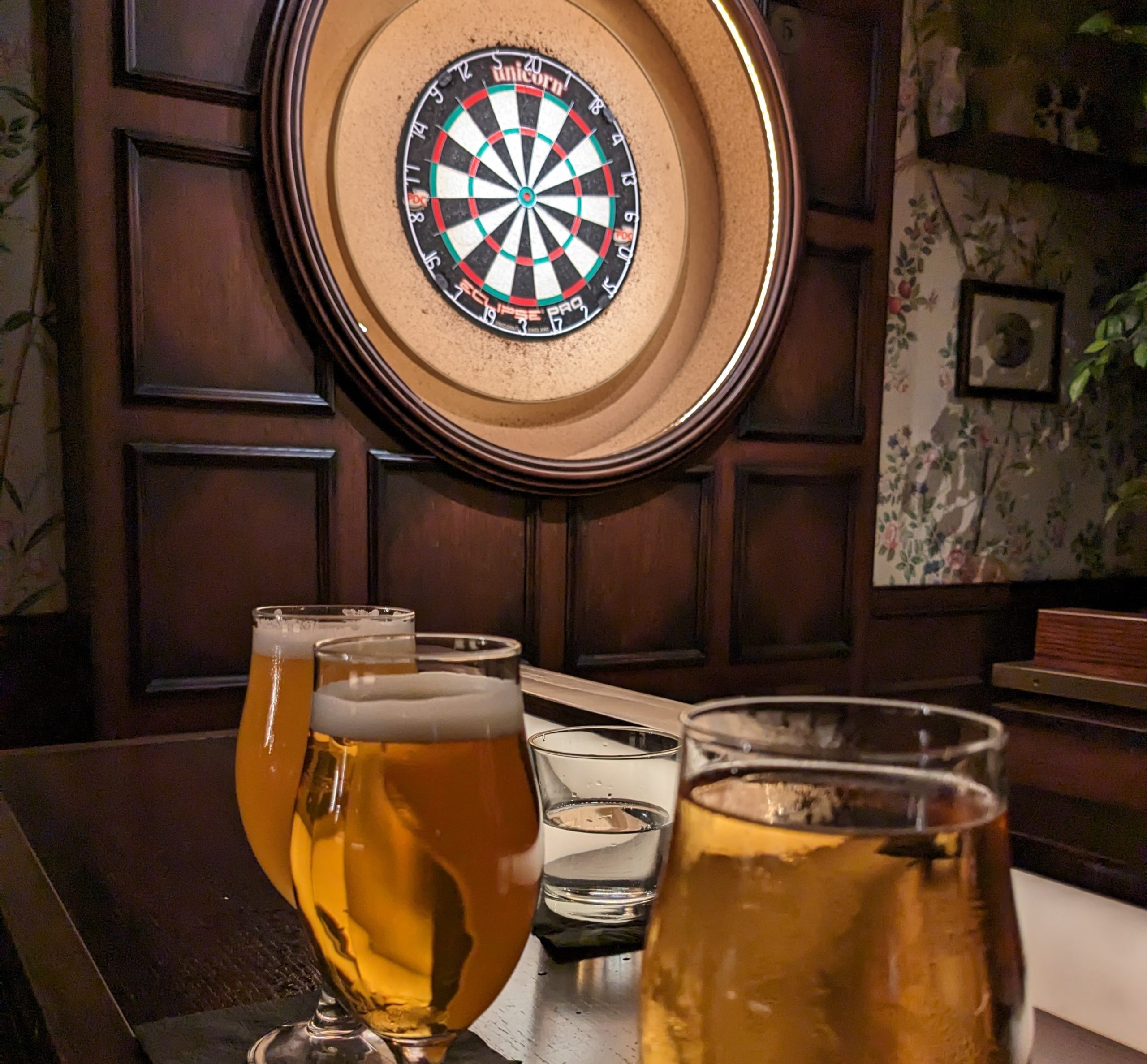 Flight Club
For dining with a difference, we set our sights on a visit to Flight Club, at The Venetian. This multi-award-winning venue offers a social gaming experience with an electronic board and games menu set in dedicated playing areas where you can also be served food and drinks.
The darts are a lot of fun but the menu is also surprisingly on point here with a delicious selection of small plates to choose from and top notch friendly service to soften the blow of inevitable sporting defeat. (Just me then?)
More than just a flight of fancy, this social setting scores with foodies and competitors alike.
ENTERTAINMENT
Entertainment is what Vegas does best. – And Cirque de Soleil is a mainstay of the Strip! Of the six Cirque shows to choose from in the city, we opted for the company's longest running signature production, at Treasure Island Hotel. Combining high-energy acrobatics, dramatic dance and imaginative imagery, Mystere (or another of the Cirques) should be a must on your list. You'll be left feeling mesmerised and exhilarated in equal measure. A perfect way to spend an evening as a family too.
If it's full on belly laughs you're after though, you never have to look far for a fix. Ours came in the guise of an evening at Jimmy Kimmel's Comedy Club in the bustling LINQ Promenade district. A steady stream of stand-up acts kept us entertained as we were served drinks at our tables, including headliner on the night, America's Got Talent runner-up Vicki Barbolak – an acquired, but ultimately hilarious comedic taste.
Off the Strip
The pull of the Las Vegas Strip is undeniable but if you dare to step away from this flashy epicentre, you'll come across some tourist gems.
It's hard to do this area of Vegas justice in words – other than to say it's a multiverse of attractions and events under one roof. (Almost!)
More than just a collection of bars, restaurants and shopping, Area 15 (named after the mysterious nearby alien site) is designed with all ages in mind.
Guarded by artwork on the outside, AREA15 is a kaleidoscope of colour, light and sounds where you can – among other things – hang glide through the building, throw axes, get lost in space, take a 130-foot-high balloon ride and step into all manner of virtual reality worlds.
Taking centre stage though without a doubt is an attraction called Omega Mart. This interactive, immersive art experience is positively mind bending – and will change the way you look at supermarkets afterwards.
There's more than meets the eye in this 'special' store. Discover secret portals and explore unexpected landscapes to venture into an extraordinary world which, at its heart, celebrates local creativity.
Leave plenty of time to explore these surreal worlds with a world because there's so much to see and do. But no more spoilers!
For Adventure Seekers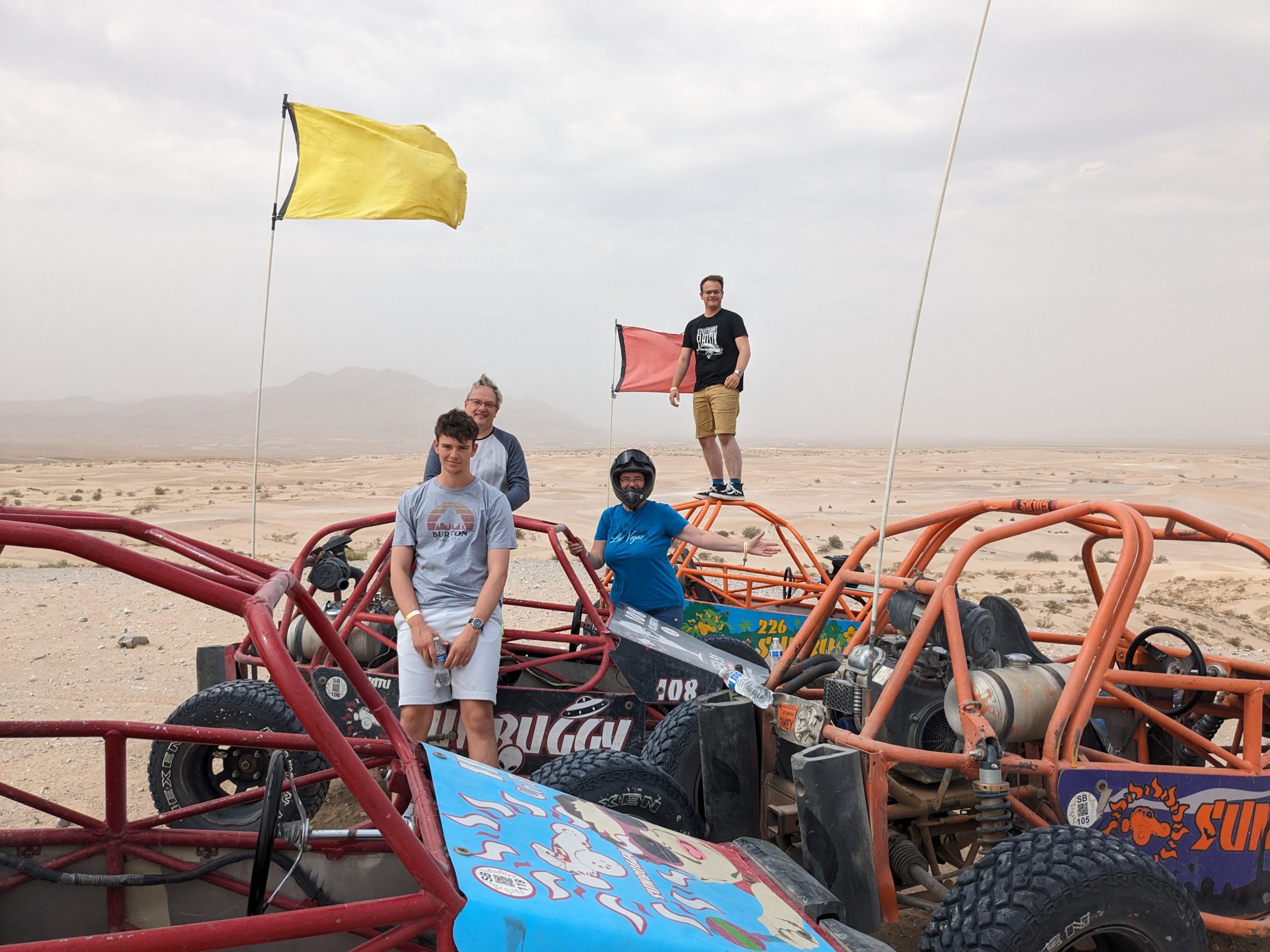 Dune buggy racing
One of the main highlights for us was a morning in the desert at the wheel of a dune buggy! This exhilarating off-road adventure held no limits as we were encouraged to keep (fast) pace with our guide to negotiate all manner of terrain. This proved a big hit with my adult sons who relished the challenge of the one-seater buggies. Two and four-seater rides and ATVs are also available. Most definitely worth straying 20 minutes from Strip to sand for this one. A highly memorable experience which gave us the chance to push our limits while always feeling safe. You're collected from your hotel too so no extra transport costs! Extremely well organised excursion.
Their need for speed also led us to SPEEDVEGAS Motorsport Park a few minutes down the road. This is a must for petrol heads who can choose to put the pedal to the metal in a supercar, off-roader or go-kart. The Go-Kart Arrive and Drive package lets you loose in a nifty four-stroke kart around the challenging 1,600-feet-long twisty track. Fastest laps times win the plaudits – and the bragging rights!
MUSEUMS
A must for car and film lovers alike, this hidden gem of a museum is definitely worth going out of your way for.
The 30,000-square foot museum is packed bumper to bumper with original legendary car creations we're all familiar with from the big and small screen, including the DeLorean from Back To The Future; James Bond's Lotus Submarine car; The Batmobile; Chitty Chitty Bang Bang and Knight Rider. The 40-foot hot tub convertible limo is a thing to behold!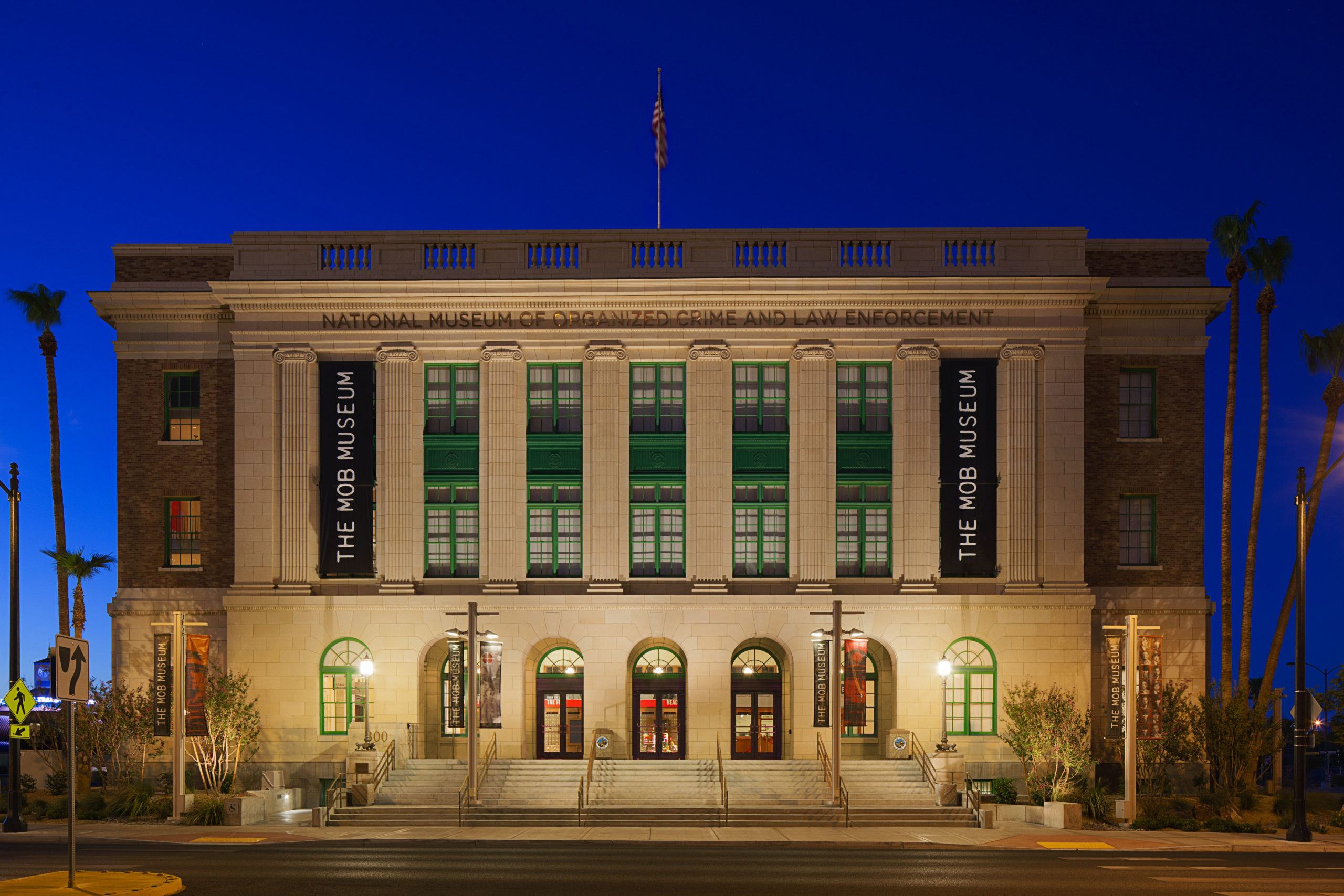 As a family we do like a good museum and tend to seek out the best ones wherever we go. Vegas was no exception and so we got our history fix at The Mob Museum, a non-profit organisation which strives to advance the public understanding of organised crime history and its impact on American society. It takes you on a fascinating and provocative journey with the help of hundreds and artifacts and immersive exhibits. Only visit if this subject matter floats your boat – but very well presented.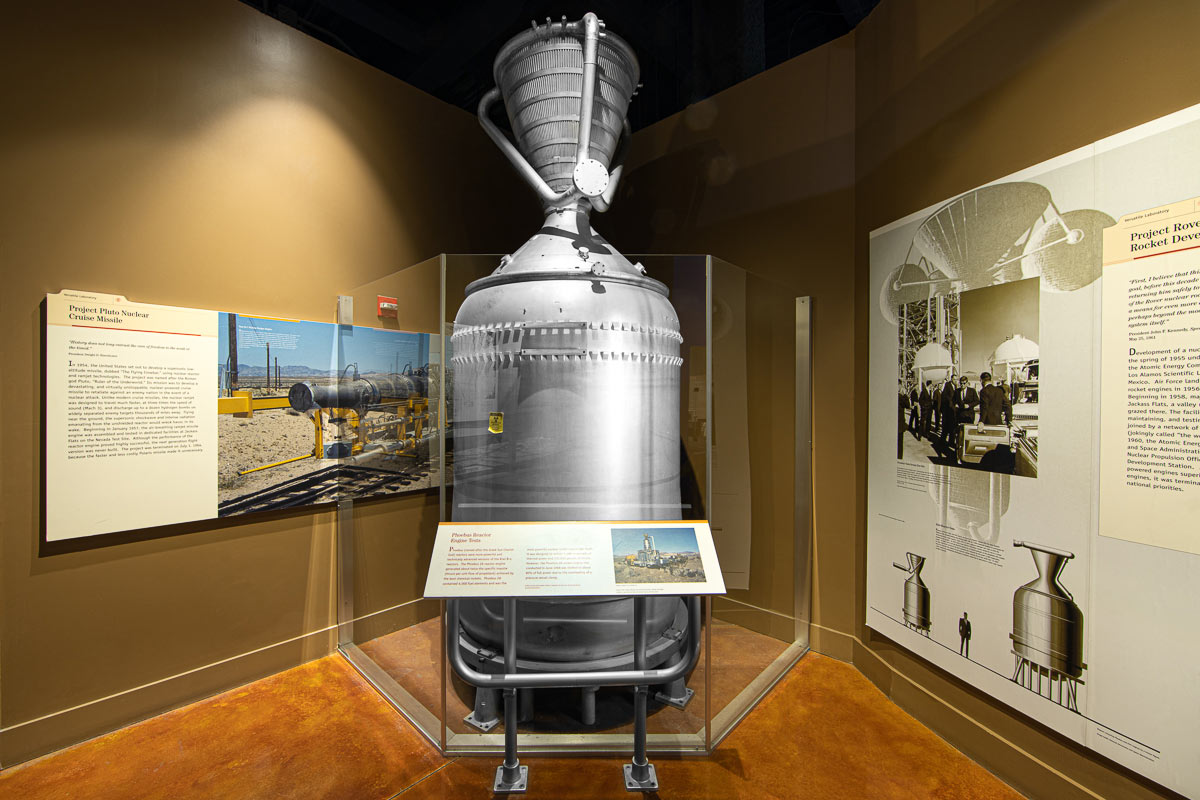 Having watched Oppenheimer at the cinema before we travelled, this National Atomic Testing Museum had added poignancy, standing in the home of America's nuclear weapons testing program. We learned more about the history of the atomic bomb and its impact on everything from television shows to comic books ands toys.
Casinos
There's no escaping them so, unless you're a high roller, my advice is make like most of the tourists and allocate yourself a small budget from which to indulge. I may have only scooped $7 on the slots but I can say I gambled – and won! Whilst in Vegas. . .
Vegas is unique but I can understand why it might not be for everybody. It's another one off my travel bucket list and, when it comes to fun on a grand scale, it's definitely a safe bet!
For more on Vegas visit: https://www.visitlasvegas.com/