Bethel Woods
is a bucolic setting of rolling hills and meadows, with a state-of-the-art, 15,000-seat music venue that still draws crowds to hear a variety of live music at the site of the original fabled concert. There is also a terrific museum that commemorates the tumultuous decade of the 1960's, with a special emphasis on the infamous concert that capped it off. A visit to the museum gives rock fans of all ages a sense of what it might have been like to attend Woodstock, thanks to interactive exhibits and an extensive collection of memorabilia. If you are a fan of the music, the era, a pop history buff, or all of the above, a visit to Bethel Woods should be on your bucket list.
Catskill Distilling Company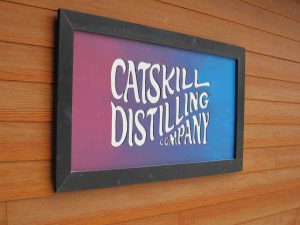 The area not only draws those who appreciate rock music and counterculture, it is also attracting fine spirits enthusiasts. Directly across the road from where Woodstock took place lies the Catskill Distilling Company. If you're a fan of strong drink you are in for a treat, because this is where they make the award winning, appropriately named Catskill Mountain Peace Vodka. Visitors can tour the distillery and meet its passionate owner, Monte Sachs, before moving on to the main affair, the tasting. Sachs is a busy man, as he is a veterinarian specializing in horses in addition to running the distillery. Peace Vodka is racking up gold medals, assorted accolades and lots of attention at the chic New York City eateries and bars where it is served, but Sachs is not resting on his laurels. He has moved into the gin and whiskey domains, and is doing very well in these new endeavors. Sachs is involved in every aspect of the products and always does the final tasting of every batch. He studied animal medicine in Tuscany, where he embraced local winemaking techniques and the slow food way of eating that is so natural in Italy. He utilizes traditional methods in his distilling process, using locally grown grains whenever possible to craft each potent potable. Sachs is equally passionate about his accelerated maturation system that speeds up the aging process of his whiskeys and helps them evolve at a faster pace, without losing any depth of flavor. He blends old-world methods with newfangled, and the results are truly fine. He is generous with his knowledge and my visit was quite an education. He regularly welcomes student groups from a local college to check out the scientific process.
The Tasting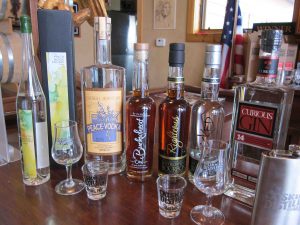 Peace Vodka is a sipping vodka distilled in traditional copper pots in small batches, using the pure local water that this reservoir-rich area is known for. I found it robust, with a somewhat earthy aftertaste, and none of the blandness that I usually associate with vodka. As a gin lover, I couldn't wait to try Curious Gin. I found it to have a heady bouquet of botanicals, predominately juniper, coriander and fennel. There are subtle hints of more obscure citrus notes such as lemon peel and lime zest that gave it a refreshing zing. The three whiskeys produced at the Catskill Distilling Company are Wicked White, Buckwheat and Most Righteous Bourbon. Wicked White is un-aged and unpretentious, commonly known as moonshine. Buckwheat is named in honor of the Our Gang character from the classic Hal Roach comedy series. It is made predominately from buckwheat, with a touch of corn and malt to provide proper balance. Since buckwheat is not technically a grain, this is not truly a whiskey. Buckwheat is notoriously difficult to work with, often getting stuck in the grain mill, so it requires real devotion. Sachs doesn't know of anyone else producing a buckwheat-based libation, save one man in Normandy, France. Most Righteous Bourbon is made from locally grown grain. It is a spicy, bronze-hued treat for the palate. Sachs developed it under the tutelage of Lincoln Henderson, the master distiller of Woodford Reserve fame. I expect it will fast gain the attention of bourbon connoisseurs.
Dancing Cat Saloon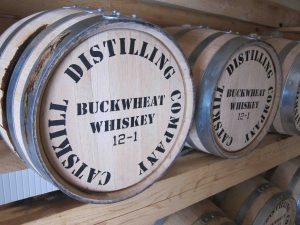 After the tasting, head next door to the Dancing Cat Saloon, owned by Sachs' effervescent wife, Stacy. Live music in a relaxed atmosphere is the rule. The chef trained at the Culinary Institute of America and comes from a long line of local restaurant owners. Try the meatloaf with bourbon sauce, which liberally uses Righteous Bourbon to create a glossy and complex reduction that perfectly compliments the tender beef. Stacy also owns an art gallery across the road, the Stray Cat Gallery. Paintings, sculpture, pottery and photographs, all by local artists, adorn the walls. There are some fine paintings by Stacy's mom, Audrey Cohen, so the entire operation is a real family affair.

Bethel Woods is under two hours from New York City, making it an easy day trip. The scenery in these parts is truly stunning in all four seasons, so there's never a wrong time to make the journey.

The Woodstock Festival took place in New York State's Catskill Mountains in 1969. Whether you lived through it or were born decades later, Woodstock is the stuff of legends, three days of peace, love and music. Rock and roll giants such as Jimi Hendrix, Janis Joplin, The Who, Grateful Dead and many other icons preformed. Though called Woodstock, the concert didn't actually take place in the town of Woodstock. It took place in the rural community of Bethel Woods, less then two hours north of New York City. Today,