"Hippie" Jack Stoddart handed around a Mason jar of chilled moonshine as music filled the air. We were close to the main stage under the big tent during the second day of the September 2015 Jammin' at Hippie Jack's Americana Roots Music, Camping & Arts Festival in Overton County, Tennessee, the home of Americana Music: so delicious.
This funky, progressive, and educational gathering of Americana roots musicians and enthusiasts served as the capstone of our arts, cuisine, and natural resources tour of the Upper Cumberland region. While that sip of home brew wasn't as smooth as the premium moonshine we'd tasted earlier in the day at an official distillery—Short Mountain—it was authentically assertive as it burned through your nose and out the top of your head, kind of like the music.
Music-loving Foodies: Get Thee to Tennessee
As foodies and music lovers, we definitely feel richer after our exceptional visit to this urban-ish yet decidedly rural landscape and soundscape on the western edge of the Appalachian mountains. The Upper Cumberland region—pretty hill country in the middle of the state that enjoys four mild seasons—lies near the Kentucky border to the north. Without fail, every foodie venue we visited on this #MadeinTN tour also offered live music including Short Mountain Distillery in Cannon County, The Bull & Thistle Pub in Gainesboro, and Father Tom's Pub in Cookeville. The pattern of good food + tasty drink + live music repeats over and over across the Cumberland Plateau.
The cold moonshine definitely paired well with the hot music that swirled through this veritable Americana revival on the Hippie family farm near the West Fork of the Obey River. Short on organized religion but long on respect and cultivation of Tennessee's rich musical heritage and the people who make the music, Jammin' at Hippie Jacks serves up a full plate of generous and exciting cultural and social content in May and September that they record, edit, and archive for sharing via radio, internet, and TV signals throughout the year. They also use the festivals as collection sites for clothing, food, and children's book donations for those neighbors and strangers in need across the region.
Fela Kuti's claim that "music is the weapon of the future" holds true whether the musicians play Afrobeat or Americana. One longtime act at Hippie Jack's—Jay Clark Ph.D and his band—spoke out against mountain-top removal, an incredibly wasteful and ignoble practice that lays waste to eons of geology in a violent few months. These musicians next launched into "Progress," a tune about preserving mountain landscapes for all rather than making them serve the venial needs of the wealthy, powerful few.
By wielding the power of modern communication devices and equipment, Hippie Jack and the Council of Americana Roots Music (COARM) channel these live music festivals to help preserve some of the oldest musical traditions in the United States, especially the twangier bits from the hills of Tennessee. Another band we heard at Hippie Jack's, the Flea Market Hustlers, embodied the COARM goal of engaging younger generations in what has always been body-moving music whether they're singing about how rough it is to be a coal miner or how hard it is to be a pimp. It's really difficult to say "no thank you" to grooving when such hard-charging twang activates the dance floor.
As the host of "X Marks the Spot with Central Coast Foodie" via KEBF EsteroBayRadio.org [Fridays 2-3pm PST], I had a chance to recap and reflect on Tennessee's commitment to music. This installment aired on October 2, 2015.
A Cascade of Tennessee State Park Sounds
While visiting the Upper Cumberland state park system during this tour, including staying in some charming state park cabins, we explored another rich vein of historical and natural sounds unique to Tennessee. In addition to Americana music, this parched California resident drank in the sounds of raindrops pattering on a million green leaves, loud chorus lines of crickets kicking up their sonorous knees, waterfalls pounding, and hill country peace & quiet.
We highly recommend skipping the garden-variety hotel in favor of renting a state park cabin, many of which were constructed with restrained flair by the Civilian Conservation Corps (CCCs) in the early twentieth century. One cabin featured a private balcony above the trees while another offered a screened-in porch to ensure comfort near nature despite the rains or late night insects. You should bring your own shampoo and maybe some slippers but a cabin is the way to go for feeling more connected to the landscape and the outdoor world.
Sleeping far from the busy roads that host most modern hotels helps mindful visitors slow down and observe more. "An Entrance to the Woods" by Wendell Berry kept coming to mind during our journey through the hills and valleys of this twisty road region: in this essay, the speaker observes the differences within himself once he makes an effort to slow down in nature and through nature.
The sound of so much water vaulting over Tennessee sandstone cliffs and dissolving into mist filled up the dusty soul of this Midwesterner who lives today in California drought country. Already in love with the sound of rain, I didn't realize until this trip how much I loved the rushing of waterfalls or that Tennessee offered 150+ waterfalls within a 40-mile radius from Cookeville. How exciting to learn that this state continues to add to its acres of protected lands in the state park system—unlike many states, Tennessee continues to enjoy increased attendance at its state parks. Thanks to our park ranger hosts: your affection for your parks runs deep and ripples outward.
A State Park Unit with Its Own Record Label and Radio Show?
Although this outdoors lover signed up blindly for a square-sounding event listed simply as "entertainment provided by State Park Ranger Band"—maybe I assumed it would be a marching band?—this omnivorous music lover reaped the benefits of a powerful presentation headed by folklorist, musician, and state park ranger Bobby Fulcher. This soft-spoken ranger, who also serves as Park Manager for Cumberland Mountain State Park, introduced and interpreted for our small group the experience of two local musicians who each brought their own filigree stylings to the artistry of Tennessee mountain music: Michael DeFosche and Curtis Byrge.
Like dance, musical presentations that exist only in recorded form lose an interpretive layer that live performances deliver at full strength. Michael DeFosche's fiddle playing channels the master musicians of Upper Cumberland's musical heritage, lifting them out of the past into the richness of live performance with resonating instruments that one can feel as well as hear. He connects the original performer with each tune through his skill in performing the phrasing, pace, and sound of the old timers such as Clyde Davenport and Fiddling Bob Douglas while playing these classic pieces of vintage Americana for live audiences.
"More then anyone in our region," explained Bobby, "Michael DeFosche has learned from the masters: he can play the music with their ideas and tones." Michael's passion for capturing the musical heritage of Tennessee in his own performance finds a home on WDVX, a Knoxville radio station associated with this state park's anthropological/ethnographic/musicological data collection and preservation efforts. WDVX also hosts the Jammin' at Hippie Jack's Radio Hour: Americana for all!
Musical prodigy Curtis Byrge, the second musician we met during the State Park Ranger Band mini concert, was born high up on the mountain near Devonia, Tennessee in coal country. Legally blind since birth, Curtis has played music his whole life and continues to perform today on street corners and wherever there's an opportunity for making music on his own or with friends. He's a living archive of Tennessee sound who tells his stories in a manner and style deeply grounded in a mountain character. After he performed for us another tune that sounded as if it walked right out of the Civil War, Bobby observed how "There's a body and texture to these songs" delivered memorably by this musician-for-life.
This private mini concert ended up being one of my favorite moments of the whole trip: we particularly appreciated the deep respect paid by the state park employee to the unique sounds and experiences of the musicians both in the room and elsewhere in time and space of this region who grew musically from the land across which the scenic Cumberland Trail wends. As mountain lands get added to the state park system, the ethnological efforts of music-focused park rangers help preserve and disseminate the Americana-infused culture of these mountain peoples whose dialect and internal musical hard drive, if you will, can never naturally appear again in our increasingly homogeneous world. Musicians with a connection to Tennessee history that goes deep are a diminishing resource worthy of respect and digital archiving for sharing the past with the future through song.
Bobby Fulcher captured Curtis Byrge singing and fiddling in performance of his original song "Rachel, Angel with a Camera" at the Oak Ridge Flea Market.
Non-profit record label Sandrock Recordings captures, collects, masters, and publishes a growing archive of quality historical musical stylings of the near and distant past featuring Tennessee and early Americana and roots music masters. With grants and other non-profit funding efforts—buy some Sandrock Recordings CDs!—Cumberland Mountain State Park interpretive staff take the time to connect with individuals, families, and recording archives to discover musical insights into these remote rural regions now included within the state park boundaries. They aren't in the business of erasing the musical diversity of this region. This results in an extremely sincere digital product that helps listeners connect with history, the mountains, and creative musical skills now no longer hidden away in isolated hollers, reel-to-reel tapes, and fading memories.
The Ballad of Disappearing Sweets
Dear Tennessee: please help! All out of Stonehaus Winery Pumpkin Fudge and Short Mountain Distillery Tennessee Moonshine Caramels! And Goo Goo Clusters! We're on the verge of writing a foodie heartbreak song about it…
[ahem]
My heart got iced at Cream City
…[twang!]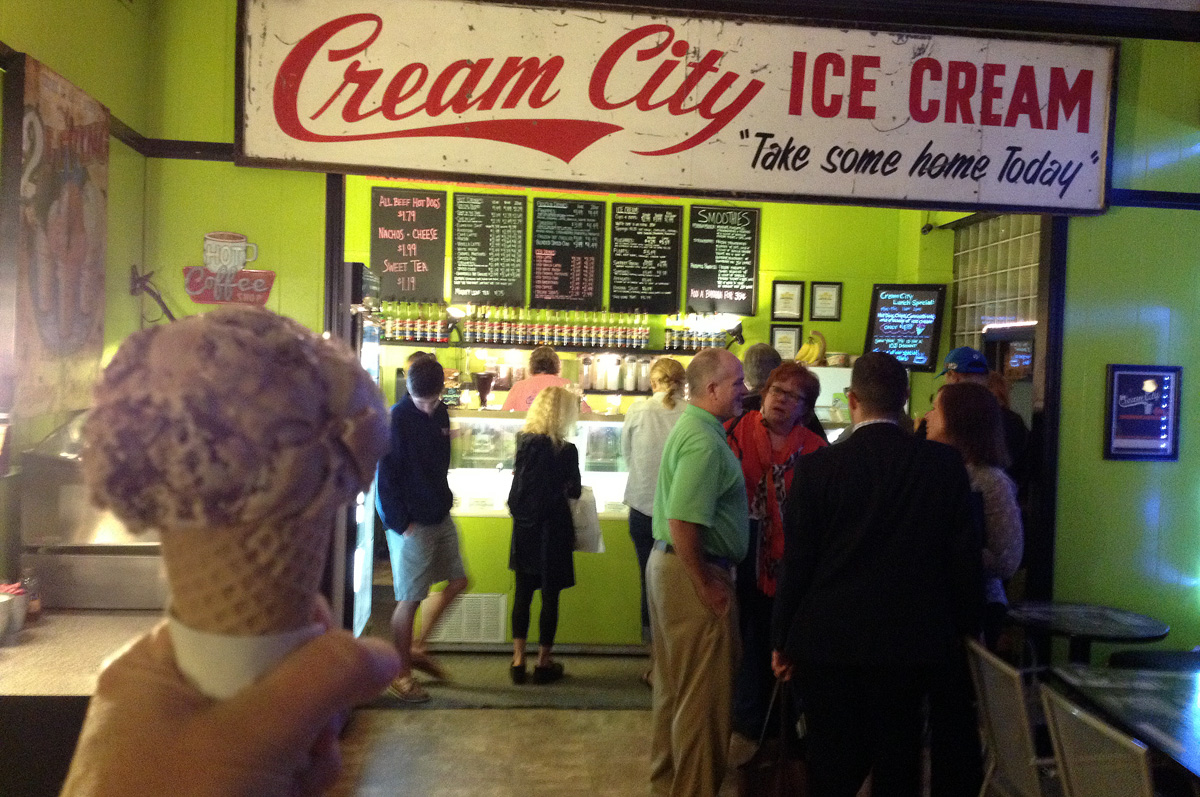 disclosure: This experience was supported by the State of Tennessee Department of Tourist Development but I'm under no obligation to produce anything from this trip. I always write about what I like and appreciate the chance to experience cool foodie opportunities in the Central Coast and beyond.