Visit Pittsburgh. It's a vibrant city with fantastic views and all kinds of easily accessible ways to see them, a sports legacy to envy, and vital American history. But more importantly, it is a tribute to what city government, public and private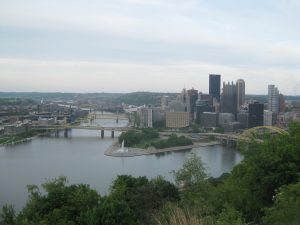 enterprise, and concerned citizens – what we, as human beings – can accomplish. In the last 50 years or so Pittsburgh has orchestrated a miraculous environmental transformation. Ride to the top of the famed Duquesne Incline and check out the photos from the 1940s when the city was choked in smoke and smog. It was so dark that the street lights stayed on all day. A photo from three o'clock in the afternoon looks like a night shot! Then walk outside to look out on beautiful Point State Park where the three rivers meet – a clear view that goes on for miles. It's a poignant reminder that while America may wreak havoc on the environment in the name of industry, it also has the power, will, and knowledge to reclaim it. The city stands as a testament to what is possible.
Growing up in another of Pennsylvania's industrial cities, Scranton, during the 1970s, I always felt a bit like we were in Pittsburgh's shadow – the marginally less-polluted little brother or sister. I remember my father quizzing us on Pittsburgh's three rivers: the Ohio, Allegheny, and Monongahela (my personal favorite to pronounce). What a thrill to finally see them! See them we did – from a trolley (Molly's Trolleys), Segway (Segway Pittsburgh), bike (Golden Triangle Bicycle Rentals), bus (Lights, Camera, Pittsburgh! by Pittsburgh Tours and More), and, of course, boat (Gateway Clipper). Spectacular views from every angle! With the dismantling and removal of factories that had lined the riverfront, 13 miles and 65 acres of waterfront were reclaimed for public use. Three Rivers Heritage Trail has 24 miles on both banks of all three rivers for biking and hiking. There are sports complexes, a convention center, charming riverside parks, waterfront dining, and beautiful views of scenic bridges (446 total, more than Venice, Italy). My favorite tour was the bike ride through the city; it's been so long since I've relaxed outdoors. The three of us were a bit wobbly and out of practice, but the tour was perfect – sometimes on trails, sometimes on city streets, always a stop right when we needed one, just the right amount of information from our guide. At one of the riverside stops, I stuck my toe in the Monongahela! I was coming full circle from my childhood geography lessons.
I'm not sure whether my father was reviewing geography with us for school (quizzing us on state capitals was also a pastime) or planning a trip to Pittsburgh to see a Steelers football game. He was a big fan, as was my brother, and I was too, by default, the little I understood then of the game. Five or six years ago, a good friend of mine (and like-minded Steelers fan) in Los Angeles gave me a Terrible Towel, a yellow towel that Pittsburgh Steelers fans love to wave around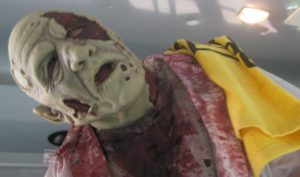 during a game. It definitely made watching the football games in bars more fun! I had been wanting to go to Pittsburgh for a while – a pilgrimage of sorts or at least homage to my childhood – and when I finally did, I found that the Terrible Towel made picture taking in Pittsburgh more fun too.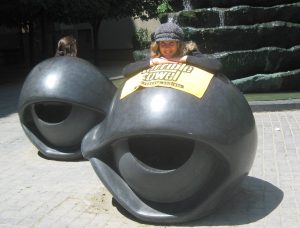 In addition to gracing Agnes R. Katz Plaza ("Eyeball Park"), the Duquesne Incline, Heinz Field, the Omni William Penn Hotel, Point State Park and various other pretty spots in the city while riding a Segway, the Terrible Towel was also seen draped on the figures of George Washington and a zombie. Everyone's a fan!
My visit to Pittsburgh whisked me back to the past with several celebrity names from my childhood. My parents' favorite late night talk show host, Johnny Carson, owned a condo (I imagine with a fantastic view) in the tan high rise next to Monterey Bay Fish Grotto restaurant. Along the riverfront is a memorial statue to the kindly Fred Rogers which depicts him tying his shoes. I watched his children's show Mister Roger's Neighborhood every day for years. In the glamorous Omni William Penn Hotel, I saw a bubble machine produced by an engineer at the hotel and used by Lawrence Welk during performances to accentuate his 'champagne music.' When we were little, my siblings and I were tortured by his TV show many Sundays at my grandmothers' houses. Funny that a reminder of something that used to seem so excruciatingly boring could bring such pleasant nostalgia now. I'd watch it again gladly if I had my grandmothers back for a day.
Pittsburgh has restaurants in some majestic buildings – the turn of the century's The Grand Concourse in the former Pittsburgh and Lake Erie train station for one. Old World luxury is still evident in the station's arched ceiling of stained glass, harkening back to the wealth and power of the railroads, the thrill of train travel. I was reminded of Scranton's own railroad past exemplified by the Radisson Lackawanna Station Hotel. I had escargot for the first time at its restaurant before I went to the junior prom. My paternal grandfather was a baggage handler for the railroad in Scranton, and I wonder how many people (or their luggage) crossed paths with him and went through the Grand Concourse as well.
More unusual is The Church Brew Works, a microbrewery and restaurant in the 1903 desanctified Catholic church of St. John the Baptist. Catholic dioceses in Scranton have been consolidating parishes and closing churches for years now, but none have yet become restaurants or breweries! I don't think either of my grandmothers' churches is still open. I'm saddened by the end of the community traditions that those churches upheld but encouraged that, in Pittsburgh at least, 
a sacred building has been repurposed so that its beauty and grandeur can continue to be enjoyed. A pirate flag hangs in the church/restaurant now – a humorous touch, I thought – a tribute to the Pittsburgh Pirates baseball team. Strangest of all though was seeing the brewery equipment up on the altar. An eerie kind of sci-fi nostalgia hit me then, as it reminded me of the second Planet of the Apes movie (1970), in which a futuristic people worship a nuclear warhead in the ruins of a cathedral.
The Church Brew Works is in the neighborhood of Polish Hill, originally settled by Polish immigrants in the late 19th century. Scranton also has a significant Polish population, and my maternal grandfather's family was Polish. I was excited to try the traditional potato and cheese filled pierogies as well as the special pierogi of the day with a non-traditional filling, which in our case was caprese (mozzarella cheese and basil). The restaurant also serves bison corn dogs and buffalo meatloaf (not Polish, but unusual and tasty) and has a nice selection of craft beers made in house.
I was inspired by my trip to Pittsburgh. The city's remarkable transformation is a testament to the potential inherent in the human spirit. It gives me hope for my hometown, my adopted city of Philadelphia, my former international home city of Moscow, Russia – for all cities and towns everywhere. What can't be accomplished if we put our minds to the task? If a city can so completely reinvent itself, isn't that also possible for an individual?
I travel because I love to explore, to have new experiences, to make connections. Yet I often find myself coming back not to what is different in the new location, but to what is similar and familiar. Maybe we are all always circling back to home.
Disclosure: My trip to Pittsburgh, PA, was made possible by the VisitPITTSBURGH tourism association. My opinions and perspectives are totally my own — as always.