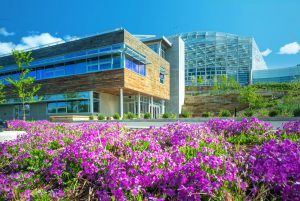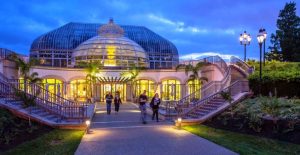 Phipps Conservatory and Botanical Gardens, a great steel and glass Victorian greenhouse, once part of a dirty steel mill city has now been transformed into one of the world's most energy-efficient structures. With the greenest public gardens of the world, it has put Pittsburgh on the map serving as a model of sustainability for the next century. Located in Schenley Park, one of Pittsburgh's largest wide green areas, the Conservatory complex is viewed as a cultural and architectural sustainable icon of the city's Oakland neighbourhood. It contains exotica in a place where no one ever even dreamed that it would thrive.
Entering the Phipps botanical gardens in Pittsburgh makes one believe that nature's bounty is omnificent. Because of the conservatory Pittsburgh has in a sense reclaimed the celebrated region's natural past, affirming that a city can be made beautiful again with nature's effervescent wonders. The city can claim a miracle within the confines of a cosmopolitan milieu.
Originally, the Conservatory and Botanical Gardens were presented as a gift in 1893 from Henry W. Phipps, a philanthropist from Pittsburgh who had gained his wealth from the profits of his shares in the steel industry and in real estate. And lately it has been turned into a model of sustainability for at least the next century, a place to connect with nature, something that has been lost.
On a visit to the Conservatory, a visitor is astounded and inspired at every turn. It seems that elves are working at all times building breath-taking seasonal flower shows and exhibits, beautiful gardens and green rooftops all encompassed into sustainable new types of architecture that give life to the flora of the Conservatory.
Before the tour begins, a visitor can have a meal in the award-winning Phipps Café and enjoy organic foods much of it grown in the Conservatory complex. Here we partook in healthy food that to my taste was a bit too bland and could have used a few spices. I do not understand why healthy food served in organic eating-places is, in the vast majority of cases, made inedible by well-intentioned environmentalists when a few spices and herbs can make a delicious dish instead of one that has no enticement.
We entered to begin our two hour tour through the Welcome Center of the 17-room Conservatory, the first LEED (Leadership in Energy and Environmental Design)-certified building in a public garden in the world. It is energy efficient, water efficient and a leading example of a healthy place for people to live and work. Our guide then led us to the Palm Court, a Victorian-inspired room containing a variety of towering palm trees surrounded by an array of flora. It is here where you find the original 19th century plaque commemorating the opening of this renowned Conservatory. And this room is really the introduction of what is to come.
This was followed by a tour of the remainder of the rooms such as the winding Serpentine Room filled with beds of flowers with amazing displays of colour; the Fern Room containing primitive and the oldest types of plants; the Orchid Room that features a large variety of the flower; the Outdoor Garden that includes smaller gardens such as herbal and medicinal, and winding walkways; along with the remaining rooms with their displays and exhibits. Of special significance is the complex's tropical forest conservatory which is the most energy efficient greenhouse in the world.
The finale to this wondrous visit was the Center for Sustainable Landscapes (CSL), a natural re-cycling power-house. It is one of the Earth's greenest buildings built to produce its own energy and treat and re-use all water captured in the complex, and is a model of innovation for natural sustainability setting a prototype for the rest of North America and beyond. It is a center for environmental education and research, as well as serving as an administration facility. Its focus is a 'living building' with its challenge of net-zero energy and net-zero water consumption on an annual basis. This is accomplished by the use of solar photovoltaics, geothermal wells, and a vertical axis wind turbine, passive cooling and heating, and lighting methods. The building now produces more energy than it uses and this excess can be used for other structures. The CSL's vision is to use nature to live well while not harming nature in the process. The conservatory is the only structure that produces naturally more natural energy than it uses. It is an inspiring omen for the future when fossil fuel will not be needed.
This looking to the future with hope for a better world is a result of Phipps evolving into one of the region's most environment conscious centers, bringing fresh perspectives into a historic glasshouse. Phipps has become a strong advocate for advanced green-building practices, and sustainable gardening.
Usually elated with what all the good this Conservatory is doing, after purchasing gifts from The Shop at Phipps, a visitor can return home, no doubt thinking of a world that could be naturally sustained and in the process protect humankind.
For more information contact:
Phipps Conservatory and Botanical Gardens
One Schenley Park
Pittsburgh, PA 15213
Tel: 412-622-6914
Fax: 412-622-7363
Website: www.phipps.conservatory.org
Photo credits: Paul G. Wiegman