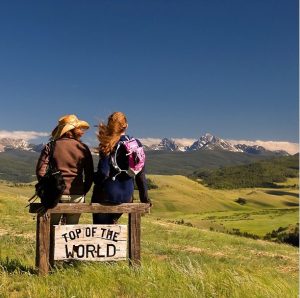 There are places in the world that are immediately inspirational based entirely on their natural beauty – I would count the wide open spaces of Montana as one of these inspirational destinations. I remember my trip to Montana a number of years ago, driving the open roads in the Northwest part of the State from Glacier National Park down to Missoula. I was impressed by the countryside, the jagged rocky faces of the mountains in Glacier National Park combined with the gorgeous glacier fed lakes, then moving south to the pristine waters of Flathead Lake and the wide open spaces surrounding Missoula.
Due to the nature of my lifestyle (travel writing) my trips are often combined with work. But when I want a true non working vacation I seek out two things: one, locations that combine the natural world and two, locations where there are not many people around.
One such location is The Ranch at Rock Creek, located in the wilderness about half way between Missoula and Butte Montana (you can fly into either airport where you will be picked up by a representative from The Ranch). They recently reached out to me with an opportunity to learn about their unique and luxurious location among the wilderness.
The property features a number of glamping options including Family Canvas Cabins, their secluded "Trapper" meant for those who want maximum privacy, the Sweet Grass Tent located right on the banks of Rock Creek (the waters of the creek provide a gentle sound to fall asleep to at night) and the Classic Canvas Cabins (unique tent/cabin hybrid) for either couples or families. And for those who would like a traditional stay, there are a number of luxury cabins and private homes to choose from.
Montana is known for its wildlife and it is not uncommon to wake up in the morning and see a large moose outside your cabin staring back at you. Or perhaps any of a number of birds of prey including the great Bald and Golden Eagles.
For more information about The Ranch visit: http://bit.ly/1lSKE96 or follow them on Twitter @RockCreekRanch
Montana boasts a number of well-known attractions including Glacier National Park, Little Bighorn Battlefield, Beartooth Highway, but The Ranch is it's own destination, a place you come to and stay without worrying about having to drive all over the state. Its size, geographical location and secluded feel is a big part of this.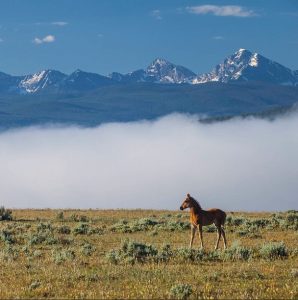 And it is easy to "get lost" in a good way on this property with its 6,600 acres. With this amount of land at your disposal, this year round resort offers a wide diversity of seasonal activities. In the winter go snowmobiling, ice skating, ice fishing, jump on a snowcat for a tour in the back country or simply stay put and steam in the sauna for the utmost relaxation.
The warmer months offer plenty of horseback riding opportunities through pristine meadows or to high country lakes, mountain biking, wilderness hiking, plenty of shooting opportunities ranging from sporting clays, shotgun, to rifle and pistol as well as Stagecoach rides.
Montana is certainly known for its fantastic fly fishing. For fishing enthusiasts the numbers are intriguing, seven species of fish, four private miles of river access along Rock Creek, five spring-fed trout ponds and a number of Blue-Ribbon fisheries located within 30 minutes to a 2 hour drive of the property.
And if you want to take a break from outdoor activities, saunter over to the Silver Dollar Saloon and take a seat at the bar on one of the leather saddles that serves as the bar stools. Or come here for the bowling alley, to shoot some pool or just watch a movie in front of their 14-foot HD video screen.
And one should take at least a day to do nothing. Perhaps the day after you arrive would be appropriate – unwind and let the natural beauty, the quiet…the wilderness soak into you.
The Ranch at Rock Creek is a member of the prestigious Relais & Châteaux luxury hotels of the world; earlier this year they earned one of the highest honors in the hospitality industry – a Forbes Travel Guide Five-Star Award.
This post is sponsored by The Ranch at Rock Creek. Photos courtesy of The Ranch.